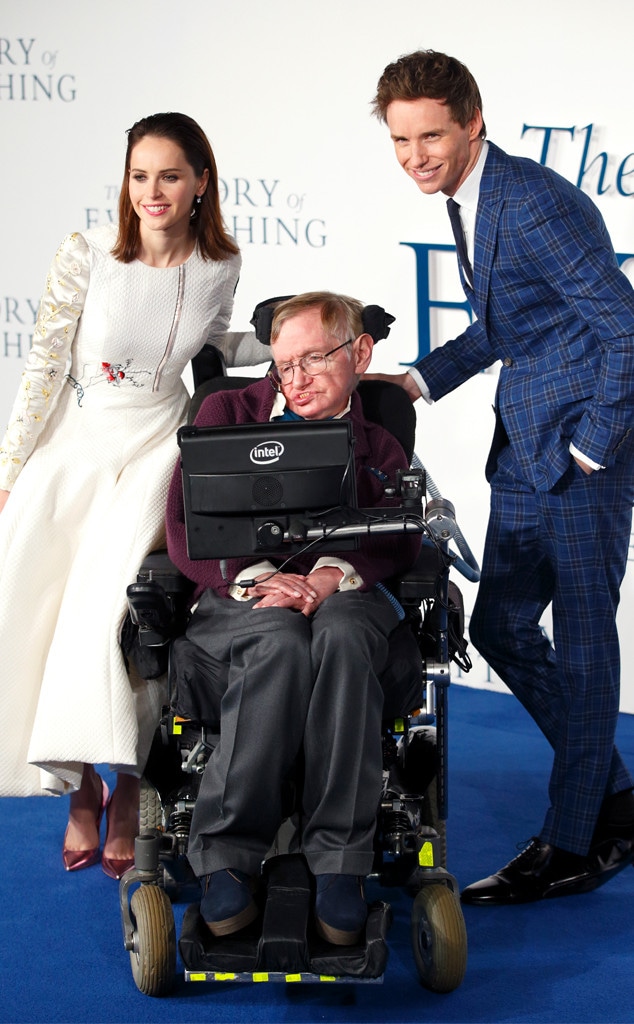 Max Mumby/Indigo/Getty Images
In so many ways, Stephen Hawking's legacy will live on long after his death.
Eddie Redmayne, who won the Academy Award for Best Actor for his portrayal of Hawking in the 2014 movie The Theory of Everything, praised the late physicist Monday. "We have lost a truly beautiful mind, an astonishing scientist and the funniest man I have ever had the pleasure to meet," the actor told E! News. "My love and thoughts are with his extraordinary family."
Hawking "died peacefully at his home in Cambridge in the early hours of this morning," a spokesperson for the family said Monday (via NBC News). "His family have kindly requested that they be given the time and privacy to mourn his passing, but they would like to thank everyone who has been by Professor Hawking's side—and supported him—throughout his life."
For Redmayne, sharing Hawking's story on the big screen was a big responsibility. "I definitely felt the pressure, I'm not going to lie," the actor told E! News in 2014. "When you're 'applying' for the job, you tell people you could do it and you sound really confident, but then you get the job and you realize you don't have a clue." Redmayne had the opportunity to spend time with Hawking and the late scientist's first wife, Jane Wilde—and they both approved of the Focus Features biopic. "I could sleep again!" Redmayne said. "It was a great weight off my shoulders."
For Redmayne and Felicity Jones, who played Wilde, "The stakes were so high from the word 'go,' from the second we got the part," Redmayne added. "They were such inspiring people. The fact that they enjoyed the film was a great award. I think their story is a wonderful story..."
In his moving acceptance speech at the 2015 Oscars, Redmayne made sure to give Hawking a special shout-out. "Um, this Oscar...This belongs to all of those people around the world battling ALS. It belongs to one exceptional family, Stephen, Jane, Jonathan and the Hawking children," the British actor said. "And I will be its custodian and I will promise you I will look after him. I will polish him. I will answer his beck and call and I will wait on him hand and foot."