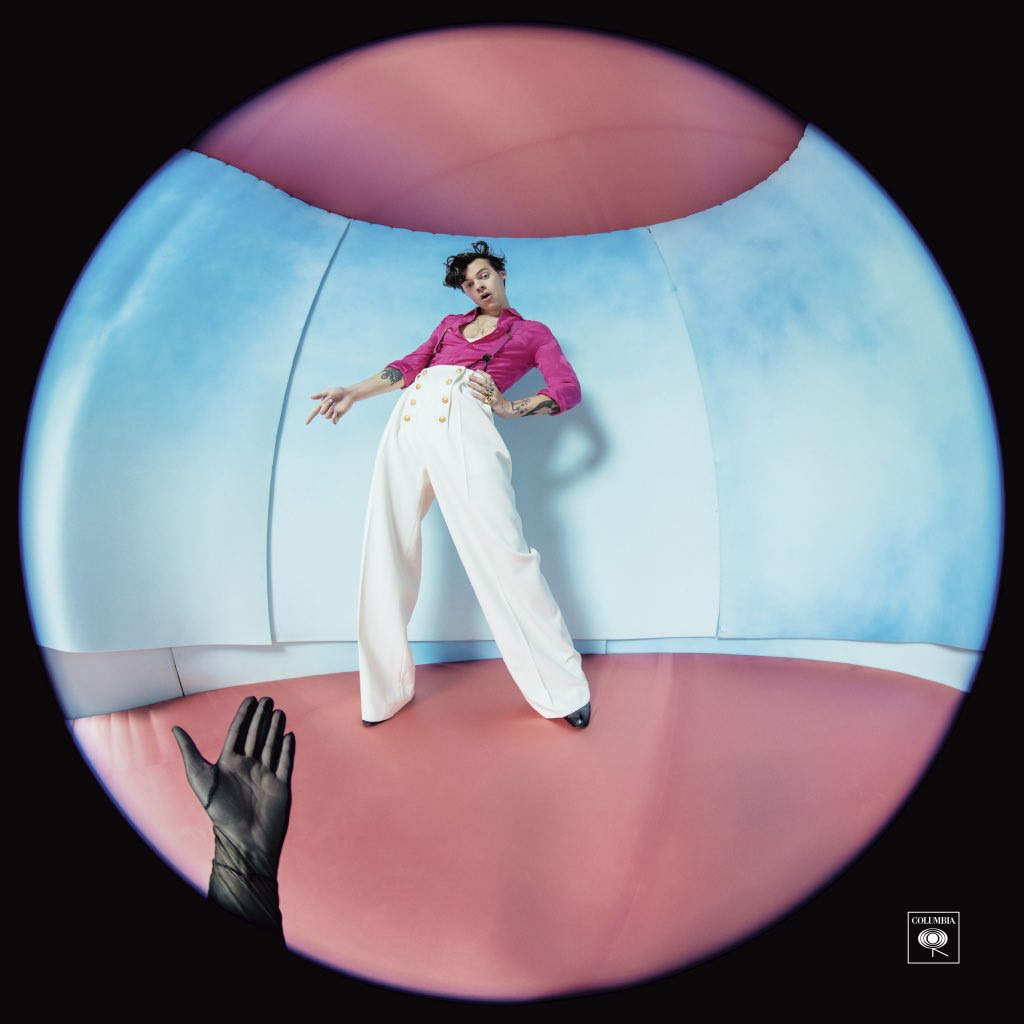 Columbia Records
One of Harry Styles' ex-girlfriends is featured on his new album—and it's totally all of our business.
During his interview with Apple Music's Beats 1, the 25-year-old walked host Zane Lowe through his second solo album Fine Line and revealed that an ex can be heard on the track "Cherry." Much to our dismay, Styles didn't name his former love, but he did share that her voice will be featured at the end of the song. 
"That was my ex-girlfriend," he told Lowe. "I don't know. I think it was because it got added in later on, and it felt so part of the song. It just felt like it needed it. We're friends and stuff, so I asked her if it was okay. And she was okay with it. I think she liked it."
Back in July 2018, Styles, who has been romantically linked to several leading ladies in his day, ended things with Victoria's Secret model Camille Rowe. His pal Tom Hull did say that Rowe had a "big impact" on the album during Styles' Rolling Stone interview this past summer. We'll have to wait and see who it is when the album drops on December 13.
Still on the topic of the song, the "Lights Up" singer explained that it took a lot of convincing for him to put it on Fine Line because of how honest it was. "The night that I wrote it, we'd been writing for a few weeks," Styles recalled. "And everyone had left the studio. It was me, Tyler [Johnson], and Sammy [Witte], who's our engineer. And we were kind of sitting around talking, at 2:00 AM maybe. And I was saying that I was feeling a lot of pressure, because the last record wasn't a radio record."
"I have all these ideas about records that I want to make," he continued. "And I want to make this record in five years. And I want to make this record in 10 years. Just these ideas for records that I want to make. And we had this conversation. And Tyler just said to me, 'You just have to make the record that you want to make right now. That's it. There's no let me make sure this one is a commercial success, so that I can make what I want later down the road. You just have to make the record that you want to make right now.' So, then we stayed up and wrote 'Cherry' that night."
Watch:
Necessary Realness: Hot for Harry Styles
One song that Styles was definitely excited to add to the Fine Line tracklist was "Golden," which he described as a "driving down the coast" record and "so Malibu." For Styles, recording the easy-breezy track was one of his favorite memories from working on the album.
"I'd say probably my favorite memory from making this, one of at least, was the day we wrote 'Golden,'" he shared. "We stopped and went to have dinner and we were all sat in the kitchen at Shangri-La and we played it on one guitar and everyone singing around the table, and it just felt really good. It felt so much more joyous than last time."
Breaking down his songwriting process, the "Watermelon Sugar" singer admitted that Fine Line marked the first time that he mixed business with pleasure. To get the creative juices flowing, Styles and his writing buddies would do mushrooms, which he said he would have never done had he still been in One Direction.
"When I was in the band, to me it felt like it was so much bigger than any of us. I felt like I'm not going to be the one who messes it up," he said. "Making this record felt like... I just felt so much more joyous. And I was with my friends, and we were in Malibu I felt so safe. It was like, I want to take some mushrooms, I'm going to take some. Like now's the time to have fun. Like we're in Malibu. 24. I'm also in music."
Let the countdown to Fine Line commence!