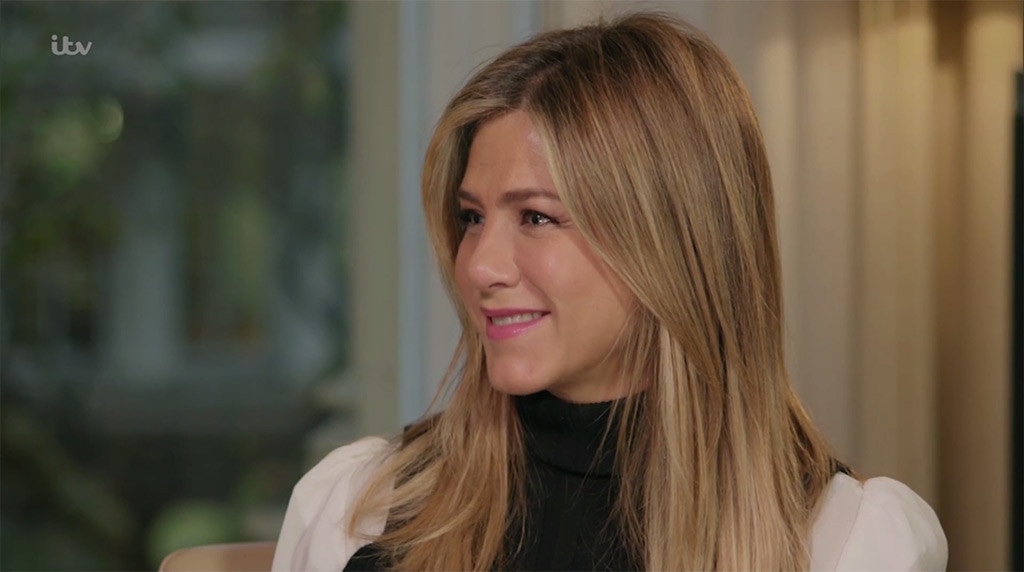 ITV
Jennifer Aniston has nothing but fond memories of Friends.
The NBC sitcom, which ran for 10 seasons from 1994 to 2004, still delights longtime fans as it finds new viewers. Friends now airs in syndication on other networks, and it streams as Netflix. Aniston, who played Rachel Green, weighed in on the series' legacy on ITV's Lorraine Thursday.
"Not only was it a gift for us, but it's something that people have been able to carry with them. It's comfort food and it makes them feel better when they're feeling down when they want to distract themselves, because it is always on!" she said. "You can pretty much find it anywhere!"
Fans have often clamored for a reunion, but Aniston doesn't share their sentiments—nor do Courteney Cox, Lisa Kudrow, Matt LeBlanc, Matthew Perry and David Schwimmer.
"Honestly, I don't know what we would do," Aniston told Lorraine Kelly of getting the gang back together. "I think that period of time was sort of nostalgic. I think why people have such an affection for it is because even though it was only 12 years ago it ended, or 13—God, it's getting farther and farther away—there was something about a time where our faces weren't stuffed into cell phones. We weren't checking Facebooks and Instagrams. We were in a room together, in a coffee shop together. We were talking, having conversations. We have lost that."
Now that she's focused on her film career (Office Christmas Party is in theaters Dec. 9), Aniston recognizes just how difficult it was to film the hit series. "We watched a lot of actors when we were shooting Friends years ago, and a lot of actors would come from film—guest stars—and they were scared," she said. "It was a scary arena to be in front of a live audience. Comedy is nothing other than being truthful and honest, but just with crazy, odd circumstances behind it."