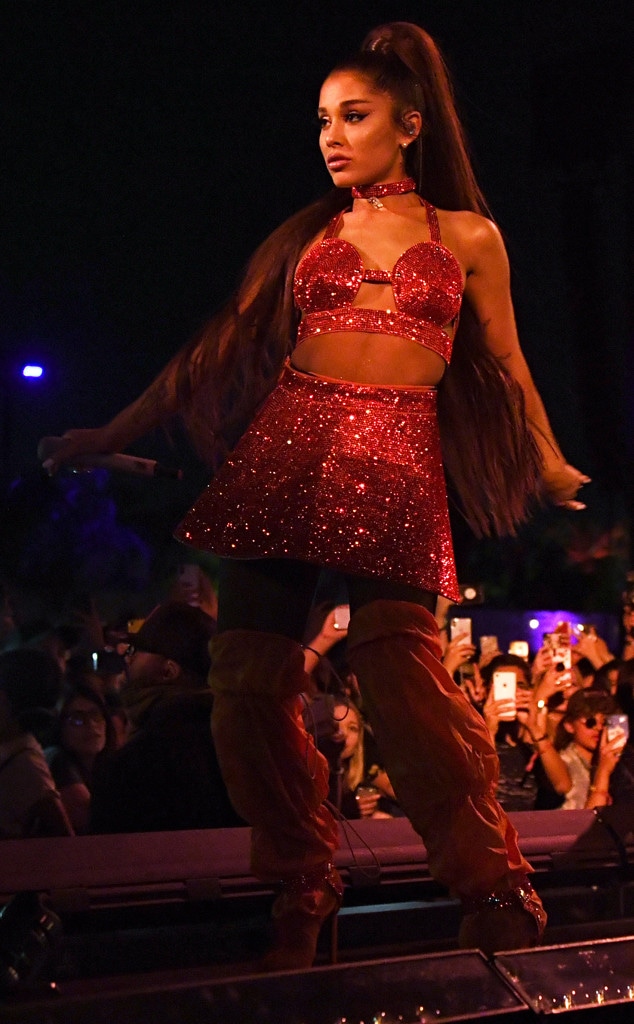 Kevin Mazur/Getty Images for AG
With Ariana Grande, there's more than meets the eye.
The chart-topping singer interacted with her 63 million Twitter followers on Tuesday where she answered questions about herself as well as her dogs (spoiler: she really misses them). Grande is in the midst of her Sweetener tour, which kicked off in March. She became the youngest artist ever to headline Coachella and is making stops in major cities across the United States before jetting off to Europe in August. 
Grande, who is normally very active on Twitter, hadn't tweeted since May 24. Per usual, the 25-year-old kept it real with her fans and wasn't afraid to shy away from her true feelings. One fan asked, "how's life on tour tho" and Grande replied, "fine" with a heart emoji.
Her response continued, "hard work physically ... but we do it. i'm grateful. i love the people i work with, this music and u guys. so much. plus, courtney's here. i finally, truly feel like i'm able to be present / not in my head and enjoy this forreal. it's nice."
Courtney refers to Grande's best friend Courtney Chipolone, who maintains a very active presence on the singer's Instagram feed.
The "Thank U, Next" artist also revealed that she's been writing and it "feels good!" She shared, "i'm not giving myself any deadlines ... just expressing n challenging myself. but ... i love what i been making. so much. but personal music aside, we been working on a soundtrack together." She tagged one of her songwriters Savan Kotecha in the post.
In another tweet, Grande said she's feeling "grateful" and that "today's a good day" despite "gloomy" weather. "i'm excited for the show. grateful grateful," she wrote.
Many of Grande's messages to her fans include additions of "love u" and her fans say it right back. Her appreciation is palpable in many of her tweets. 
"i love y'all way way more. [for real]," she penned. "thank you for the most special times of my life n for accepting my humanness."
Kevin Mazur/Getty Images for Ariana Grande
Grande has had a year filled with ups and downs and she's been transparent with her fans the entire time. She also just returned to stage after taking a brief hiatus due to an "unfortunate allergic reaction to tomatoes" that caused her throat to "pretty much" close.
On April 11, the Grammy-winning singer posted a series of photos that showed her "PTSD brain." She revealed she suffered from PTSD after the tragic bombing that occurred at her concert in Manchester on May 22, 2017. She paid tribute again this year to those lost with an emoji of a bee, which is a symbol of the city of Manchester.
One day later, she apologized because she "didn't mean to startle anyone with my brain thingy."
She said in an Instagram Story on April 12, "It just blew me away. I found it informative and interesting and wanted to encourage ya'll to make sure you check on your brains / listen to your bodies / take care of yourselves too."
Grande wrote towards the end of her note, "Just know I will continue showing up and giving as much of my energy as I can and do my best even tho my brain looks like the world map. (That's why her hair's so big, it's full of trauma...k ariana, log off) Love u."
June 4 also marks the two-year anniversary of the One Love Manchester Benefit Concert, which featured performances by Justin Bieber, Miley Cyrus, Coldplay, Katy Perry, Niall Horan, Mac Miller and Marcus Mumford.
She honored the concert on Instagram on Tuesday and captioned a photo of herself onstage that evening, "two years ago. thanks for teaching me what love is. my heart is with u always."
Grande has discussed some of aspects she struggles with while performing and also shared a quote about depression on her Instagram. On April 18, a fan wrote to her, "Music is your therapy and I love seeing it heal you."
While grateful, Grande said it wasn't all a "healing" experience. "Making it is healing. Performing it is like reliving it all over again and it is hell," she said in a now-deleted tweet.
She said in another tweet that she was feeling "confused and tired" but she wouldn't consider canceling her tour. Another person asked if her tour was good for her mental health and she replied, "I don't think it is."
The Florida native continued, "honestly. it's been v hard. i have [so much] on my mind and it's so heavy. i just feel empty and i wanna have more to say / better energy to give to u and rn i don't have anything. love u."
Grande will ring in her 26th birthday (June 26) while on tour. She has a concert that night in Toronto. June 11 also marks the one-year anniversary of Grande and Pete Davidson's engagement. They split on Oct. 14.
Overall, the artist is feeling "so happy" now and we're glad to hear it!