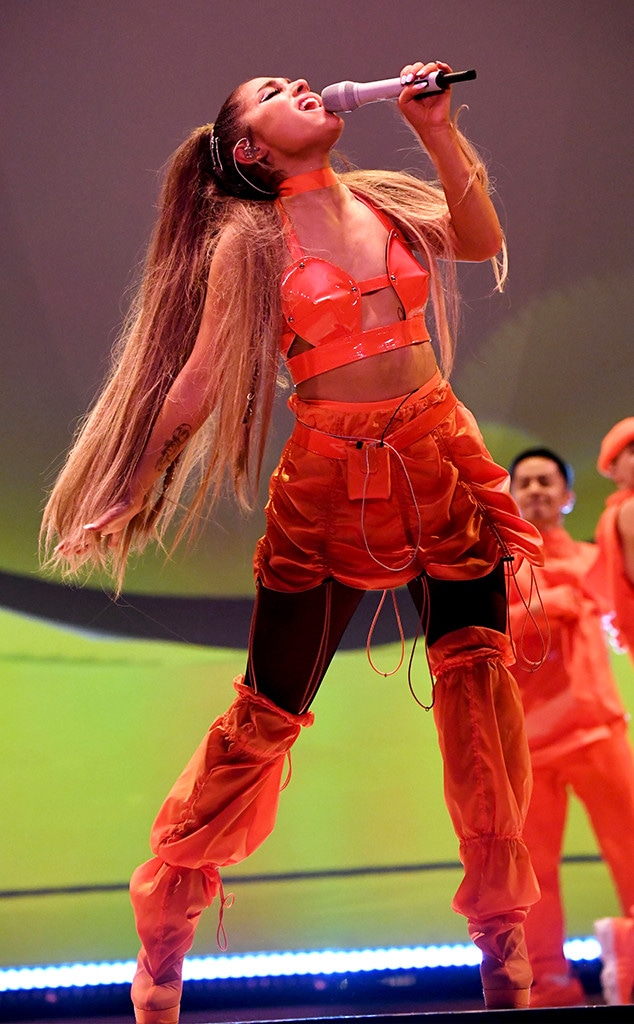 Kevin Mazur/Getty Images for Ariana Grande
UPDATE: After announcing the postponement of her Orlando and Tampa shows on Tuesday, Ariana Grande returned to social media to explain why she had to reschedule.
"Update: we discovered.....that.....I had an unfortunate allergic reaction to tomatoes and my throat pretty much closed," she wrote on Instagram on Wednesday. "Still feels like I'm swallowing a cactus but slowly making progress! Thank u all for your love and understanding. can't wait to get back to performing and to make it up to Tampa and Orlando in November. P.S. There is NOTHING MORE UNFAIR THAN AN ITALIAN WOMAN DEVELOPING AN ALLERGY TO TOMATOES IN HER MID TWENTIES......."
Feel better, Ariana!
----
Doctor's orders!
Ariana Grande is feeling "beyond devastated" after sharing some not-so-great news with her fans and concert-goers. The "Thank U, Next" crooner took to Instagram Stories on Tuesday morning to announce her Tampa and Orlando performances are being postponed.
"i woke up incredibly sick today, ran to my doctor here and have been told to postpone these shows tonight and tomorrow," the 25-year-old star revealed on social media. "i'm so beyond devastated."
She continued, "i will make this up to you, i promise. please forgive me. i love you and i will be back and better than ever as soon as possible. love you."
Fret not, Arianators! The "7 Rings" singer shared she's "returning in November."
"will keep you posted as soon as possible on exact dates but we will be returning in November and you will be able to use the tickets you've already purchased," she wrote on her Instagram Stories.
Grande added, "thank you so much for your understanding."
Additionally, Live Nation shared Ariana's news on Twitter and revealed the new tour dates. "The new show dates will be 11/24 in Tampa & 11/25 in Orlando," they wrote. "Ariana is sorry to disappoint her fans."
Kevin Mazur/Getty Images for Ariana Grande
It's unclear what bug the 25-year-old singer caught, but it seems like with a little rest, she'll be back on the stage in no time. In fact, she's still scheduled to perform in Miami later this week. "Miami shows are still happening," Live Nation tweeted.
Last month, the 25-year-old singer opened up about the dark side of performing her music and the toll it takes on a person. When a fan tweeted, "Music is your therapy and I love seeing it heal you," many were surprised by her response.
"Making it is healing," Grande replied in a since-deleted tweet (which was captured by several fan accounts). "Performing it is like reliving it all over again and it is hell."
After her tweet, Arianators quickly shared that they "wouldn't be mad" if she decided to cancel her tour. However, despite feeling "confused and tired," she reassured her fans that she "won't do that" to them.
Not even getting sick can keep Ari away from the stage for long. "can't wait to see you and make it up to you," she wrote on Instagram, adding, "love you so so so so so so much."
(This story was originally published Tuesday, May 28 at 1:10 p.m. PST).