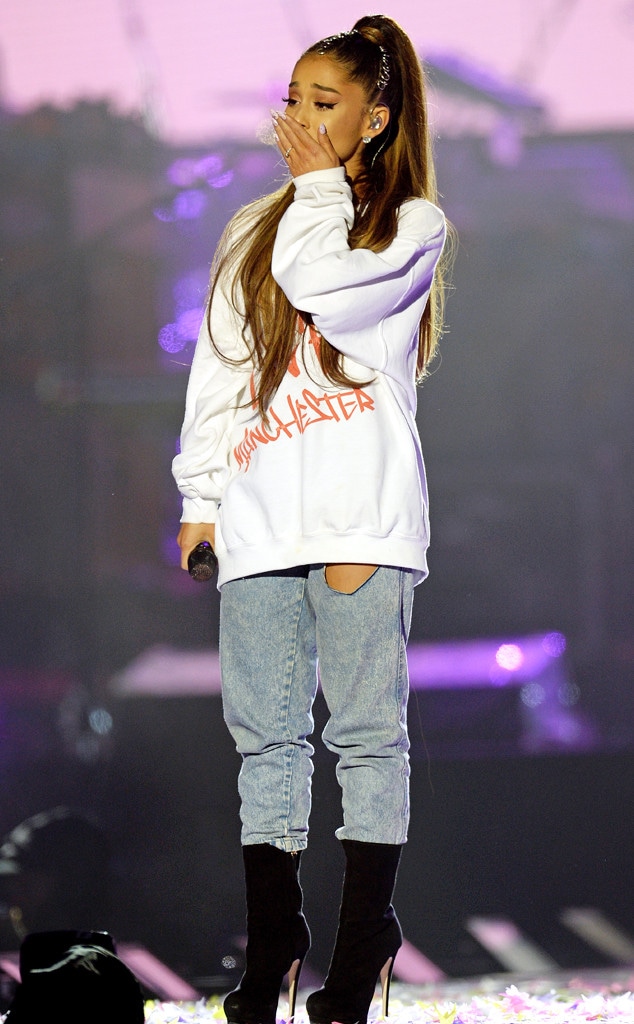 Getty Images/Dave Hogan for One Love Manchester
Ariana Grande took a moment to honor and pay tribute to the city of Manchester on Wednesday morning.
Today marks two years since the tragic Manchester bombing, which happened at the 25-year-old singer's concert in May 2017. There, the suicide bomber killed 22 attendees and himself.
Taking to her Instagram Stories, the "Thank U, Next" songstress shared a simple but powerful message: an emoji of a bee.
While it might not seem like much, that image encapsulates the U.K. city wholeheartedly. In fact, the insect symbolizes Manchester and its hard-working past. Its workers were dubbed "busy bees" during the Industrial Revolution.
Grande has paid homage to the city's emblem before. Last May, the "God Is a Woman" singer got a tattoo of a bee behind her ear. "Forever," she captioned her Twitter post that showed off her fresh ink.
In just a few months, Grande will be headed to the U.K. city to headline the Manchester Pride Festival in late August.
"manchester babes, i'm so thrilled to be headlining pride," she began her Twitter caption. "my heart. i cant wait to see u and i love u so so much."
This will be the second time she's returned to the city, following her One Love Manchester benefit concert.
Arianators might recall that a month after the Manchester bombing, Grande held a concert in June. She co-organized the event, which helped benefit the survivors of the bombing and the families of the victims of the attack.
During her benefit concert, she performed "Be Alright" and "Break Free."
Many stars also rallied behind Ariana at the special event, including Justin Bieber, Miley Cyrus, Coldplay, Katy Perry and more.
"The most important responsibility we have on this entire planet is to take care of one another," Cyrus told the crowd, adding, "And look what we're doing today and how amazing that is."
Just last month, one of the Manchester bombing victims attended Shawn Mendes' concert in Manchester to create "happy" memories. 
A fan account of the 20-year-old star shared a sweet video of the teenage victim. "Amelia, a victim of the tragic event in Manchester two years ago, replacing "terrifying memories with happier ones" at a @ShawnMendes concert Sending tons of love to Manchester today and always."
Not long after, the "Stitches" singer quote Tweeted the post, writing, "the sweetest girl I've ever met! Love u Amelia!!"