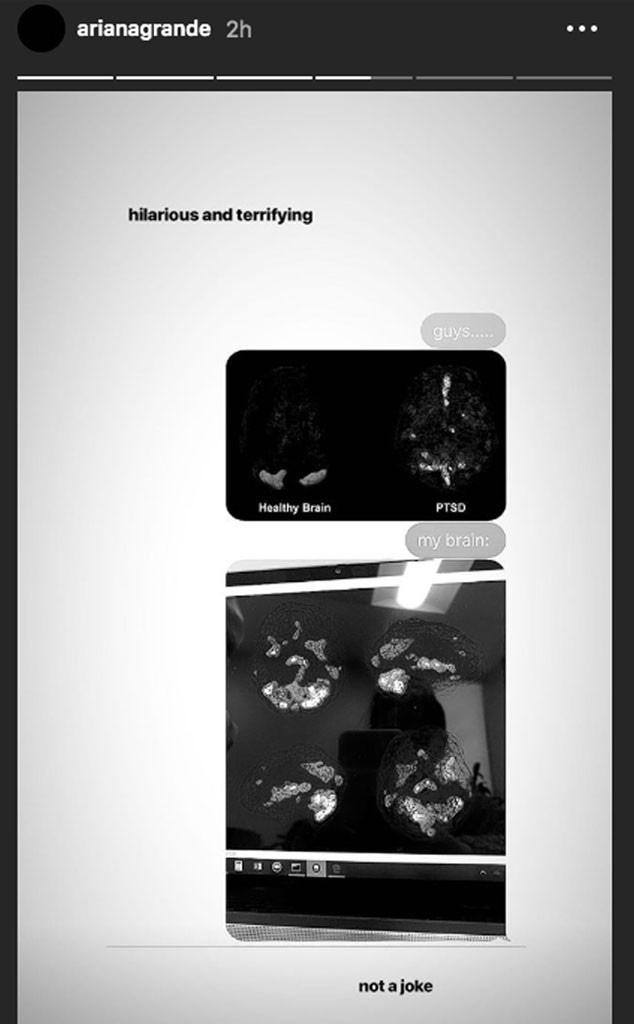 Instagram
When it comes to mental health awareness and sharing her trauma following the Manchester bombing, Ariana Grande isn't afraid to open up and speak out.
Taking a short break from posting fun footage from her Sweetener tour, the "Thank U, Next" star highlights something much more serious on her Instagram Stories.
"Not a joke," she captions a screenshot of three brains scans she sent in a group text message.
Displayed in the photo are two side-by-side brain scans that show what a "healthy brain" and "PTSD brain" look like. From the two images, the "PTSD brain" has several highlighted areas, where the other picture hardly shows any outlines.
"guys....," she texts her group, adding, "my brain." Despite the image being in black and white, you can clearly see Grande's brain scan and the multitude of highlighted areas it has. If anything, it's almost double the amount of what she previously shared.
As she puts it, her brain scan reveals the "hilarious and terrifying" levels of PTSD she has.
Kevin Mazur/Getty Images for Ariana Grande
It's unknown when Grande got the brain scan and in what context it was for. However, for many, it's eye-opening to see the effects PTSD has on the brain.
Last June, the 25-year-old singer-songwriter candidly spoke about her anxiety and "signs of PTSD" with British Vogue.
"I hate...yeah...admitting it but it very much is," she told the publication after being asked if the dizziness and anxiety she felt after the Manchester bombing were signs of PTSD.
"That's what everyone was telling me. It's hard to talk about because so many people have suffered such severe, tremendous loss. But, yeah, it's a real thing. I know those families and my fans, and everyone there experienced a tremendous amount of it as well."
She added, "Time is the biggest thing. I feel like I shouldn't even be talking about my own experience—like I shouldn't even say anything. I don't think I'll ever know how to talk about it and not cry."