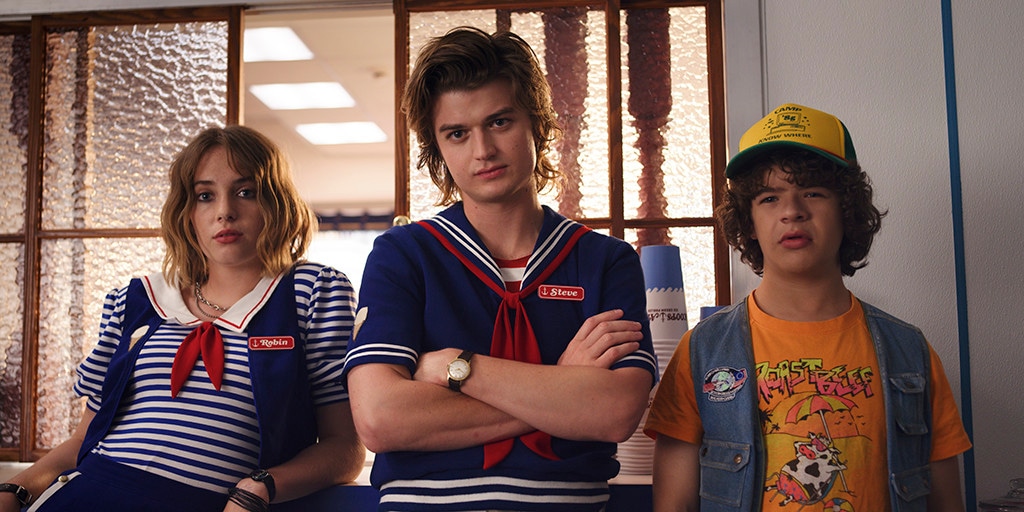 Netflix
Stranger Things 3 is coming, and it's bringing with it some of Hawkins, Indiana's best friendships.
Specifically, Steve and Dustin will continue to be a bromance for the ages, even as Steve gets a job at the new mall's boat-themed ice cream shop and makes friends with new girl Robin (Maya Hawke). 
Gaten Matarazzo confirmed the return of the duo to EW, saying there will "definitely" be more of the two together, and that's just one fun fact we've compiled about the upcoming season, which finds the whole gang enjoying their summer and preparing to start high school in the fall, with a brand new mall in town that looks like it might not be the safest place in the world. 
Creators Ross and Matt Duffer have described the third season as "unapologetically fun" as well as "horrifying" and "intense," while David Harbour told us last year that it's "awesome" and "risky," so consider us both excited and afraid of what's to come when July 4th arrives, along with the brand new season that we've been waiting for now for a year and a half. 
Below, you'll find everything we currently know about the new season, from why we had to wait that long to the friendships we're in for to the list of movies the season was inspired by. 
Now everybody, let's go to the mall! Today!  
Stranger Things 3 will premiere July 4, 2019 on Netflix.