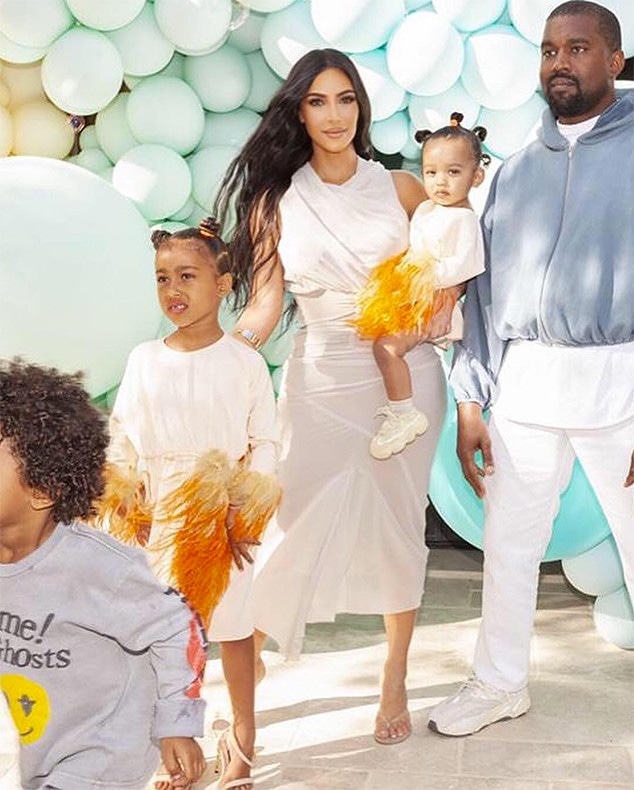 Instagram / Kim Kardashian
When it came to kids, Kim Kardashian had her heart set on having several. 
"I always wanted about six," she told Ellen DeGeneres back in January 2014, seven months after giving birth to daughter North West, her first child with future husband Kanye West. "After having her, I would have a million," she continued before noting, "the pregnancy—I wouldn't really wish that upon anyone."
As she shared with the daytime talk show host, "It's all worth it in the end, so I would definitely suffer through that, but pregnancy was not a good experience for me."
In pursuit of her dream family, Kardashian was once again expecting in 2015, happy news following some fertility struggles. However, as Kim had predicted, her pregnancy troubles continued as she battled weight gain, a "high-risk delivery," resulting anxiety and a painful procedure to turn her baby, who was breech, around in the womb two weeks ahead of his birth. 
In the end, the couple's first son, Saint West, arrived into the world in December 2015. Though the family had joyfully grown, Kim suffered in the aftermath.
"After giving birth, your placenta is supposed to come out, but mine was stuck," she told Elle in 2018. "That's what women usually die from in childbirth—you hemorrhage and bleed to death and they can't stop it. To get it out—it's so disgusting—the doctor had to stick his whole arm in me and scrape it off. It was the most painful."
Because she had faced placenta accreta with the births of her first two children, Kardashian's doctor advised they use a gestational carrier.
"After talking to Kanye, I think I always knew that surrogacy was an option, but I didn't think it was that realistic of an option, and now I feel like that's my reality. I feel like surrogacy really is the only other option for me," she said on Keeping Up With the Kardashians. In September 2017, the famous parents revealed they had taken that route and their third little one was on the way. Daughter Chicago West was born via surrogate in January 2018. "We are incredibly grateful to our surrogate who made our dreams come true with the greatest gift one could give," the couple said publicly at the time. 
As fans well know now, the two were not done growing their family, but Kim's sights weren't set on six kids anymore. "I don't think I could handle more than [four]," she told Elle last year. 
With a bigger family still in their sights, it was confirmed via sources in January that Kim and Kanye were going to have another son via surrogate. "They had one male embryo left and are thrilled it has worked out," a source told E! News. 
According to a second source, the two "always agreed on both wanting several kids and a big family." The A-list duo "love having their kids run around and be able to grow up and enjoy each other as siblings," the source noted, adding that they "would want the fourth child to be close in age with the others." 
Their plans really began to take shape this week when sister Kourtney Kardashian revealed to Kris Jenner on The Ellen DeGeneres Show that the couple's surrogate had gone into labor. By Friday, Kim revealed she was officially a mom of four. "He's here and he's perfect!" the makeup mogul announced on Twitter. 
A source tells E! News, "Everything went smoothly and they are in love already. They feel complete and that this little blessing is the perfect last addition."
"Kim and Kanye were both there for the delivery and ecstatic with how well everything turned out. Kris and some of Kim's sisters have come by and brought along Kim's kids to meet their new baby brother. He looks a lot like Saint and Chicago. They could all be twins and really take after Kim," adds the insider. 
"Kim and Kanye are so grateful they were able to have a baby this way and are very grateful for the surrogate. Kim can't believe she has four kids. It's going to be crazy and chaotic but it's just the way she wanted it."
Just like that, Kim got her family of six.