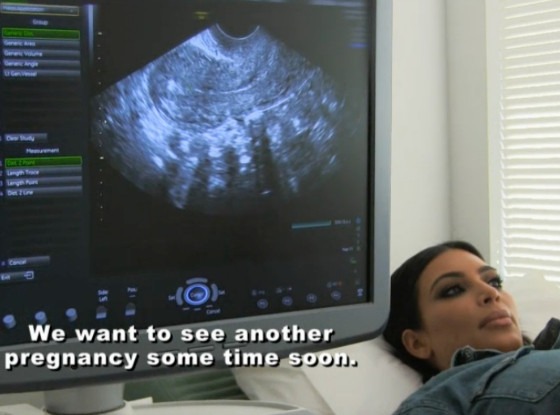 Kim Kardashian and Kanye West are trying for baby No. 2 but the reality star is having trouble getting pregnant again and recently talked about their struggle in a candid interview.
The topic will be addressed on the upcoming 10th season of Keeping Up With the Kardashians. Kim, 34, and her 37-year-old husband and rapper are parents to daughter North West, 1.
'It's been more challenging to get pregnant the second time around," she told reporters at E!'s International press event for the show, as reported by The Daily Mail.  "When you're not planning it, it happens. It's just how God works."
"And when you want it so bad, it's not happening," she added.
In a promo video for the new season of Keeping Up With The Kardashians, Kim is shown on an examination table at a medical center, next to an sonogram monitor. 
"Was Kanye just here?" sister Khloé Kardashian asks Kim in another scene. You didn't bone in a bathroom...that's how hard you're trying?" 
Kim said at the press event that her struggle to get pregnant is addressed on the show in a bid to help other women, adding that West supports the decision.
Infertility affects about 15 percent of U.S. couples, according to the National Library of Medicine, and occurs when a couple is unable to conceive after a year of having unprotected sex. When women reach age 35, the timeframe is cut to six months. One third of couples in which the woman is older than 35 have fertility problems, according to the Centers for Disease Control and Prevention.
However, many women, including celebrities such as Halle Berry, Salma Hayek, Céline Dion and Rachel Zoe have given birth to children while they were in their 40s. There have been cases where women in their 60s have had babies.
There are many treatments available to treat infertility, including oral medication, artificial insemination and in-vitro fertilization, a method sometimes jokingly referred to as making "test tube babies," which can cost several thousand dollars. Many meds and procedures carry side effects and other risks, such as conceiving multiple embryos.
Also, some couples wishing to conceive a child also opt to use a surrogate mother, or gestational carrier, which can cost tens of thousands of dollars. Celebrities who've welcomed babies this way include Ellen Pompeo and Elizabeth Banks, who has two sons via a surrogate.
Keeping Up With the Kardashians returns Spring 2015!