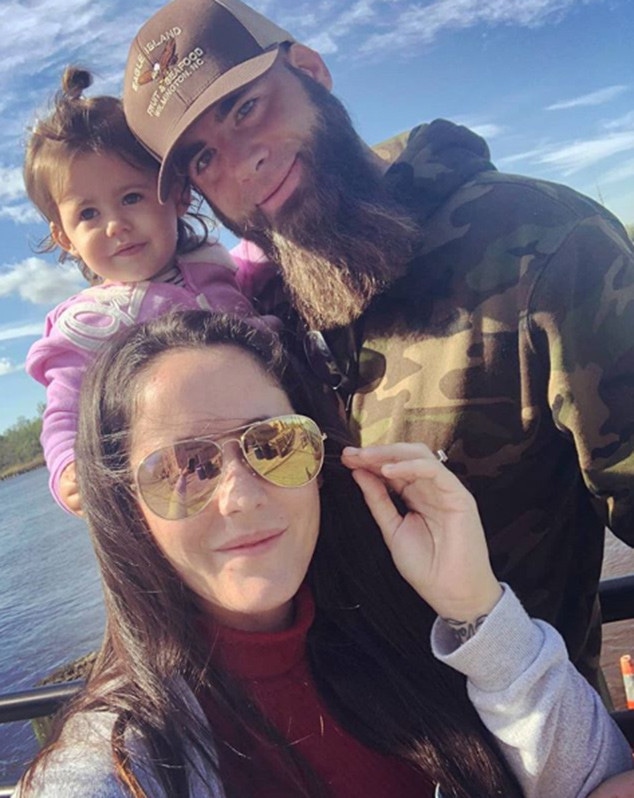 Instagram
Jenelle Evans' time on Teen Mom 2 has officially come to a close.
An MTV spokesperson confirmed to Us Weekly on Tuesday that they were severing all ties with the mom of three.
"MTV ended its relationship with David Eason over a year ago in February 2018 and has not filmed any new episodes of Teen Mom 2 with him since. Additionally, we have stopped filming with Jenelle Eason as of April 6, 2019 and have no plans to cover her story in the upcoming season," the network told Us Weekly.
The news from MTV comes just one week after Eason allegedly shot and killed Evans' dog Nugget because "it snapped" at their 2-year-old daughter Ensley. E! News learned at the time that she was "distraught" over the incident, and it seems like today's news was no different.
She was apparently blindsided by the firing. A source close to Evans told E! News, "She is focusing on what's best for her and the kids. MTV made the statement before letting her know."
The insider said Evans "was crying when she found out about being fired," but she likely isn't going down without a fight.
"This isn't the last you're going to hear from Jenelle. She [isn't] going to stop," the source told us.
Evans' relationship with her husband has been fraught since the alleged shooting, but it seems like there could be the chance for reconciliation. She told us one day after the incident that she was "very much considering divorcing" Eason.
"I have not gone back to my home yet because he is refusing to leave. I won't see him and don't want to talk to him," she shared. "Thankfully the kids did not see him shoot the dog. They are still with me. I am very much considering pressing charges against him for this."
The Columbus County Sheriff's Office and Columbus County Animal Control have launched a joint investigation into Eason's supposed killing and allegations of animal cruelty. However, the source told E! News that Evans and her husband are "seeking marriage counseling."
Both Eason and Evans spoke out after Nugget's death, but with very different messages.
"Nugget... I'm crying everyday. I love you so much and I'm so sorry. I'm speechless. You were my side kick and knew the moment I felt bad and would cuddle with me," she captioned an Instagram post of herself with the French bulldog pup. "You still had a lot to learn and a lot to grow from your lessons. Everyday I wake up you're not here, when I come home you're not here, when I go to bed... you're not here. You're gone forever and there's no coming back."
Eason took a more defensive stance in his Instagram post about it.
"I dont give a damn what animal bites my baby on the face... whether it be your dog or mine, a dog is a dog and I dont put up with that s--t at all. I'm all about protecting my family, it is my lifes mission," he wrote on social media. "Some people are worth killing or dying for and my family means that much to me. You can hate me all you want but this isnt the first time the dog bit Ensley aggressively. The only person that can judge weather or not a animal is a danger to MY CHILD is ME."
Jim Smeal/Jordan Strauss/Invision/AP/REX/Shutterstock
Barbara Evans, Jenelle's mom, told E! News her daughter was "let go" from the series.
When asked about her own future on the show, she said, "I don't know what they'll do with me." She has yet to hear from MTV.
Fellow Teen Mom stars have spoken out about the shooting over the past few days.
On Sunday, Kailyn Lowry, who has a notoriously fiery relationship with Evans, put their differences aside and defended Evans.
"I have refrained from commenting on the disturbing situation involving David Eason and Jenelle Evans while I wrapped my head around the murder of Nugget. To say I am disgusted and appalled over David's actions doesn't begin to touch on my true feelings," she said in a statement typed on her company Pothead Haircare's letterhead.
It went on, "I want to make it clear that neither myself or my company, Pothead Haircare, condone violence against animals. Being the owner of dogs myself, I am heartbroken and sickened by what happened to Nugget. I hope that Jenelle and her children are safe and take the necessary steps to get the help that is clearly needed."
Just a few days before Lowry's message, Amber Portwood said she was "heartbroken" about what happened to Nugget and that she hopes "[Jenelle] makes the right decision."
Leah Messer composed a series of tweets on Tuesday after news broke about Evans' firing. Messer said her "heart was broken" when she learned about Nugget and then criticized Evans for not immediately leaving Eason.
"ANYONE that condones/contributes/doesn't PREVENT or STOP animal cruelty or the murder of an innocent animals life is SICK & I REFUSE to be affiliated with! I want to sympathize for my former cast mate but at this point I can't. ENOUGH is ENOUGH!!!" she wrote in her first tweet.
Watch:
Jenelle Evans' Husband Breaks Silence on Dogs Death
Messer went on to say that she "didn't know how to address the situation" because many people have reached out and messaged her about it.
"I could NEVER support or condone animal cruelty!! I just started crying when I came home to my Dog....." she tweeted.
A third tweet read, "I just looked at him/Champ and asked myself.. How could someone be so mean spirited!? I stand with allll of our fans!!!! #JusticeForNugget"
Chelsea Houska's dad, Randy Houska, said Evans' firing was "far past due."
He tweeted, "But I worry for the kids, and since we've been in this for 10 years together, I worry about Jenelle."
Randy made a number of comments as of late about Nugget and profusely criticized Eason.
"You aren't 'protecting your family' when you shoot a 10 pound dog that your daughter was tormenting," he wrote on May 3 in reaction to Eason's statement.
He even threw shade at MTV in another note: "One of my grandkids bit another kid at daycare a few weeks ago. I'm damn glad it was not the Eason daycare or I would be down one grandchild now @MTV @TeenMom #teenmom2"
-Reporting by Jessica Finn