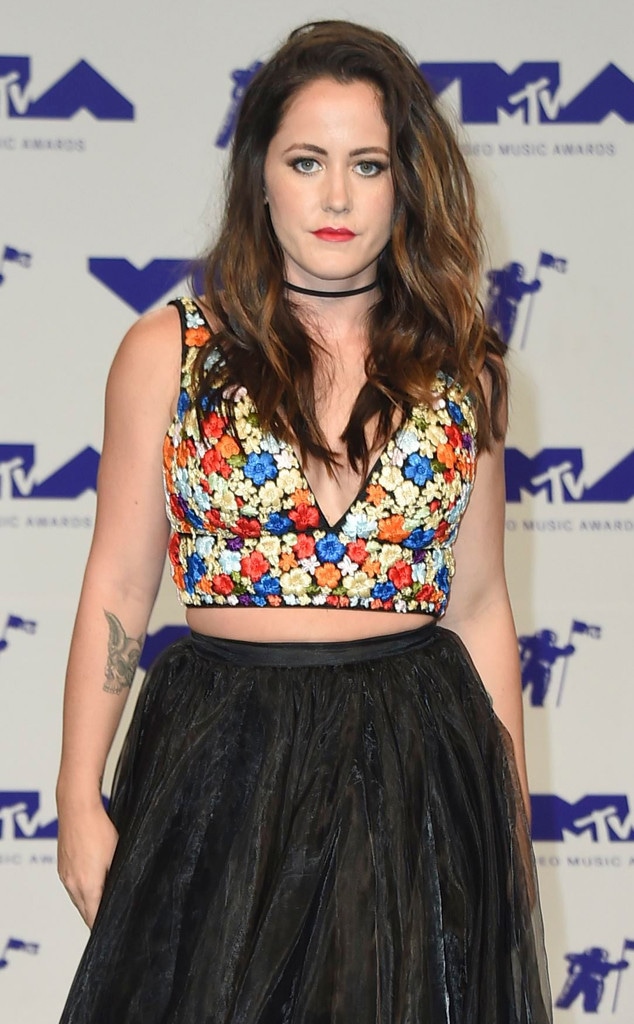 Invision/AP/Shutterstock
Jenelle Evans' husband David Eason has allegedly shot and killed her French bulldog, Nugget.
Evans, however, was reportedly not the one who called authorities. The Columbus County Sheriff's Department told Radar Online they received a call and "it was relayed that the woman's husband had killed her dog." The Sheriff's Department told Radar Online they were currently "investigating" the incident and that the 911 call was made by a male.
E! News has reached out to the Columbus County Sheriff's Department.
A source told E! News that Eason supposedly killed Nugget because "it snapped at" their 2-year-old daughter Ensley Eason. 
According to our source, "The horrific incident thankfully did not happen in front of the kids."
"Jenelle has been distraught all day over it," the insider shared.
Neither Evans nor Eason has commented publicly on the alleged tragic incident, but Evans did leave a few cryptic clues on social media.
On Tuesday afternoon, she changed her Facebook status to read "Jenelle Evans is devastated."
She also posted videos on her Instagram Story of Ariana Grande's songs "In My Head" and "Bad Idea" playing on the car stereo. She even added in a heart drawing around the song title. The 27-year-old shared the same videos to her Facebook page and captioned them, "Sing to me Ari" with a heart emoji.
Eason added a photo to his Instagram Story earlier in the day with a photo of someone pointing a gun and captioned it, "But AR-15 shoots too fast." He then included a few videos of what is presumably Eason burning something in a makeshift furnace with coals and surrounded by concrete blocks.
Both Evans and Eason have posted photos and videos of the French bulldog on their social media pages. On April 1, Eason uploaded a video of Nugget taking a ride in a kids swing on a playground.
They introduced Nugget to the world on August 15, 2018 in a series of cute Instagram pictures that showed Nugget looking out the window of a car.
"These dog days got us hanging out the window cooling off! Everyone meet Nugget the Frenchie!" Eason captioned the images.
The fatal shooting of Nugget comes just one month after Evans and Eason denied any split rumors.
"Things are fine between me and David," she told E! News at the time. "I heard since he's not on social media as much we broke up... and tons of other rumors but I just don't post unless I have makeup on and when I don't, I take videos of my animals and kids a lot."
However, things between the two of them have not always been rosy.
Alberto E. Rodriguez/Getty Images
In October, police arrived at their North Carolina home after getting reports of "an assault."
The chief of 911 operations for Columbus County told E! News at the time, "Once they arrived, they advised her proper legal actions to take. An ambulance was called and then cancelled because she said she was going to the ER in a private vehicle."
Evans' rep told People afterwards that she went to the hospital because she "had friends over and they had a bonfire on the property" and then she "ended up tripping and falling by the fire." A few days after that, the couple made it a point to show some PDA on social media. Evans told E! News it was all a "drunk and dramatic misunderstanding" and their relationship was "totally fine."
Eason spoke out on Instagram and asserted that the married couple has "never been happier."
In February 2018, Teen Mom fired Eason due to some homophobic tweets that resurfaced. A network spokesman told E! News at the time, "David Eason's personal comments do not reflect the views of MTV. With six weeks left of production on Teen Mom 2, effective immediately, we are ending our relationship with him."
In December, Eason was served with a criminal summons for tampering with a vehicle and causing injury to personal property because he illegally towed a truck. Terry Hill, the man whose car was moved, said he wanted to press charges against Eason.
About one month later in January, he denied threatening to shoot a woman who stopped in front of his house.
Evans recently underwent a procedure to get her tubes tied. She told E! News on April 13, "I decided to do it because I had constant pain on my left side and I get extremely sick when pregnant. I'm also happy with the number of kids I have now." At the time, Eason shared videos on his Instagram page of him making pasta "for my babe" because "she don't feel good."
Evans and Eason tied the knot on Sept. 23, 2017 at their home in North Carolina.
The source explained to E! News about it all, "She just wants what's best for her kids."