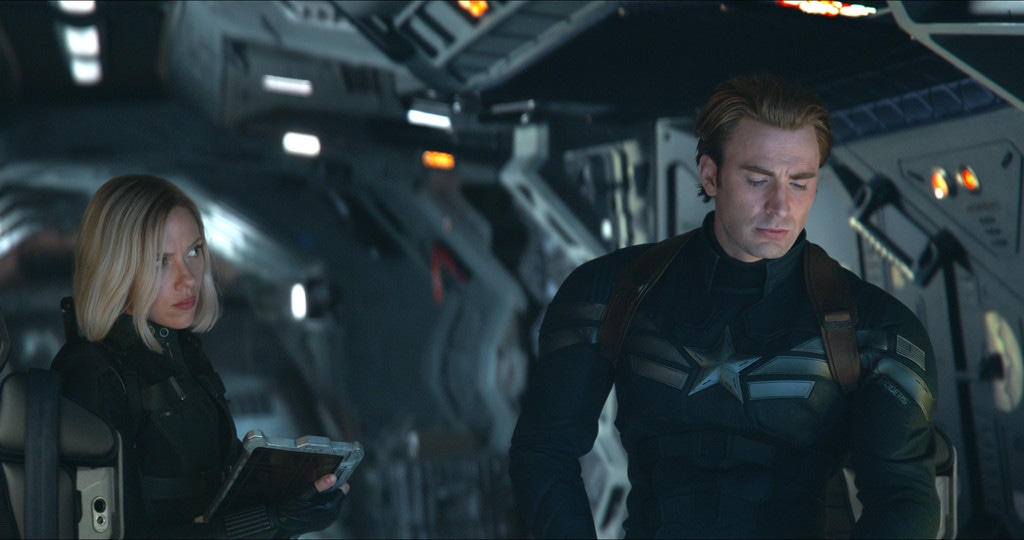 Marvel
April is here and there is so much to celebrate!
With a new month we do have to say goodbye to certain movies on Netflix, which isn't exactly happy news, but there are new movies coming to theaters so that's what we're focusing on. 
As you start buying all your Easter candy and preparing for April showers it's time to figure out which upcoming movie release you're going to see first in theaters. There are a lot of great movies coming out this month and we have no clue which one we are going to see first.
From the next Marvel installment of the Avengers films, Avengers: Endgame, to thrillers like Pet Sematary and The Curse of La Llorona there are so many different types of films we have on our must-watch list right now.
Are thrillers your thing? We've got them! What about friendship tales? We have those too! Trust us, April is a movie-lovers month.
Beginning this week, films like Shazam! AKA a funny superhero flick and The Best of Enemies, which is about segregation in the south back in 1971, will be coming to a theater near you.
There are also fun Netflix original films including Unicorn Store starring Brie Larson and Someone Great starring Gina Rodriguez that you can stream this month from the privacy of your home.
From comedies like Little to romance films like After, there is truly something for everyone at the movies this April.
To see what 15 films are coming in hot this month keep scrolling. Once you've previewed all of the films make sure to vote for your must-see movie of the month.
Shazam!: April 5
After standing up for his foster brother and narrowly escaping the cops, Billy Baston (Asher Angel) finds himself in a weird cave when his subway train opens up there. He meets a superhero and is gifted his powers. All he has to do is shout "Shazam!" and the powers take over. The real question is when Shazam (Zachary Levi) takes over can he rise to the superhero challenge?
The Haunting of Sharon Tate: April 5
Hilary Duff plays actress Sharon Tate in this haunting movie that shows the weeks leading up to her murder. The Haunting of Sharon Tate takes you back to the horrible night when Tate, who was only 26 years old and pregnant, was murdered by the Manson Family in 1969…but this time you see it through her eyes and all of the visions that plagued her before it took place.
The Best of Enemies: April 5
The true story of the unlikely friendship between civil rights activist Ann Atwater (Taraji P. Henson) and Ku Klux Klan leader C.P. Ellis (Sam Rockwell) will leave you stunned in the theater this spring. The Best of Enemies is inspired by Osha Gray Davidson's book The Best of Enemies: Race and Redemption in the New South and shows what happened in 1971 Durham, North Carolina when both Atwater and Ellis were put on the committee overseeing the issues of school desegregation and surprisingly found common ground during a time where racial differences ruled America.
Pet Sematary: April 5
After leaving Boston and moving to a rural home out in the woods, Louis Creed (Jason Clarke), his wife Rachel (Amy Seimetz) and their two kids quickly discover that the pet sematary located nearby is not what it seems. It's not just an eerie place to bury your pets; it's much, much scarier than that. In fact, they learn that maybe sometimes, dead is better.
Unicorn Store: April 5
Unicorn Store (arriving on Netflix) gives adults the fantasy world they've always wanted…with bright colors and unicorn dreams. After getting kicked out of school, Kit (Larson) starts temping at a PR firm. She then receives a mysterious invitation to a store that promises to fulfill her childhood dream of owning a unicorn. While she prepares to get this magical gift she learns something about herself and how to be an adult.
Teen Spirit: April 12
Teen Spirit shows a side of Elle Fanning you've never seen before and you'll definitely want to see again. In this film she plays Violet, a shy teen who dreams of singing and escaping her small town. After entering a TV singing competition that relies on the public's votes she gets thrown into a world she never imagined, but the good news is that she can sing.
Hellboy: April 12
Based on the graphic novels by Mike Mignola, Hellboy (David Harbour) is ready to be the hero you didn't know you needed. Even though Hellboy is caught between two worlds, the supernatural and human, and he technically came from hell, he uses himself as a weapon to battle against the ancient sorceress Nimue the Blood Queen (Milla Jovovich), who only wants to get revenge on the world and destroy it.
After: April 12
Based on Anna Todd's novel by the same name, After follows Tessa (Josephine Langford) as she goes off to college. During her first semester away she proves she's not going to give into peer pressure, has a good head on her shoulders and is a ready to win at college. The only issue comes when she falls for the mysterious Hardin Scott (Hero Fiennes Tiffin) who is rebellious, has a dark secret and makes her question everything about herself and her life.
Little: April 12
Jordan Sanders (Regina Hall) is a mean boss lady who doesn't appreciate her assistant April (Issa Rae), but when adulthood becomes too intense for everyone, and she makes a little girl mad, she finds herself in a much different world…a little world. Jordan wakes up one day as her younger self (played by Marsai Martin) and let's just say things get interesting at the office and at school.
Missing Link: April 12
Kids, this one's for you! Mr. Link (Zach Galifianakis) asks for help from explorer Sir Lionel Frost (Hugh Jackman) to find his long-lost relatives in this animated film. Along the way to the fabled valley of Shangri-La, the duo and fellow adventurer Adelina Fortnight (Zoe Saldana) travel the world and see amazing things.
Crypto: April 12
Kurt Russell, Luke Hemsworth, Alexis Bledel, Beau Knapp and more star in this crime drama. Buckle up as you go deep into the world of crypto currency as Martin (Knapp), a young agent, is tasked to investigate a corrupt and fraudulent business in New York that could end up getting him or his loved ones killed.
Someone Great: April 19
This Netflix movie is perfect for a night in with your girls. After Jenny (Rodriguez) takes a new job in San Francisco her boyfriend breaks up with her because he doesn't want to do long distance. In order to get over her heartbreak and prepare for her new life she has one last New York City adventure with her best friends Erin (DeWanda Wise) and Blair (Brittany Snow), because female friendships can make anything better.
Little Woods: April 19
Little Woods is the modern Western you didn't know you were missing in your life. It tells the story of two sisters Ollie (Tessa Thompson) and Deb (Lily James) who work outside the law to try and better their lives. When her sister needs help, Ollie goes back into her illegal job of selling Canadian medicine to the struggling residents of North Dakota, risking it all to save her and her family from more heartbreak.
The Curse of La Llorona: April 19
If horror films are your thing than The Curse of La Llorona is the film for you. This scary movie follows a social worker named Anna Tate-Garcia (Linda Cardellini) who finds herself and her children being haunted by a ghost named La Llorona (Marisol Ramierz) after getting an eerie warning from a mother suspected of child endangerment.
Avengers: Endgame: April 26
They're back! Avengers: Endgame is the finale fans of the Marvel franchise have been waiting for. Following the devastating events of Avengers: Infinity War AKA when Thanos (Josh Brolin) wreaked some serious havoc on the universe, the Avengers assemble once again, with the help of Captain Marvel (Larson) and the remaining allies and set out to undo Thanos' actions and save the universe once and for all.
Which April blockbuster are you most excited to see first? Vote now!
April 2019 Blockbusters Poll