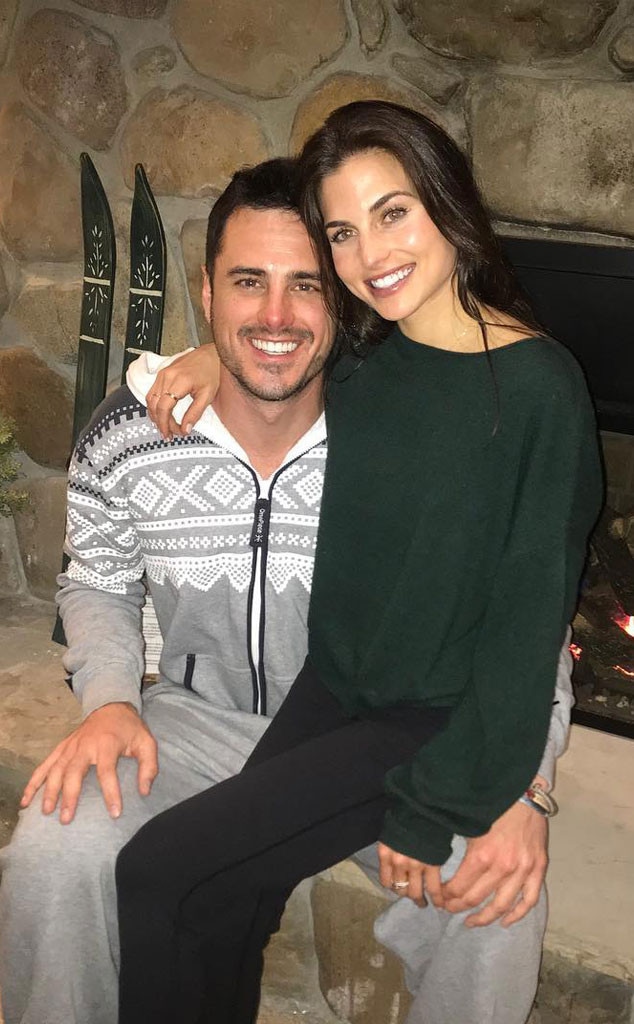 Instagram
We have a Bachelor birthday on our hands!
Ben Higgins turned 30 on Saturday and was graced with a plethora of birthday tributes on social media from fellow Bachelor Nation members as well as other friends. One special post was shared by his girlfriend, Jessica Clarke.
Ben and Jessica have only been public a.k.a. Instagram Official for about a month now and the two of them haven't been shy in terms of sharing their feelings about the other one on their respective profiles. On Sunday, Jessica posted a picture of herself, Ben and her brother Philip Clarke in Nashville. It just so happens that these two men in her life have birthdays just one day apart, which she wrote about in the caption.
"Two of my favorite guys had big bdays! Benjamin turned 30 yesterday and has been my greatest surprise and blessing," she wrote. "Baby Philip turns 21 today and has been my best friend and little brother since forever. My heart is just overflowing, what a weekend."
She shared similar words about her boyfriend in February when they brought their relationship into the public eye. Jessica said Ben "has one of the biggest hearts and kindest spirits."
The former Bachelor leading man has slowly but surely provided more details about his relationship with Jessica and some of their favorite moments together.
In January, Ben opened up about his dating life on his podcast with Ashley Iaconetti called The Ben and Ashley I. Almost Famous Podcast. The now 30-year-old admitted he was dating someone new and no, she wasn't a Bachelor contestant.
He explained on the pod that he was focusing on the "right timing" in terms of going public with his new relationship and dealing with "the pressure" of being a couple that people recognize. He does, after all, have 1.3 million Instagram followers.
About a month after that podcast episode, Ben and Jessica took their affection to the social media airwaves by posting matching photos from a trip they took in Honduras. It turns out that their relationship began in a way that was quite the opposite of getting out of a limo and chatting in a mansion for weeks on end. Rather, Ben "took a risk" and slid into her DMs.
"She is someone special, and I look forward to where life is going to take us," he wrote.
The DMs method was worked well for some Bachelor Nation couples. Just look at Sarah Hyland and Wells Adams! Although Jessica and Ben are doing the whole long-distance thing, they still seem happy as can be and, based on their Instagrams, see each other a relatively decent amount.
Jessica recently shared on a podcast episode that she and Ben "FaceTime every day."
Check out the gallery below to see the status check of other Bachelor Nation couples.