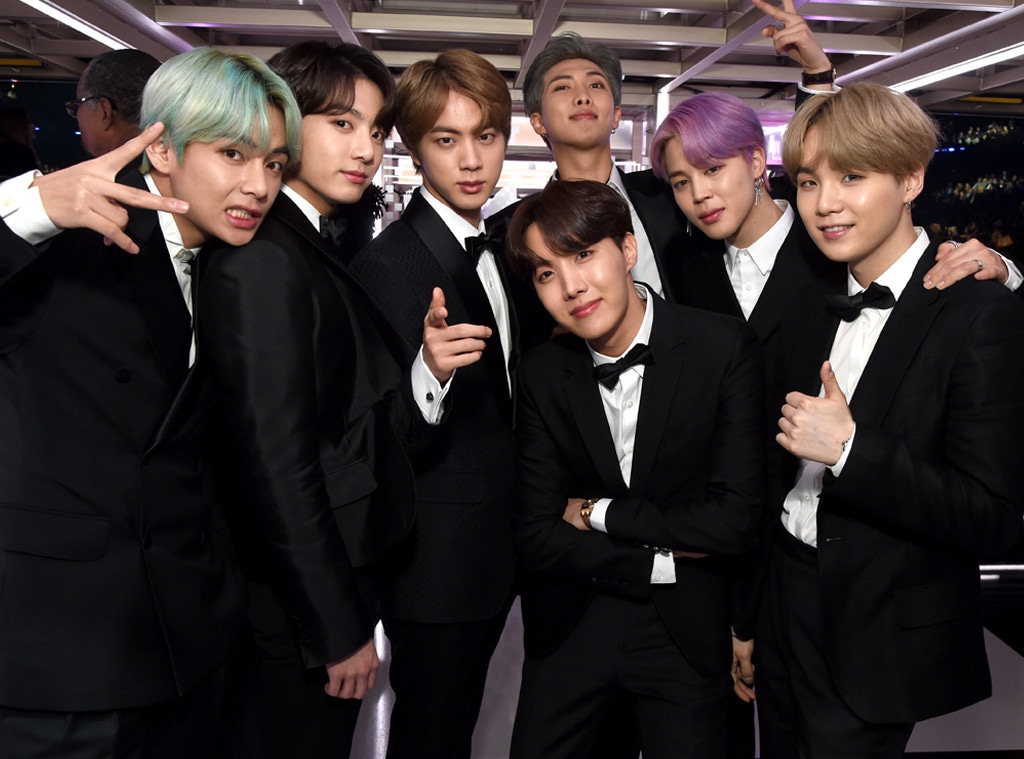 Michael Kovac/Getty Images for The Recording Academ
April is shaping up to be an extra-bright month for BTS.
The sensational K-Pop band has been completely unstoppable since they first came on the scene and their influence continues to grow every day.
It's clear to see. BTS' fan base—lovingly known as BTS ARMY—encompasses the entire world and is always at the ready to mobilize for the band. They've collaborated with top artists like Steve Aoki and Nicki Minaj and they've even showed off their dance moves with late-night host Jimmy Fallon, just to name a few of their recent accomplishments. 
On April 13, RM, J-Hope, Jimin, Jin, Jungkook, V and Suga are making big moves in the late night and music worlds as they take the stage at Saturday Night Live for their big debut. It'll be their first time performing on the show, but they'll also be anchored by host Emma Stone, who has held that gig three other times.
BTS's SNL appearance coincides with the April 12 release of their much-awaited album called Map of the Soul: Persona. According to Billboard, Map of the Soul has already sold over 2.6 million copies. With just under a month to go, it's safe to say that that figure will grow exponentially by April 12.
The band heads out on a world tour this summer and tickets unsurprisingly went faster than you can say "BTS ARMY" five-times fast. According to their website, BTS kicks off their tour in Los Angeles with two shows at the Rose Bowl. They make stops in Chicago, New Jersey, Sao Paolo, London, Paris, Osaka and Shizuoka, Japan. Their Wembley Stadium show in London apparently sold out within 90 minutes.
All of their concerts include multiple dates in the same city due to the high volume of fans hoping to attend. For anyone not in those cities, fret not! The band said on their site that there will be more tour dates announced in the future.
Saturday Night Live, sold out concerts and a new album dropping are just the tip of the iceberg for BTS. On Monday, toy company Mattel revealed that they were releasing their own line of BTS dolls.
"No more dreaming. Something big's coming…" the company tweeted with a photo of the dolls standing on a dark stage. Their initial announcement tweet received over 85,000 likes and 36,000 retweets. They assured the BTS ARMY in their replies, "We'll be sharing the #BTS love with retailers around the world this summer."
Neilson Barnard/Getty Images for The Recording Academy
BTS has already had a very strong start to 2019.
They presented the award for Best R&B Album at the 2019 Grammys and also rocked out nonstop during Dolly Parton's star-studded tribute performance at the awards show. The artists chatted with E! News on the red carpet before the Grammys and gave a special shout out to their "terrific" dedicated band of followers.
"It's a blessing we get so much love for doing what we love to do. We are so thankful," they said.
Congrats on all the achievements, BTS! We can't wait to see what else this year brings.