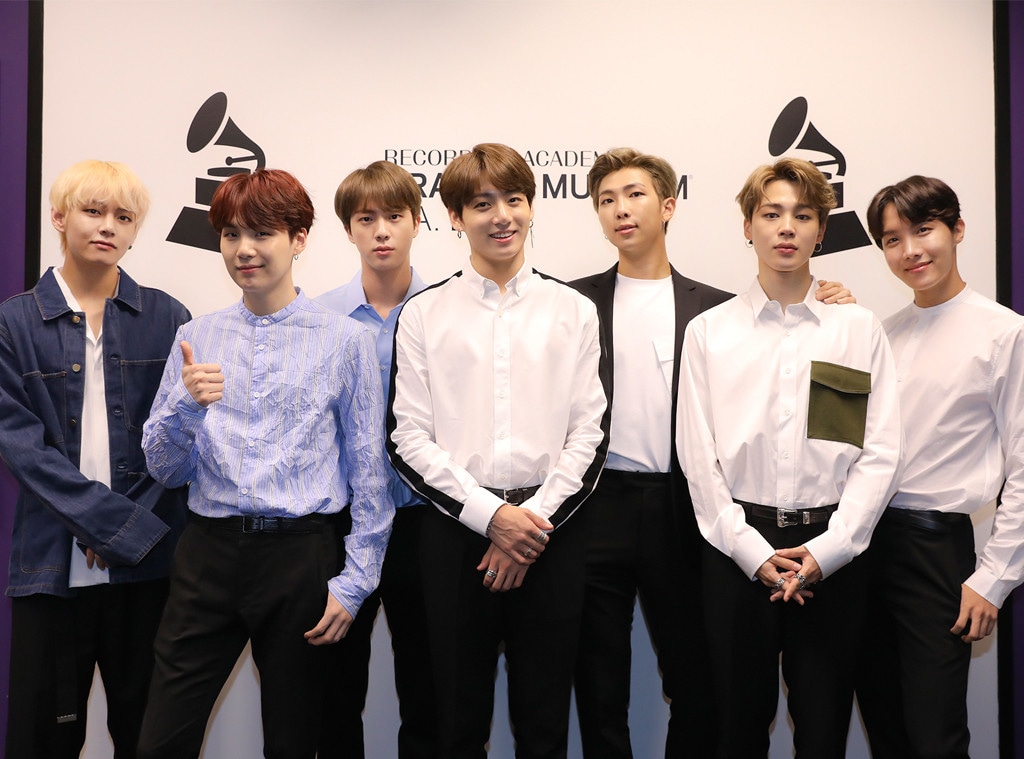 Big Hit Entertainment
There's no fake love here!
BTS has millions of followers across social media—including Twitter, Instagram and YouTube—and have gained quite a fierce fanbase.
So, it's no wonder the boy band is a finalist at the E! People's Choice Awards this year.
Thanks to their overwhelming online influence, the guy group is up for Social Celebrity of 2018 and they totally deserve it having earned a spot on Time's 25 Most Influential People on the Internet list last year.
We can't say we're surprised either since it's nearly impossible to tear ourselves away from their social media profiles!
Jimin, J-Hope, Suga, V, Jin, Jungkook, and RM all have such fun-loving personalities that we obsessively stalk their latest posts, because we know we'll be getting some quality content.
The boys certainly know the best ways to make us smile and laugh as we scroll through our social media feeds and they fuel our internet addiction on the daily!
That being said, the guys are up against some big-name A-listers in this year's category like, Ellen DeGeneres, Chrissy Teigen, Taylor Swift, and Selena Gomez.
But we can assure you that the boy band deserves to be a finalist alongside these superstars.
BTS shares some silly snippets of their lives with the millions of members of their BTS Army, and those pics and videos always crack us up.
They also use their social media platforms to captivate us with some killer choreography, show off their FOMO-inducing travel photos, and even promote the humanitarian organizations near and dear to their hearts.
Not to mention, V might've broken the No.1 rule the guys have for social media...oops!
Since voting for the 2018 PCAs is over, you're just going to have to tune in to the 2018 PCAs when they air on Nov. 11 to see if BTS takes home the Social Celebrity of 2018 trophy. 
Until then, check out all the reasons why BTS is a serious contender for the category below.
1. They make the most hilarious dubsmash videos.
The guys from BTS aren't afraid to show their goofy sides online. A few years ago, the boys were super into dubsmash—which is similar to musical.ly—and would film themselves lip syncing to their favorite songs or TV quotes. Our favorite clip is definitely V imitating Stewie from Family Guy. Plus, Jungkook does a spot-on Charli XCX impression, if we do say so ourselves!
2. Their "dance practice" videos are simply mesmerizing.
The boy band also has this fun tradition where they drop "dance practice" videos to their songs, where they film themselves performing killer choreography in a small studio space. If we watch these over and over maybe we'll be able to pick up the moves!
3. When V supposedly documented his first night out drinking.
This Twitter video sent fans into a frenzy. A few years ago, V posted a series of snaps from the BTS Twitter account, seemingly documenting the aftermath of his first night out drinking. He captioned this photo "Arrived at home," which made fans believe he had gotten intoxicated. The singer also shared a silly seflie with Jungkook, and members of the BTS Army flooded the comments to ask whether or not V had been drinking. And if he was, then he blatantly broke the group's number one social media rule!
No one knows what actually happened, but posting this clip proved that the BTS Army pays close attention to the members of the group...no matter what they're up to.
4. Their #IdolChallenge took the Internet by storm.
Dance challenges have recently been the biggest craze on social media, so of course the boys of BTS were going to join in on the fun! After J-Hope first posted a solo clip of himself dancing to their single "Idol," the #IdolChallenge was born. A few days later, the boy band shared another video of J-Hope, Jimin, and Jungkook all performing the viral choreography. It wasn't long before fans all over the works began posting their own dance moves to social media!
5. They're UNICEF ambassadors and they love talking about it.
The boys have no problem getting giggly and goofy on the internet, but they still make time to share their serious sides with their followers as well. Since the group members are UNICEF ambassadors, they also use their social platforms to spread awareness about the agency and the help it provides children across the globe. Sounds like a good use of Twitter and Instagram to us!
6. They share the spotlight all the time.
The boy band knows they owe their success to their fierce fanbase, so they make sure to include the crowd when they perform live. They later share the videos to make their loyal followers feel even more a part of their crew.
7. Their travel photos are legendary.
The BTS boys aren't afraid to have their tourist time while traveling the world and we are forever envious of all their trips. If you start scrolling through their travel snaps you'll quickly see that some of them are beyond gorgeous and totally epic.
8. Their birthday shoutouts to each other are funny and sweet.
The guys have the cutest tradition of embarrassing each other on their birthdays...especially on social media. This video of the guys serenading Jimin on his 24th birthday is as adorable as it is hilarious! Watch it and you'll see what we're talking about instantly.
Whether BTS wins or loses Social Celebrity of 2018 at this year's PCAs it doesn't matter, because they still have a super-entertaining presence on the worldwide web and their fans are so grateful that they do.