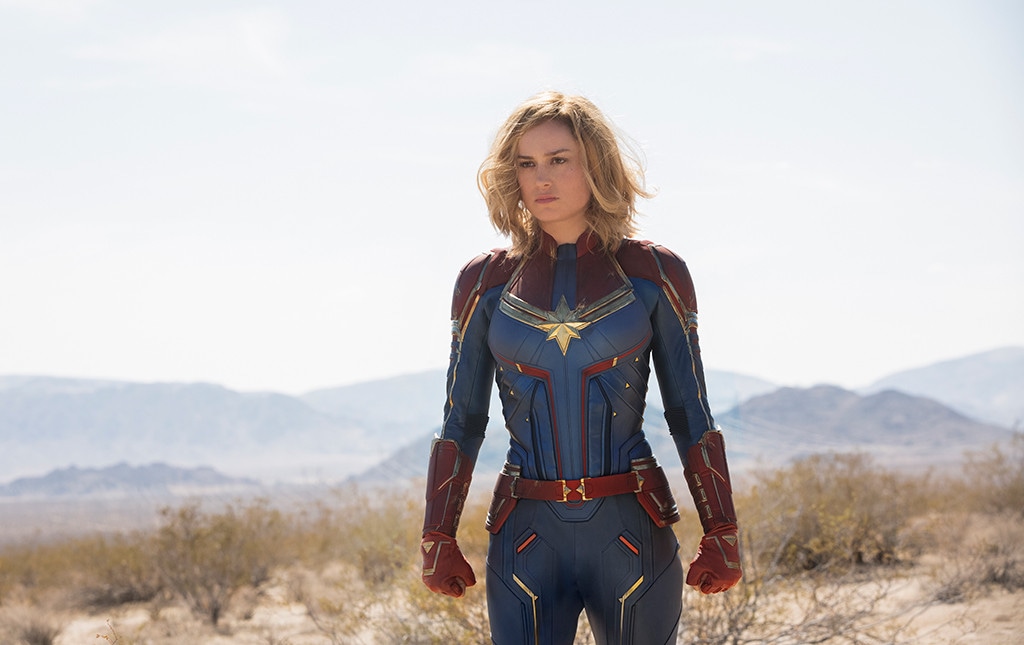 Marvel Studios
February has come and gone and March is almost here!
With a new month there are a lot of things to get excited about, especially when it comes to the movie world. While there aren't any more award shows for a while, at least movie-specific ones, there are a bunch of new films heading to theaters.
Action movies like Captain Marvel for example, is finally going to hit the big screen and we are so ready for it. Some people might live for March Madness this month, but we are all about movie madness thanks to 13 killer flicks that are about to come out.
If you're not counting down the days until the Marvel superhero flick, don't worry because there are plenty more new movies to get pumped for starting tomorrow, March 1.
Horror films and thrillers like Us, Greta and Captive State for starters will have you on the edge of your seat all month long.
Comedy lovers will laugh out loud thanks to A Madea Family Funeral and The Beach Bum. Of course kids should be heading to theaters as well to see both Nancy Drew and the Hidden Staircase and Wonder Park ASAP.
Plus, Dumbo—the live-action version of the hit Disney classic—is coming your way at the end of March and it's going to be magical. Would you expect anything less?
To take a sneak peek at all of the amazing March blockbusters coming out just keep reading.
Trust us when we say you're going to want to add more than one of these to your date-night plans next month and we don't blame you!
Greta: March 1
Isabelle Huppert and Chloë Grace Moretz star in Greta, which is a story about a young woman who befriends a lonely widow only to discover that she has a dark, dark agenda towards her. This horror film is twisted, full of mystery and something you'll have to watch until the very end to fully understand…just maybe don't watch alone!
A Madea Family Funeral: March 1
Tyler Perry is back this March and he's bringing all the laughs with him…even to a funeral. In this comedy, Perry reprises his role as Madea, as she and her family travel to the backwoods of Georgia where they end up planning a funeral which leads to a lot of scandalous family secrets coming out.
Captain Marvel: March 8
Brie Larson is Captain Marvel and she is a total badass. The actress takes on the iconic comic book character, who was originally Carol Danvers, in this film as she becomes one of the universe's most powerful heroes, deals with a battle between two alien races and discovers who she was on Earth before she became a superhero.
Five Feet Apart: March 15
Cole Sprouse and Haley Lu Richardson will pull at your heartstrings in Five Feet Apart. The drama and romance film follows the story of two teenagers with life-threatening illnesses who after meeting in the hospital fall in love. In addition to fighting for their lives, they choose to take back their lives by daring to inch closer to one another and instead of living six feet apart to make sure they don't get each other's infection, they live five feet apart for love.
Nancy Drew and the Hidden Staircase: March 15
Everyone's favorite teen detective has a case to solve in Nancy Drew and the Hidden Staircase and you can bet she's going to figure out the who done it. After moving to a new town, Nancy (Sophia Lillis) is bored and struggling to fit in until she discovers a mystery that needs solving and she enlists her new friends and one foe to help her do it.
Wonder Park: March 15
Get ready to use your imagination as you watch this adorable animated flick! Wonder Park is about a young girl who invents an amusement park in her mind and using models only to discover that it actually exists in the forest and has come to life. She must use her imagination, no matter how old she has become, to fix the park and bring it back to life…and save it from a monkey invasion.
Captive State: March 15
This sci-fi thriller will have you on the edge of your seat all movie long! Set in a Chicago neighborhood 10 years after it has been occupied by an extra-terrestrial force, this movie shows both sides of the conflict. There's the collaborators and the dissidents and only one side will make it through alive.
The Aftermath: March 15
The Aftermath takes place following World War II when a British colonel named Lewis Morgan (Jason Clarke) and his wife Rachael (Keira Knightley) are assigned to live in Hamburg and assist in the post-war reconstruction. Things get tense and fiery when Rachael is often left behind at the home while her husband is out and she therefore grows close to the previous owner of the house, who still lives there, named Stefan Lubert (Alexander Skarsgard).
Us: March 22
Get Out creator Jordan Peele is back at it with a new nightmare called Us and it's just as haunting and scary as you'd imagine. In this film, a family's normal, happy life takes a chaotic and terrifying turn when a family of doppelgangers comes to their house and begin to terrorize them. They must kill them or be killed and it won't be an easy fight.
Hotel Mumbai: March 22
Starring Dev Patel, Nazanin Boniadi, Jason Isaacs and Armie Hammer, Hotel Mumbai is a powerful true story of the Taj Hotel terrorist attack in Mumbai. The thrilling film, tells the story about the hotel staff who risked their lives to save as many people as possible staying in the historic hotel while it was under attack even if it meant they would've survive themselves.
Dumbo: March 29
Tim Burton's take on the classic tale of Dumbo will leave you wanting more this spring. Dumbo, tells the story of a young elephant who has over-sized ears and can fly, who helps save a struggling circus. Along the way the circus starts to change its plans, separates Dumbo from his mother, and the elephant and his friends discover many dark secrets hidden within.
A Vigilante: March 29
Olivia Wilde plays Sadie, a former victim of abuse, who instead of forgetting about her pain channels it and transforms herself into a vigilante who helps other victims escape their domestic abusers. She will stop at nothing to help others and rid the world of these bad seeds.
The Beach Bum: March 29
In The Beach Bum, Matthew McConaughey transforms into Moondog, a rebellious stoner who lives life his way, which means lots of drugs, parties, adventures and more. After a run-in with the law he finally decides to finish writing a book he's been working on and along the way he gets into even more trouble with Lingerie (Snoop Dogg), Minnie (Isla Fisher) and Flicker (Zac Efron). The movie also stars Martin Lawrence and Jonah Hill.
With so many movies to see in March, it's going to be a very busy month at the theaters! Which movie will you be seeing first? Vote now.
March 2019 Blockbusters Poll