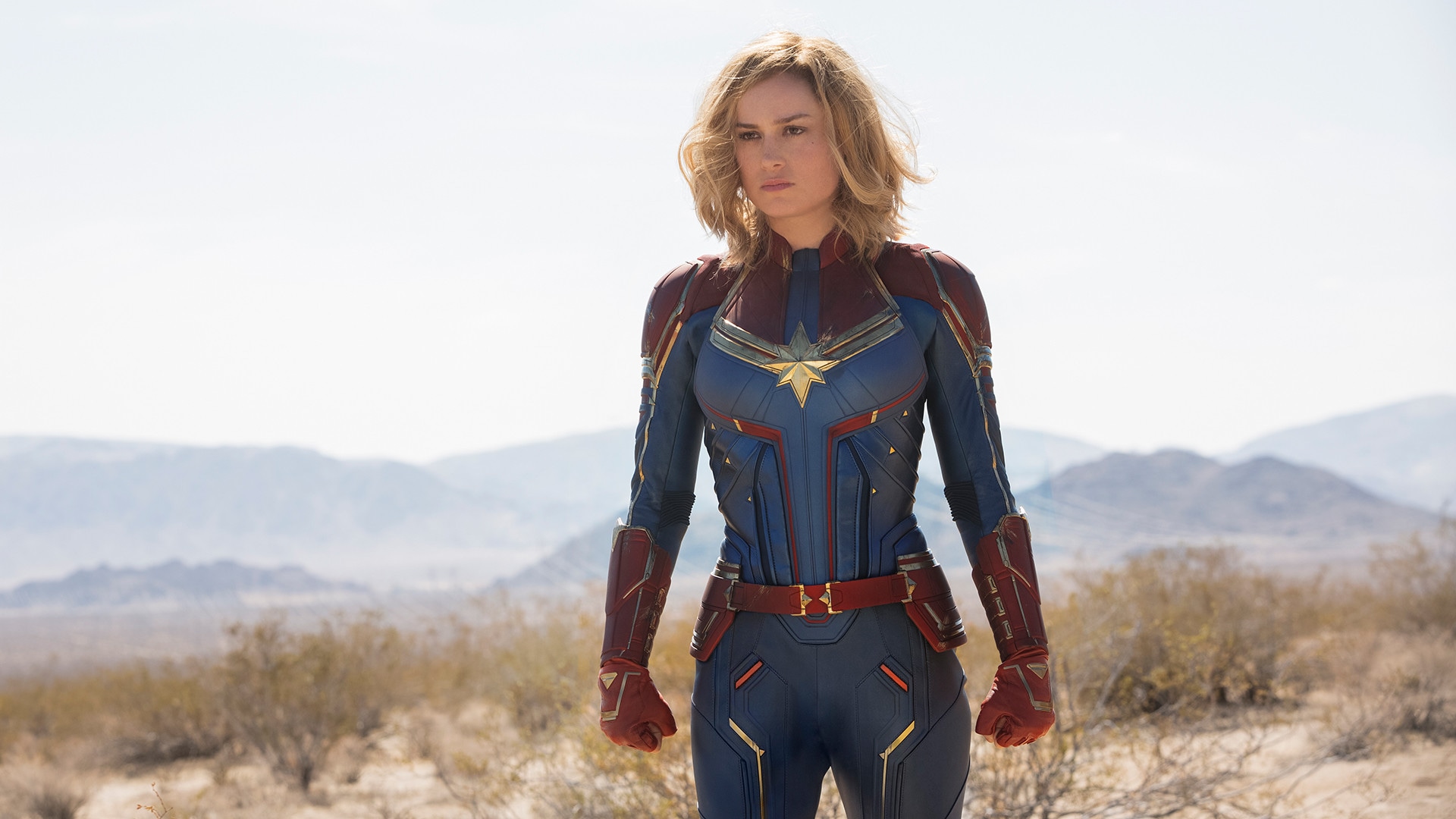 Marvel Studios
If anyone can carry the weight of playing a comic book character as iconic and important as Captain Marvel, it's Brie Larson. This March, the Academy Award-winning actress will suit up as Carol Danvers, an Air Force pilot who becomes an intergalactic soldier—and in doing so, will be the first woman to lead a film in the Marvel Cinematic Universe since it launched in 2008.
Seven months ago, E! News and other outlets visited the set of Captain Marvel on the Sony Studios lot in L.A., where Larson spoke candidly about taking on the role of a lifetime. "I don't feel nervous—mostly because I've found a way to keep my head down. And I also find the character so inspiring that whenever I feel nervous and scared, I feel like I can turn to her, like, 'No, I got this.' And that feels really awesome," the 29-year-old star said. "I feel like I have the same awe over her that a lot of her fans do, so hopefully that sort of bleeds through into this."
Although Larson knew directors Anna Boden and Ryan Fleck had created something special for the 21st entry in the MCU, she's also surrendered to the fact that they can't please everyone. "We don't know what's going to happen, right? We don't know how the movie is gonna be or how the movie will be received. It's not worth it to kind of build it up," she said. "My favorite part is the making [of it], and the rest really isn't up to me...I've just gotta ride the wave."
Marvel had pursued Larson for years, and while she was intrigued, she was nervous about signing a multi-movie contract. Ultimately, the chance to bring a multidimensional heroine to the big screen was too enticing to pass up. And so, her casting was announced in July 2016—two years before filming began. "Really, what it came down to was I had a meeting with Marvel, and...they [told me they] wanted to make a big feminist movie," Larson recalled. "I remember going home and being like, 'S--t, am I going to do this? It's kind of everything I've wanted.'"
Representation is especially important to Larson, and Captain Marvel presented her with the chance to champion that cause in a mainstream movie. "I know my limitations—I know that I'm just one white girl—and I'm just trying to do as much as I can within the framework of my body. As I've grown, I've noticed these movies the Marvel movies in particular have so much meaning in them. They mean so much!" Larson explained. "You can have a great time and just enjoy it for having a great time, but you can also be left with really deep philosophical questions. That combo is really powerful. So, the idea we could really make something that was thought-provoking and entertaining, that was going to be seen all over the world? It's a crazy one...The opportunity came and I felt like, 'I gotta take the call the same way [Carol] had to take the call."
The cast includes familiar faces, like Clark Gregg as Phil Coulson, Djimon Hinsou as Korath, Samuel L. Jackson as Nick Fury and Lee Pace as Ronan the Accuser, as well as new faces, like Gemma Chan as Minn-Erva, Lashana Lynch as Maria Rambeau, Ben Mendelsohn as Talos, Algenis Pérez Soto as Att-Lass and Rune Temte as Bron-Char. Jude Law plays a Starforce commander with a mysterious background, and Annette Bening stars in an undisclosed role.
When the 1990s-set Captain Marvel begins, Carol already has her powers. What she doesn't have, however, are memories of how she got them or where she came from. How did she end up on the Kree planet of Hala? And after she plummets to Earth, why does it seem so familiar? Those questions and more will be answered when the film flies into theaters on March 9, 2019.
Now that the first and second trailers have been released, fans have gotten a glimpse of just what makes Captain Marvel so powerful—and we're not talking about her superpowers. "I love that she is unapologetic. I love that she is not apologizing for her strength...She's never trying to shrink herself because of who she is, and she can't be somebody else even if she wanted to. She can't!" she marveled. "It's like she can't be contained, and I think that is such a beautiful thing."
Larson recognized that, like it or not, playing this part will make her a role model around the world—especially for young girls. "It definitely is scary to thinking of people paying attention to me," she said. "I'm not going to act super strong when I've been kind of freaking out seeing how quickly my numbers on Instagram have been going up since Avengers: Infinity War came out [in April]. I've kind of been like, 'Oh, God!' I did not think about that. Like, why are people paying attention to me? Because I just really feel the same. I do feel like just a person, and so it's a weird feeling when it seems like people on the outside kind of view you differently when I still feel the same. My hope is to continue to be clever about this and to continue to show myself and to learn. I just want to learn, you know? And I hope others on social media will teach me."
Considering Captain Marvel is definitively the strongest character in the MCU—which includes baddies like Thanos (Josh Brolin) and heroes like Thor (Chris Hemsworth) and The Hulk (Mark Ruffalo)—Larson logged serious gym time months before she ever stepped on set. By the end, she was doing 215 lbs. in deadlifts and 400 lbs. in hip thrusts. "A lot of the training first came from the fact that I knew I was doing an action movie and I was going to have to do stunts. I didn't know what that was, but I knew in movies like this, it was going to feel like a triathlon—and I wanted to be ready for it," she said. "I wanted to be prepared as possible so I wasn't fighting fatigue or my body [was] hurting...Also, a huge part of [Captain Marvel] is her strength. I knew if I could go through that experience, I would get closer to her and I'd understand [her]."
Admittedly, Larson said, "I didn't know what strength was. I was truly an introvert with asthma before this film, so I had a lot of work to do, and I just started to fall in love with it. I started to fall in love with the way my body was changing and transforming...It was the first time where I felt like I was making my body work for me. I think in the past, I was more interested in my body never being part of conversation. To me, it felt like objectification; I just wanted to be a brain, so I've only cared about reading books and understanding words, and anything that involved my body made me itchy. But this was an opportunity for me to...make my body mine."
But it wasn't until after filming began that Larson learned she wouldn't be doing a bulk of the intense stunt work. "No one really wanted to tell me that was the case. They were like, 'I don't know why she's doing this, but it's cool. Whatever. Let her do it.' And that's how it happened," she said. "It was ignorance more than anything else, but now I've found it really empowering."
Larson had two stunt doubles, Joanna Bennett and Renae Moneymaker, who helped her "so much" on set. But make no mistake: Larson spent nine months transforming into the Starforce warrior—three of which included four and a half hours of training a day. "If I was seeing this movie, I think it would mean so much more to me knowing there was that type of dedication put into it and that it's not, 'Girls are strong with CGI,'" Larson said. "It's, 'Girls are strong [period]!'"