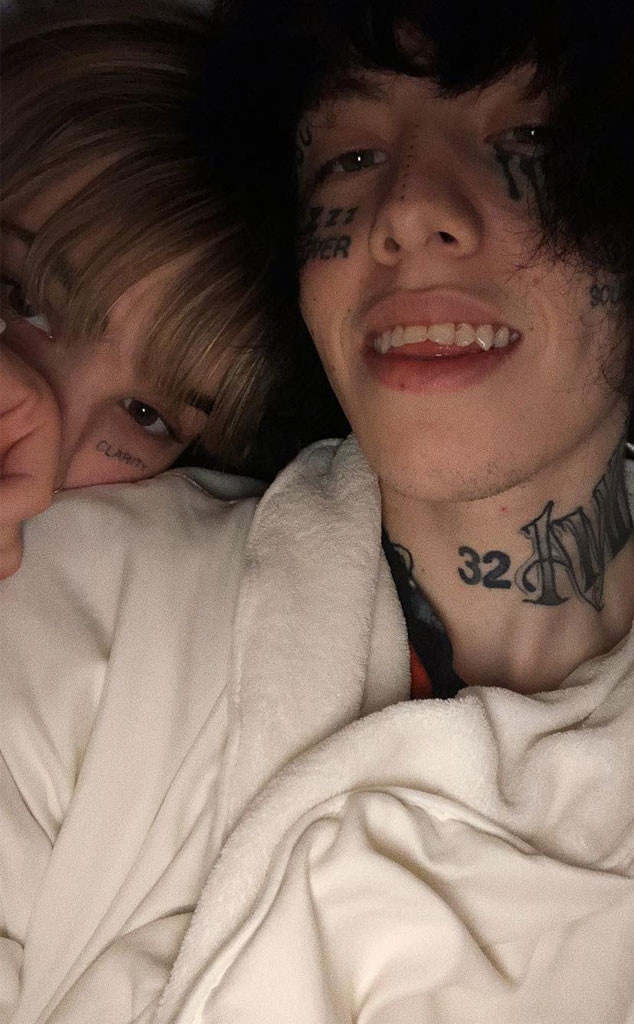 Instagram
There's some big news for all those Xanxiety fans out there: Lil Xan is going to be a father!
On Sunday, the rapper revealed on Instagram that he and his girlfriend Annie Smith were starting a family together. "i wanted to wait but i just can't leave my fans in the dark,it's official im going to be a father," Lil Xan, whose real name is Nicholas Diego Leanos, shared. "i love you guys so much and hope you stay along for this crazy journey and i've never felt more happy in my life." 
He continued, "all of you are invited to the gender reveal party i promise ! Cant wait to show the world everything i've been working on at youtube space and my official sophomore album 'BE SAFE' and to my baby my angel my sunshine @anniiesmith i love you with all my heart."
Lil Xan thanked Annie for "saving me" and concluded his post with the sweet words, "i love you more then [sic] words could describe." Many heart emojis followed suit.
The 22-year-old and Annie both shared nearly the same photo on social media.
The photo shows them embracing on a balcony in Downtown Los Angeles on a cloudy day with the skyline barely visible in the background. They're also wearing matching sweatshirts.
As if the baby news isn't big enough, it turns out that they might actually be engaged, too! 
Annie posted a sweet Valentine's Day tribute to her beau where she announced the engagement.
"happy valentine's day my love. i could go on and on about how beyond grateful and lucky i am to have you by my side in life," she penned. "but today to keep it simple and honest, i love you to the moon and stars, always baby. i cannot wait to call myself your wife soon."
Many of Annie's Instagram photos show PDA between the happy couple and include pet names for each other. On Jan. 22 she shared a picture of Lil Xan's tour schedule and wrote, "me and lover boy are going on tour soon."
The future Mrs. Leanos praised him on Thanksgiving and his presence in her life. "you are my happiness, my most favorite person, my whole heart. thank you for sharing your life with me and allowing me to love you, always," she typed.
Before his recent engagement and future baby with Annie Smith, Lil Xan also had a whirlwind romance with Noah Cyrus. The two of them made their red carpet debut at the 2018 MTV VMAs in August and packed on the PDA both at the show and on social media afterwards.
A few weeks later, however, Lil Xan and Noah had a very public and ugly breakup that was documented on both of their Instagram Stories. 
In November, Noah referred to her relationship with him as her "biggest mistake" in response to an online meme. Just a few weeks after that, Lil Xan praised his ex and Billie Eilish for being "some of the best not only female artist but in general coming up rn."
About a week before Annie's Thanksgiving tribute, the "Betrayed" rapper announced he was checking into rehab. "I just dropped out of SoundCloud Uni to go to rehab, I leave in like 5 days And I couldn't be happier with this choice. I love you guys for being so supportive and can't wait too get back clean headed ready to Finish my album!" he wrote on Instagram.
Lil Xan mentioned in previous interviews that deaths of his friends and fellow artists including Mac Miller, Lil Peep and XXXTentacion played a large role in his decision to seek treatment. "That was when it first started, when Lil Peep passed, he was one of my favorite artists and it was devastating the way he died, you know, it seems like all of it is just like fentanyl, fentanyl, fentanyl," he said on TMZ Live on Nov. 15.
Lil Xan discussed Mac Miller's sudden and tragic overdose on an episode of Adam22's podcast, No Jumper. "When your hero dies, f--k that s--t, I don't want to make music no more," he said.
He continued, "I want to get sober now, completely sober, but its so hard. I just want to be off everything.  I want to be like a normal person.... if I didn't have a tour coming up I would be in rehab right now."
In fact, Lil Xan's next album title BE SAFE seems to be a direct homage to Miller. Lil Xan talked about his last-ever interaction with Miller and the important words of advice that the late rapper imparted on him. "Before I left, he was like 'Be safe.'  People say that you know, like 'be safe.' But he grabbed me, and he pulled me back and he was like 'No I mean BE SAFE,'" he said. "That almost made me cry, that's my idol right there." 
Congratulations on the baby and engagement!