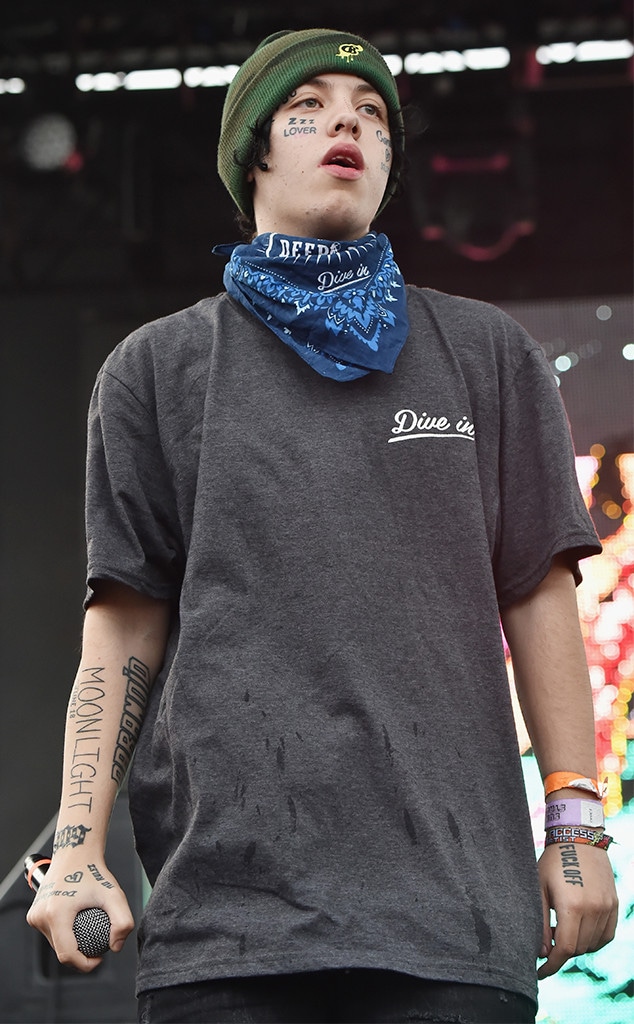 Kevin Mazur/Getty Images for Billboard
Lil Xan just got candid about his future in music following Mac Miller's death.
The rapper appeared on Adam22's (aka Adam Grandmaison) podcast No Jumper where he discussed his career, drugs and getting clean.
During the episode Lil Xan told Adam22 how he's been reacting to news of Miller's apparent overdose. "The Mac s--t is crazy," he said. "I've been crying in my apartment, Mac didn't die, Mac didn't overdose."
The rapper called Miller his "hero" and explained to the host, "When your hero dies, f--k that s--t, I don't want to make music no more."
The "Betrayed" rapper stated he is "retiring after this contract."
Lil Xan told one specific story about the last time he saw Miller, which was at his last show. He said that was the "third or fourth time" the two performers have hung out, but one moment in particular stuck out to Lil Xan. He said, "Before I left, he was like 'Be safe.'  People say that you know, like 'be safe.' But he grabbed me, and he pulled me back and he was like 'No I mean BE SAFE.'  That almost made me cry, that's my idol right there."
He added, "I keep thinking about that, how it resonated in my head, how those were his last words."
Matt Baron/REX/Shutterstock
When he was alive, Miller spoke candidly about his drug addiction and difficulties with sobriety. Lil Xan echoed those same types of feelings in his No Jumper interview. "I want to be clean and sober, but that s--t is hard," he explained.
He told Adam22, "I want to get sober now, completely sober, but its so hard. I just want to be off everything.  I want to be like a normal person.... if I didn't have a tour coming up I would be in rehab right now."
Other than drugs, Lil Xan has been very public about one other aspect of his life: his relationship (or lack thereof) with Noah Cyrus. The two of them posed together at the 2018 MTV VMAs and were showing lots of affection for each other. The two of them underwent a very public breakup that went down via Instagram story. 
In the beginning, Lil Xan said, "I feel like I'm being cheated on." This then created a deluge of back-and-forth videos between the two, filled with many tears and many expletives.
At one point, Lil Xan said Noah was using him to "get more popping in the music industry."
He then pointed fingers at the entire Cyrus family: "They're always going to believe the f--king girl and of course they're going to believe the Cyrus family… what I'm saying is the truth, believe what you want."
Noah went onto her Instagram stories and recorded a video telling women they shouldn't get pushed around. "If you're in a relationship, never let a man make you feel like you're less of yourself—or you're the problem—when you were the one that sat around being there for somebody," she said.
He called their relationship "toxic" and opened up about his own mental health struggles. "I have a lot of demons," he revealed. "When I'm home I'm constantly in isolation."
Lil Xan spoke about their tryst on the podcast. "We were both lying," he said. "I felt like an accessory."