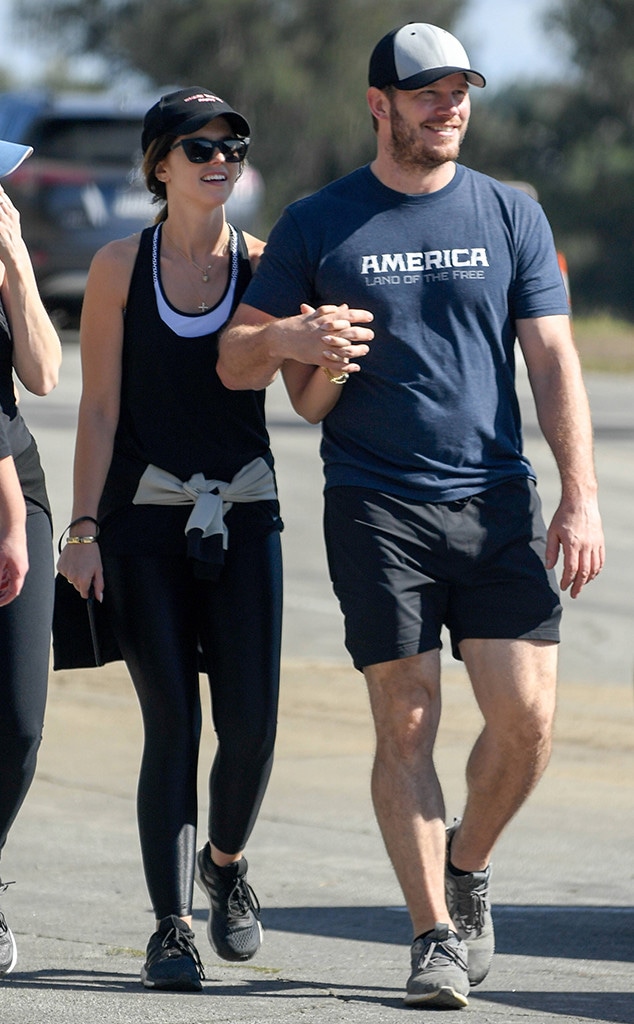 MEGA
First comes the big engagement ring, then comes marriage.
After announcing their engagement on Sunday, Chris Pratt and Katherine Schwarzenegger may be heading down the aisle relatively soon. On Sunday, the Parks and Recreation actor shared the engagement news on Instagram when he posted a picture himself kissing his newly minted fiancée's cheek, and the ring was on full display. "Sweet Katherine, so happy you said yes! I'm thrilled to be marrying you. Proud to live boldly in faith with you. Here we go!" he captioned the image.
The 29-year-old uploaded the same image one day later and wrote, "My sweet love. Wouldn't want to live this life with anyone but you."
Pratt and Schwarzenegger were first photographed together in June during a romantic picnic in Santa Barbara and since then, these two have been on the fast track to love. A source told E! News on Tuesday that the couple already has some inklings about what they want their wedding to be like.
One season in particular seems to be their favorite, especially given when they started dating. 
According to the source, Pratt and the best-selling author "are looking at summer wedding dates." The two of them are "already starting to plan" the nuptials. But what about location? Schwarzenegger is deeply linked to California seeing as how her father, Arnold Schwarzenegger, was governor of the Golden State from 2003-2011. 
They won't seem to be tying the knot in Pratt's home state of Washington, either (he was born in Minnesota but moved to Washington when he was young). 
Pratt and Schwarzenegger's wedding will in fact be on the opposite coast. The insider told us, "They are thinking about Martha's Vineyard which is a special place for Katherine and where she spent a lot of time growing up. Chris wants her to have her perfect day and whatever she wants. It will be a big wedding and very traditional."
Her mom Maria Shriver will also "be very involved with the planning." The source added, "They will have an engagement party and bridal shower for Katherine coming up. Its a very special time for the family and everyone is completely thrilled. They can't stop smiling and celebrating."
Both families have reacted very positively to the news. Shriver commented on her daughter's engagement photo, "Love you. Enjoy this next chapter. Make it fun. You are so loved."
She left a touching note for her future son-in-law as well. "Congratulations to two loving, kind, caring, thoughtful, spiritual people," Shriver noted. "We are so happy for you. You are blessed as is everyone who knows you. Yes, let's go."
Schwarzenegger's brother Patrick Schwarzenegger chimed in, too. "So happy to see u both so in love & having the best times of your life," he captioned his Instagram tribute, which was the same engagement photo. "I know y'alls love will only continue to grow, & can't wait to watch grow a beautiful fam. Couldn't ask for better big bro. LoVe you both. Congrats."
Another source told E! News on Monday that Shriver "already treats Chris like a member of the family, but she's excited to make it official." In terms of the wedding, there "will be no expense spared."
Even Pratt's ex-wife Anna Faris is elated for the couple. Faris expressed her happiness in Pratt's comments section as she wrote, "I'm so happy for you both!! Congratulations!" She wrote on Schwarzenegger's photo, "I'm so happy for you both!!! I love you guys!!"
Faris revealed on her podcast Anna Faris Is Unqualified that Pratt gave her a heads up about the engagement. "Chris texted me this morning and he was like, you know, 'I proposed to Katherine last night. I was like 'Ah! That's amazing,'" she said on the episode.
She added, "I love her, and I love him, and I'm just so happy that they found each other."
The Mom star even offered to contribute something to the wedding. "And I texted him back, 'Just want to remind you, I'm an ordained minister,'" she joked.
Pratt and Faris have a 6-year-old son together, Jack. They finalized their divorce in November 2018 after announcing their separation in August 2017.
Faris only had positive things to say about the soon-to-be newlyweds on her podcast episode. She said, "The truth is there isn't any bitterness and I'm just so happy we're all really happy."