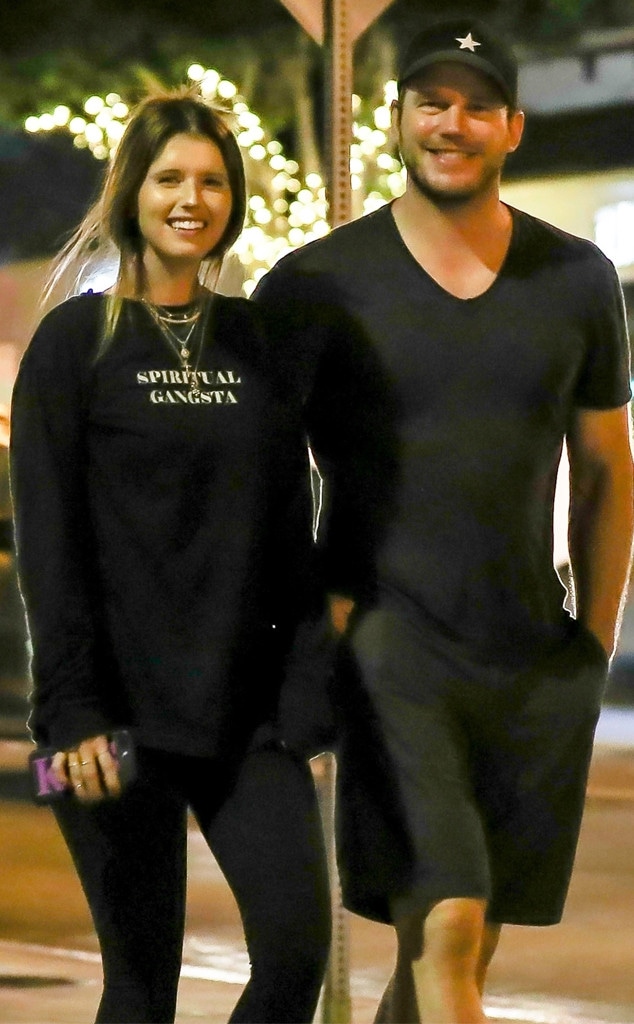 SPOT / BACKGRID
Wedding bells are in Chris Pratt and Katherine Schwarzenegger's future!
The actor took to Instagram Sunday evening to announce that he had proposed to his girlfriend of several months.
"Sweet Katherine, so happy you said yes! I'm thrilled to be marrying you," he wrote alongside a photo of the two hugging shortly after the proposal. "Proud to live boldly in faith with you. Here we go!"
Schwarzenegger posted the same photo of the couple on Monday, writing, "My sweet love. Wouldn't want to live this life with anyone but you."
Pratt's leading lady smiled as she showed off her gorgeous engagement ring in the photo. The loved-up twosome were last seen in Los Angeles, where Pratt documented helping Schwarzenegger move items from her home. 
And before that, the duo was spotted spending New Year's together alongside his son in a sun-filled getaway in Mexico.
On Schwarzenegger's 29th birthday in December, the Parks and Recreation comedian posted a heartfelt tribute to his girlfriend, writing:
"Happy Birthday Chief! Your smile lights up the room. I've cherished our time together. Thrilled God put you in my life. Thankful for the laughs, kisses, talks, hikes, love and care." 
This past year has undoubtedly been a whirlwind one for the future husband and wife, as they first were spotted together in early summer on Father's Day. One thing is most definitely certain: Schwarzenegger's family is smitten by Pratt. Sources told E! News shortly after the couple's relationship went public that it was none other than Maria Shriver who introduced the duo to one another.
This marks the second marriage for Pratt, who was previously married to actress Anna Faris, and first for Schwarzenegger.
Congratulations to both!