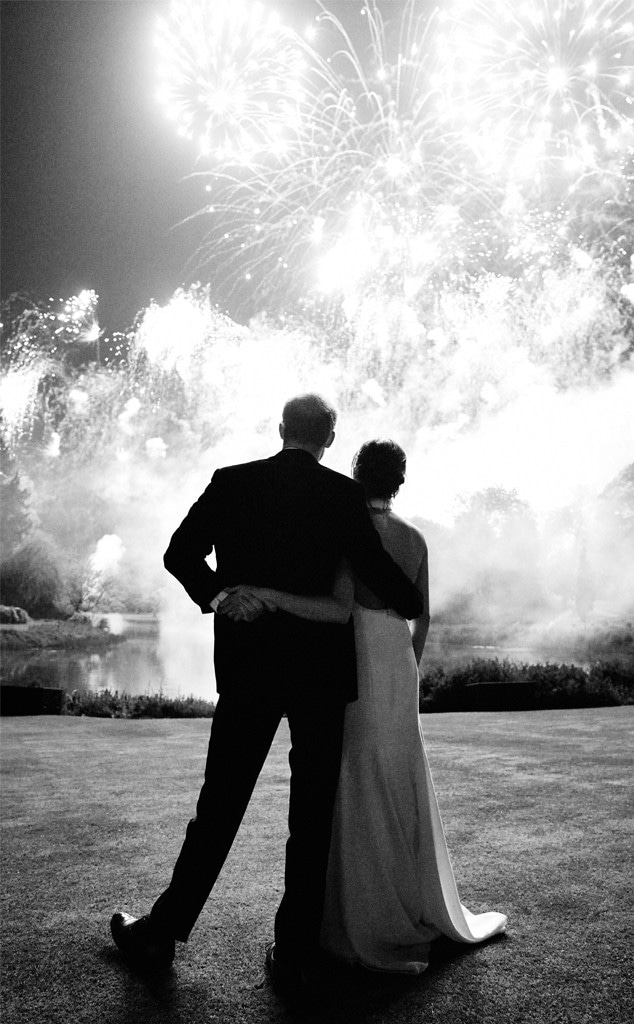 Chris Allerton/PA Wire
Critical tweets of Meghan Markle, we meet again.
To no one's surprise, Meghan's half-sister Samantha Markle slammed the Duchess of Sussex and Prince Harry after the couple released their Christmas card on Friday.
It wasn't so much what Meghan and Harry's holiday card said that gave Meghan cause for critique, but instead what it didn't say. Or, rather, what it didn't show.
The Duke and Duchess' Christmas card featured a never-before-seen photo of the couple on their wedding night as the two of them stared off into the distance looking at fireworks. Meghan and Harry's arms are intertwined, but we only see them from the back. Their faces aren't visible. 
This provided more than enough fodder for Samantha to begin a Twitter tirade against her half-sister.
Kensington Palace tweeted the Christmas card photo, and the 53-year-old was pretty inclined to comment. "Interesting that the Duke and Duchess of Sussex have their backs turned," she wrote. "Is this towards the world or just the Ragland and Markle family? It's a bit sad. Face the Christmas spirit."
Samantha has previously criticized Meghan's mom, Doria Ragland, in other tweets before. The former Suits star, however, has an incredibly tight-knit bond with her mother.
Meghan's half-sister continued to call out the royals in another set of tweets. She wrote on Saturday, "it's incredibly rude to turn your back in a Christmas photo that is meant to share warmth and good wishes with the world. Those. that criticize me for pointing out the truth, need to get that brown stuff off their noses. I hear the worlds smallest violin playing."
Watch:
Meghan Markle's Family Is Still Talking About Her
The idea of "turning your back" sustained itself in a third tweet on Saturday. "turn your backs to people on a Christmas card is rude," she wrote. "if you want to be private you don't do it on a Christmas card but the world sees. That's like saying merry Christmas look at my butt."
Samantha's negative words about Meghan and the royals are not new. Attempts at extending an olive branch have been few and far between as well.
In October, Samantha flew to London and tried getting into Kensington Palace to deliver a letter to the Duchess, but she was subsequently turned away by palace security. She said in an interview on Oct. 1, "I've always wanted to see London, but really I wanted to make the trip and sort of speak the wishes and thoughts and sentiments of my father, and hopefully get a message to my sister."
She continued, "I was hoping maybe we would have the chance to speak—that she would know I was here. But I don't think that's going to happen." 
A few weeks later, Samantha apologized for any "past tension" but then called Meghan a "liar" after she gave a speech in Fiji on her royal tour of the South Pacific.
Samantha has been one of the biggest defenders of their father, Thomas Markle. She even brought him up in another tweet about Meghan and asked, "How about reaching out to our elderly father while you're parading around doing good deeds with the humanitarian mask on?"
He did not attend the royal wedding and has been vocal about his estranged relationship with Meghan. In an interview with The Mail on Sunday last week, he criticized the royal family and insisted Meghan and Harry put up "a wall of silence."
He had one wish and request for Meghan: "If she would just speak to me, things could be different."