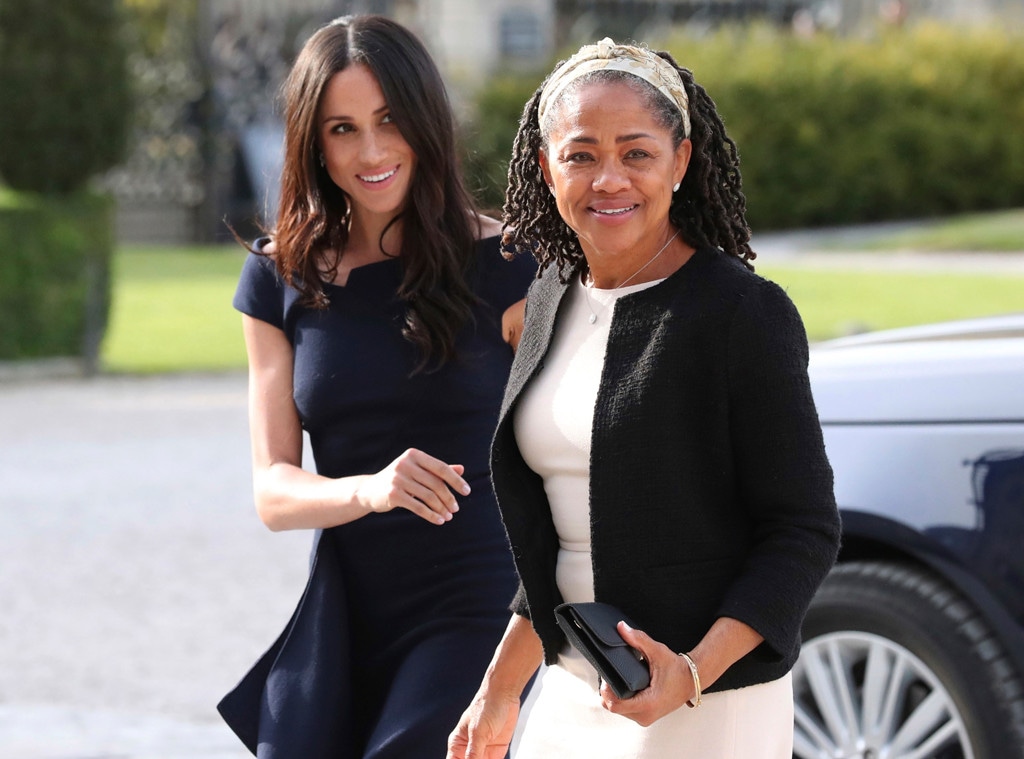 Steve Parsons/Pool Photo via AP
Another week, another sound bite. 
In their unending battle for public relevancy and Meghan Markle's time of day, Thomas Markle and his daughter Samantha Markle have taken another stand, unleashing fresh quotes about how the duchess has frozen them out, how she's selfish, "cruel even."
So, more of the same, really. 
Hopefully Meghan is also ignorant of her family's latest attention grabs. (After all, she has said she doesn't read her own press.) But should their words penetrate the palace's gilded walls and right into Meghan's consciousness, she has an army of allies she can vent to. There's husband Prince Harry, of course, now a major character himself in this family telenovela and her Wimbledon watch partner Kate Middleton, no stranger to dealing with problematic relatives. And, if serious action is needed, she could reach out to Queen Elizabeth II, who's taken quite the liking to her beloved grandson's new wife. 
But should she wish to speak with someone who really understands the drama and all the motivations of all the players involved, well, in that case there's just one person to call. 
"Mooooooom, can you believe what they're doing now?"
Fortunately Doria Ragland is the knows-just-the-right-thing-to-do type of mom. When Meghan, 37, was a kid that meant forcing her to chug down a Carnation instant breakfast drink before school and demonstrating to her the importance of giving back. "Buying turkeys for homeless shelters at Thanksgiving, delivering meals to patients in hospice care, donating any spare change in their pocket to those asking for it and performing quiet acts of grace—be it a hug, a smile, or a pat on the back to show ones in need that they would be alright. This is what I grew up seeing," she wrote on her now-shuttered lifestyle blog The Tig in 2016, "so that is what I grew up being." 
And though, by all accounts, she and her father did have a close relationship before the Emmy-winning lighting director, 74, began spouting off to any outlet that would listen, it's her mom she credits with making her into the woman she is today. The 61-year-old yoga instructor and social worker was the one honored with a prime spot on Meghan's list of women who changed her life, right after former U.S. Secretary of State Madeleine Albright, novelist Toni Morrison and actress Julia Roberts.
She was the person, a source revealed to E! News, that Meghan first approached about walking her down the aisle to her future husband at St. George's Chapel (to think all of the problems that may have prevented). And she is the one member of Meghan's family important enough to receive not only an invite to the May 19 vows, but a prime seat near Queen Elizabeth, the relative who would never think to sell her daughter out or reveal private details of her tea with the Queen. No wonder common thinking is that the L.A. resident left her post at a California mental health facility this spring to join the newly minted Duchess of Sussex across the pond in London. 
It's a move Meghan would eagerly support. As she explained in that Glamour list, "We can just have so much fun together, and yet, I'll still find so much solace in her support." 
Like most moms, Ragland has been offering that backing long before Meghan was even cognizant that it was there. Having met Thomas on a soap opera set where she was working as a studio temp in the late 1970s—"I like to think he was drawn to her sweet eyes and her Afro, plus their shared love of antiques," Meghan wrote in an essay for Elle UK—she chose a quiet neighborhood in L.A.'s San Fernando Valley to raise their new baby. 
In their homogeneous suburb, Ragland often had to fend off well-meaning inquiries about her relation to "her light skinned baby," Meghan detailed. But if such microaggressions left her feeling spent, she made sure to hide it from "Flower," the sweet nickname she bestowed upon her little girl. "I was too young at the time to know what it was like for my parents," the Suits alum admitted, "but I can tell you what it was like for me—how they crafted the world around me to make me feel like I wasn't different but special."
And that was just one of the lessons Ragland worked to impart. The Ohio native Meghan describes as a "free spirit" and "lover of potato chips and lemon tarts" shared her love of yoga and the importance of fitness, asking her daughter to join her for jogs (at one point Ragland trained for the L.A. marathon) and bike rides to the La Brea Tar Pits. And she was the one to introduce the self-described foodie to the joy of cooking. Together, in the kitchen of their L.A.-area home, they would prep dinner "carefully tossing fresh herbs into the salad, and knowing when the shrimp in the gumbo was juuuuust right," Meghan wrote in a Tig post she appropriately titled "Love Letter". 
Perhaps even more crucially, certainly for her current gig as royal ambassador and full-time philanthropist, Ragland helped acquaint the future acting and international studies double major with various cultures around the world (Oaxaca, Mexico was a frequent vacation spot) and taught her the importance of truly caring for others. Recalling afternoons with each of her grandmothers Meghan described, "My mom rubbing their feet to help with circulation, brushing their hair so gently when they couldn't do it on their own. Kissing them goodbye, and cradling their faces with such tenderness after each visit that their eyes sparkled with ears." 
As a kid, she noted, she didn't quite get it, wasn't able to look past her Mom and see the giving, devoted, open-hearted woman. But boy does she appreciate her actions now. "She was teaching me to take care of my body," she surmised on her blog. "She was introducing me to history, and fostering a love of being outdoors. She was planting the seed for me to become a foodie. She was showing me how to be a daughter, not just in that moment, but for when I became that grown woman." 
In other words, she turned her into that "strong, confident mixed-race woman," Meghan described to Elle UK, one that was ready to walk her Louboutin-clad feet right into royal life. 
"Meghan draws a lot of strength from her mother," her friend and makeup artist Daniel Martin told People. "Doria is classy, chic and confident, but not unapproachable. I definitely feel Meghan gets a lot of that from her mother."
Tim Rooke/REX/Shutterstock
So, of course, when it became clear that a life in The Firm was in her future, there was one person Meghan wanted to share her new world with. Ragland scored a visit to London and Harry's Kensington Palace pad last July, an invite to the Invictus Games, Harry's Paralympic-style sporting event for injured veterans, and the duo's unofficial coming out party in September and a callout in the couple's first official interview after announcing their intention to become husband and wife. 
"Her mum's amazing," raved Harry, leading us to believe he didn't have her in mind when he talked about Meghan's Christmas with the Queen and his well-heeled kin being "the family that I suppose she never had." In fact, while her majesty's guest list for the three-day Sandringham Estate affair is notoriously tight, we wouldn't be entirely surprised if Harry and Meghan find a way to integrate Ragland into future royal celebrations. After all, she's already aced meetings with Prince Charles, Duchess Camila and the monarch herself—prenuptial occasions that were said to go extremely well. 
And she received quite the place of honor at the wedding itself. In addition to her prime pew, the Mother of the Bride was the one to help get Meghan to the church on time, claiming the seat next to her in the Queen's Rolls-Royce Phantom IV. And according to royal journalist Duncan Larcombe, the only reason she didn't walk Meghan down the aisle in what would have been a thoroughly modern move was because the former actress didn't want to burden her mom with too much pressure. 
"Doria and Meghan discussed it but she just didn't feel she could go through with it," Larcombe told Harper's Bazaar UK. "According to the guidance I've been given, Meghan felt that it would be too much to expect her mother to perform such an important role when more than one billion people are expected to be watching."
Behind the scenes, though Ragland was an instrumental player. In early April, Meghan made the long flight back to L.A., wedding dress sketches in hand to share all of the meticulously prepared arrangements. "Meghan is keen to include her mom as much as possible in the wedding plans," a source explained to E! News at the time, "so spending time with her was the perfect chance to bring her up to speed on all the wedding details."
With more exciting moments ahead (a royal heir, perhaps?) a Daily Mail report that Ragland is considering an imminent move to England makes sense. 
"She is getting ready to move to London. I think she will be going as soon as possible," a pal told the British paper. "I know that she was eager to live closer to her daughter."
Scoping out the city this May made it feel like life as an American expat would be a real viable option. "She also fell in love with England," said the pal, "and told me when she got back that it's somewhere she believes she too could happily live."
Having a woman she's compared to a best friend in her adopted town could only serve as the tiara on top of Meghan's new, royal life. 
Until then, though, her guidance, and listening ear, is just one transatlantic phone call away.