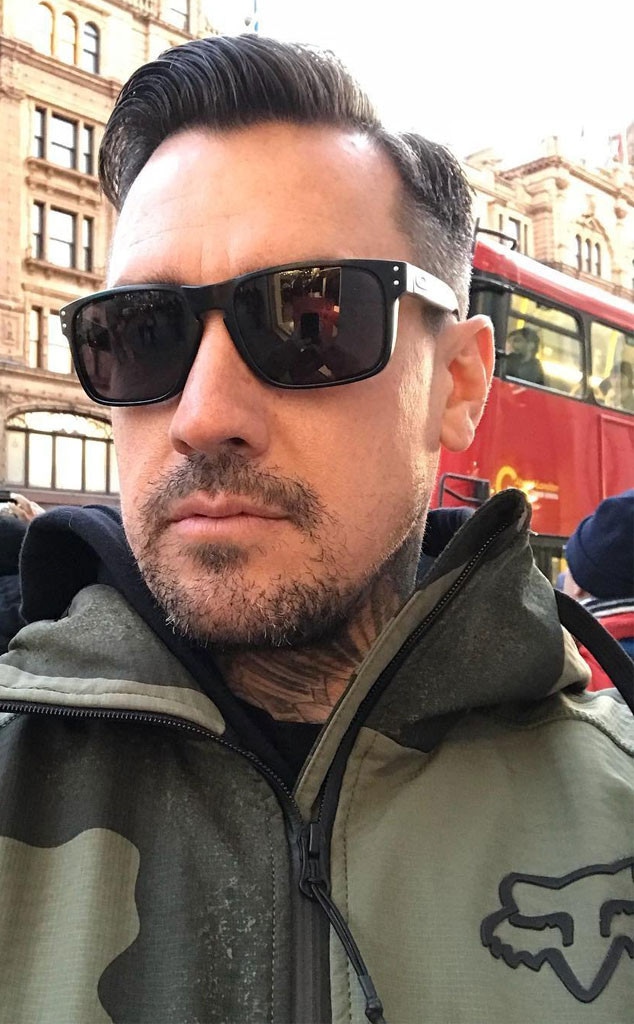 Instagram
Carey Hart's message has been read loud and clear.
The former motocross professional and Pink's husband posted a controversial Instagram on Tuesday that warned looters who were coming after homes destroyed by the Woolsey Fire in Southern California. The picture depicted 12 men who looked unrecognizable thanks to their incognito disguise of wearing bandannas and gas masks around their mouths as well as sunglasses. Most of the men in the photograph proudly posed with guns, which look like AR-15 assault rifles. While many of the men held the guns in front of them, a few of them raised their rifles into the sky.
The group of males stood behind a piece of wood that said in spray paint writing, "Looters will be shot on site. P.D.C. Posse." It is not fully clear if Hart himself is in the photo or if he took the picture from elsewhere. 
If the photograph itself didn't send enough of a message, Hart warned any potential thieves heading to Malibu to stay away. "It's unfortunate that some people take advantage of others in a crisis. While the malibu fires have been burning, some locals have been fighting off and defending their property against the fires," he captioned it. "There have been sightings of looters breaking in to homes. Well, if you are a looter, think twice if you are heading back into malibu."
He included the hashtags #DefendYourLand and #2ndamendment.
It has been a heartbreaking week for the residents of Thousand Oaks and the surrounding areas. On Wednesday, Nov. 7, a gunman entered the Borderline Bar in Thousand Oaks and killed 12 people. One of the victims was Tamera Mowry-Housley's niece, Alaina Housley. 
Many people on Hart's Instagram picture made comments about gun violence, especially given the events of the past few days.
So far, the Woolsey Fire has claimed two lives and according to Cal Fire, has burned over 97,000 acres. Cal Fire also estimates that 435 structures have been damaged.
When the fire first broke out across Thousand Oaks, Ventura County and into Malibu, many celebrity homes were at risk. On Monday, Miley Cyrus revealed that her Malibu home that she shares with Liam Hemsworth had burned down. "I am one of the lucky ones. My animals and LOVE OF MY LIFE made it out safely and that's all that matters right now," she tweeted. "My house no longer stands but the memories shared with family and friends stand strong. I am grateful for all I have left."
On Tuesday, Hemsworth provided an update of his own. He posted a photo on social media of the charred remnants of his $2.5 million home. Other than some walls, one major thing that remained were stone letters that spelled the word "LOVE." 
"It's been a heartbreaking few days. This is what's left of my house. Love," he said. "Many people in Malibu and surrounding areas in California have lost their homes also and my heart goes out to everyone who was affected by these fires."
Later in the day on Tuesday, Cyrus' rep confirmed to E! News that the two of them had donated $500,000 to fire relief efforts. The statement said, "Their community and state are very special to them and they want to give back to the place that has created so many beautiful memories for themselves and others. They are donating $500,000 dollars to The Malibu Foundation through Miley's charity, Happy Hippie in hopes to restore Malibu's magic."
Many celebrities have been praising firefighters and first responders and urging their followers to help support various causes. Sandra Bullock, for instance, donated $100,000 to the Humane Society of Ventura County to help animals displaced by the fire. Lady Gaga visited a Red Cross evacuation center and shared an uplifting message. The Red Cross told E! News in a statement on Monday, "Her visit lifted the spirits of evacuees and Red Cross volunteers."
On Saturday, Khloe Kardashian posted a series of videos to her Instagram story that showed her going to a local CVS and buying "basically everything" she could to help firefighters in her hometown of Calabasas.