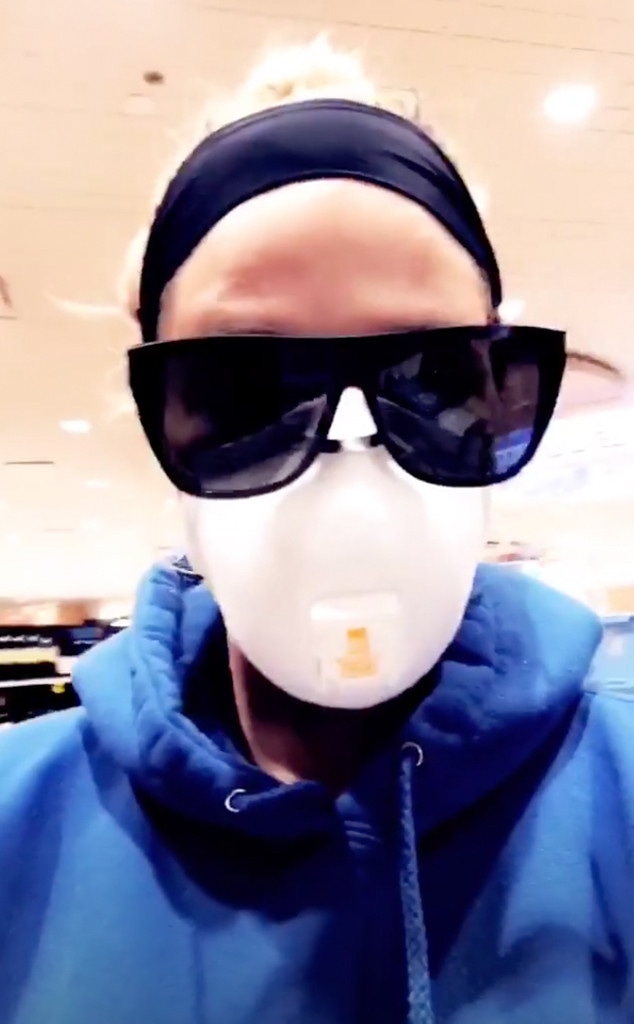 Khloe Kardashian/Instagram
Flames are engulfing Southern California, but Khloe Kardashian is not allowing the fire to extinguish the Good Samaritan bones in her body.
On Saturday, the Good American founder posted videos on her Instagram story of her going to CVS and buying supplies for the hundreds of firefighters battling the tempestuous flames in her home neighborhood of Calabasas and beyond. In the videos, Khloe wore a face mask and big sunglasses to protect her face from the low air quality and smoke.
"Here at the CVS I basically bought everything they had in stock," she said. "I bought as many waters as I could, but they still have waters here, but if you guys can drop off whatever you can."
"I know the brave men and women are working so hard, tirelessly, for all of us would greatly appreciate it," Khloe said in her story. "Just do whatever you can, even if it's one bottle of water, one container of eye drops, one granola bar, anything,  I know they would appreciate it."
According to the Los Angeles Times, the Woolsey fire, which has affected Malibu, Calabasas, Hidden Hills, Thousand Oaks and other neighboring communities, has forced 250,000 people to evacuate and has burned over 70,000 acres.
Calabasas, Malibu and the surrounding areas are popular residential areas for celebrities, and many of them have been posting updates about their homes and evacuation statuses. Caitlyn Jenner and Sophia Hutchins left Caitlyn's Malibu home and, according to some aerial footage, it appears to be intact. On Friday, she said she and Sophia were "safe and sound." Sophia added in a video posted on Saturday, "I just want to let everyone know we're safe, we made it through the night. We don't know how badly the house burned but it's not looking good."
Members of the Kardashian-Jenner family, including Kris Jenner and Kourtney Kardashian, posted on social media about supporting the California Fire Foundation. "Please pray for those affected by the fires and to those who are fighting to keep everyone safe!" Kris tweeted.
Kourtney, too, shared similar words. "Thankful for the @CAFirefighters risking their lives and getting people to safety during these horrendous wildfires," she wrote on Twitter.
Khloe's sister Kim Kardashian and her family were also forced to evacuate their home. Kim provided an update on Friday afternoon about the state of her home. "I heard the flames have hit our property at our home in Hidden Hills but now are more contained and have stopped at the moment. It doesn't seems like it is getting worse right now, I just pray the winds are in our favor. God is good. I'm just praying everyone is safe," she tweeted.
She later posted photos on Instagram playing with her niece and Khloe's daughter, True Thompson. "Trying to get my mind off of this fire and snuggling with my niece," she wrote. "We are all safe and that's all that matters."
The Bachelor Mansion was reportedly in "grave danger," but according to multiple outlets, it has survived. Other stars whose homes are at risk include Will Smith, Robin Thicke, Alyssa Milano, Lady Gaga, Orlando Bloom and more.
Our thoughts go out to those impacted by the fires across California.