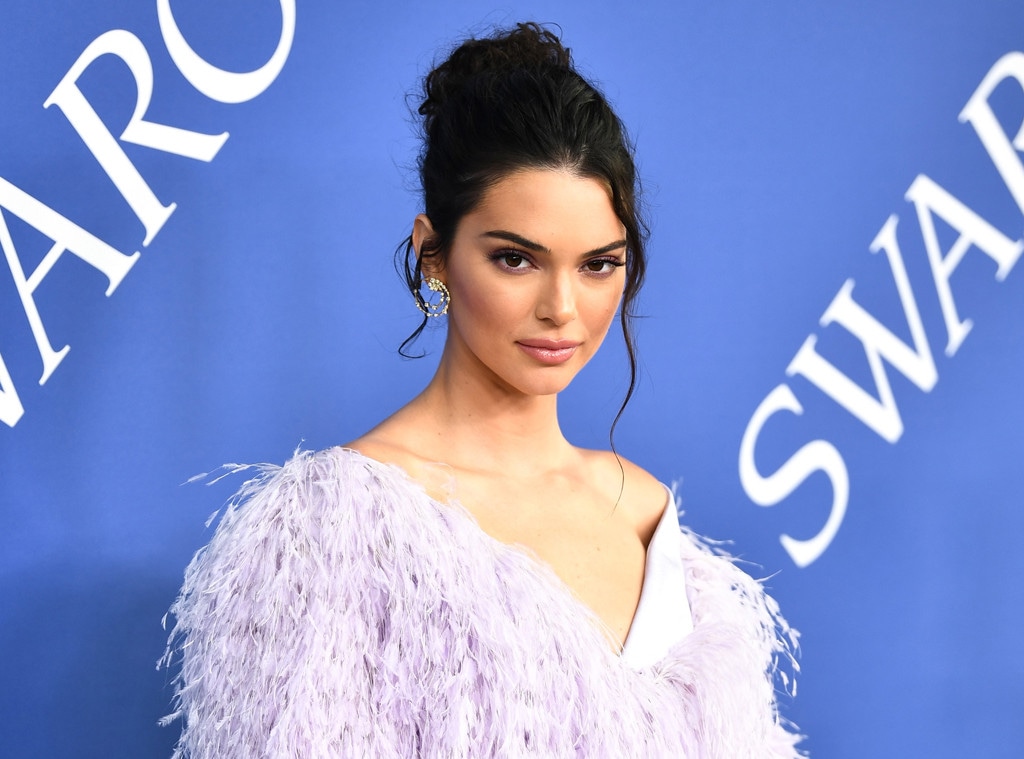 Dimitrios Kambouris/Getty Images
When it comes to the family business, Kendall Jenner is content to stick to supporting player status.
According to momager Kris Jenner, her second youngest has never expressed interest in increasing her screen time. "Kendall is really satisfied on her role in Keeping Up With the Kardashians," the matriarch shared in a sit-down with Variety in 2017. "She's a pretty busy little girl."
Besides, she's already starring in the real life reality series How to Become a Top Model Even When Agency Types Are Not Inclined to Take You Seriously—a role she's been rocking since sometime in 2012, what would have been her junior year had she remained at L.A.'s Sierra Canyon School. So increasing her reality footprint is not really the goal. 
"I've always been the different one," she shared with Harper's Bazaar in 2017. At the time she was talking about her penchant for favoring jeans and tees over the designer dresses she's literally paid to make look good on a regular basis. But she really could have been referencing her whole raison d'être, how at her core she's always been a bit of an outlier among her sisters Kourtney Kardashian, Kim Kardashian, Khloe Kardashian and Kylie Jenner. 
Not the black sheep, per se, because the lanky, 5-foot-10 model, who turns 24 today, is undeniably part of the fold. She's a regular at Kris' Hidden Hills, Calif. pad, rarely skips a family-sanctioned event (forced to miss Stormi Webster's rescheduled first birthday, "I was literally on Facetime," she told Jimmy Fallon) and can often be spotted hanging out with "best friend" Kourt. (That is when they're not squabbling over ski getaways.) But there's always a bit of a one of these things is not like the other vibe when it comes to Kris' fifth born. 
Though she's happy to be on camera, even opening up at times about her paralyzing battles with anxiety, she'd really rather not go there with some of the more personal aspects of her private life. "More than the rest of my family, I guess," she admitted to Harper's Bazaar. "Just 'cause I think it's powerful. Plus, I think people always want what they can't have. It's nice to have some mystery."
While her sisters have always traded on their fame, using their irrefutable influence to create their own brands, Kendall's saw her notoriety as something she had to overcome. Willing her childhood dream of becoming a model into a reality meant having to prove she was more than just the girl that grew up on TV,  that she wasn't here just for the Instagram likes and the attention, she was dead serious about building a tangible, long-lasting career.
"I've always been superdifferent from all my sisters, especially my Kardashian sisters," she noted to Vogue in 2016. "They've always been into the glam thing and dressing up every day and being in the thick of it. Part of me loves that, but at the same time, I love dressing down and having my private life." 
The disparity was there from the start. While a preteen Kylie would often busy herself playing with friends, Kendall was more likely to be found playing video games in her bedroom, riding her dad's collection of ATVs and go-carts or wiling her days away at the barn figuring out the art of equestrian jumping with her horse Ladybug. 
Comparing herself to her siblings, she wondered where her curves were. "They have boobs and I don't have boobs," she told The Telegraph in April. "Growing up being this little twiggy girl, I saw my sisters and always thought, 'Oh no am I supposed to be more sexy like them?'"
And then there was that period where she refused to wear anything but a set of beloved camo shorts. "I was a huge tomboy," she admitted to Harper's Bazaar. "I had a phase where I wore boys' clothes. I was always hanging out with guys. I've always connected with guys more." 
To this day, though she's obviously picked up a lot from the various sets she finds herself on all over the world, she's not the sister you would go to for contouring advice. But if you're interested in an easy, breezy two-minute foundation plus bronzer and a neutral lip routine, she's your gal. 
"I mean, I'm a girl and I like being a girl, but I've just never been into it like they have," she told the mag. "I think I get that from my dad. I'd say I'm more of a Jenner than a Kardashian." 
She's never turned her back on the family business, insisting she has no regrets about making her television debut at age 11. ("We were normal kids," she noted of herself and two years younger Kylie. "The cameras barely even fazed us." But just a few years into her career as a reality star, she had realized that would never be the end goal.
Tasked with penning a letter to her future self along with the rest of her high school's incoming class, the 14-year-old was direct and specific, writing, "My goal in life is to become a big time model and travel to really amazing places." It was a dream she shared with dad Caitlyn Jenner, and the Olympic champ was clear about just how much drive it would require. "I told her right from the beginning, the way you're going to be successful in this life is to work hard," she told Harper's Bazaar. "No one is going to hand you anything." 
AP Photo/Kathy Willens, Getty Images
And in a field built on discovering unseasoned, fresh faces, people were even less inclined to offer an assist to a known commodity. "I think being a Kardashian worked against her," Kim suggested to Vogue of the teenager's role in the family business. "Coming from a reality show, people look down on that—a lot of people in the fashion industry don't respect that world." For all her passion and dedication, even Kendall wasn't confident about how it would turn out. "When I first started this, I thought: This is going to be so embarrassing. No one is going to accept me, and it's going to be a complete failure." 
Clearly she was wrong, quickly working her way from modeling bejeweled Sherri Hill gowns to landing a spot in Marc Jacobs' Fall 2014 show. But she was constantly aware that some people still saw her as a privileged interloper, an outsider, one reason she still makes it a point to chat with the newer girls she sees backstage to welcome them into the fold. 
Victor VIRGILE/Gamma-Rapho via Getty Images
Jacobs was the first big name to stick his neck out and he swears it wasn't some stunt casting. "We wanted to book her on her own merit as a model," he told Vogue, "not because she's a Kardashian. Every bit of her success is a testament to her hard work and her passion." 
But just to be safe, she declined Jacobs' offer to have her extended brood sit front row. "I was like, 'I love you guys, but can you please just not come?'" she recalled of how she broached the topic with her family. "I was trying so hard to be taken seriously, like, 'Guys: This is not a joke or a stunt; this is what I want to do with my life.' I had to prove that I could do it."
En route to becoming the world's highest-paid model, she didn't always abide by the Kardashian code of thou shall share everything with your fans. Long before Kylie made the decision to keep her pregnancy under wraps and Kim grew more selective about what she would share on social media, Kendall was making a point of keeping the public at a respectful arms length. 
Watch:
Kendall Jenner Reveals Biggest Modeling Lesson
Even when profiled by the likes of Vogue (she landed on the venerable fashion bible's cover for the third time in April 2018) she's hesitant to share too much, this time stopping short of confirming the very obvious: that she was being romanced by Detroit Pistons power forward Blake Griffin. When writer Jonathan Van Meter inquired why she was phoning in from Michigan the day after Valentine's Day, she responded coyly, "I'm visiting a friend." Asked if said pal was her boyfriend, she grew even cagier. "I like my private life," she defaulted before adding, "Yeah...no. I'm happy. He's very nice. I have someone being very nice to me." 
An unfortunate side effect of her reticence is that people tend to fill in the blanks, the Internet often openly speculating about her sexuality. "I think it's because I'm not like all my other sisters, who are like, 'Here's me and my boyfriend!' So it was a thing for a minute because no one ever saw me with a guy," she shared. "I would always go that extra mile to be low-key with guys, sneaking around all the time. You don't want to, like, look crazy." 
Try as she might, though, fans still breathlessly track every fling. After cooling off with Griffin in 2018, she bounced to Philadelphia 76ers forward Ben Simmons. Since their May split, due mainly to the distance between them, a source told E! News, she's seemingly been single.  
Not that she's offering up any details. 
Kendall's just not comfortable talking about any of the dalliances she's enjoyed. "I'm not marrying anyone. I'm not engaged," she detailed to Harper's Bazaar. "There's nothing long-term or serious like that in my life. If I'm not fully, fully in it with someone, why would I make it public to everyone else? If I don't even know what it is, why would I let the world know?"
And she's in no rush to figure it out. The sole Kardashian-Jenner to not yet have a baby, it's made for some awkward moments, all of which she's handled with her sharp wit. Whether being left off of Kris' Mother's Day tribute, or sitting out the family Christmas card, she has no issue poking fun at her solo status. 
Watch:
Kim Kardashian & Kendall Jenner Walk 2019 Emmys Red Carpet
"I go in and out of phases," she told E! News in May of spending so much time with her cadre of nieces and nephews. "Some days, I'll be there and I'll be like, 'Omg, I think it's happening. I think I have the fever.'"
Mostly, though, "I'm like, 'This is too much.' It's a lot to be able to play with them," she continued. "I'll just be like, 'Go to your mom.'" She's accepted that she's simply on a different track than her siblings. "I am ready to wait," she told Vogue. "I want to have kids, but at, like, 28 or 29."  
Before then, she has some things to accomplish. While she's unlikely to start churning out a line of bronzers or waist trainers, Virgil Abloh, the Off-White designer who considers the young model his muse, is already predicting a monumental next act. "In 30 years, I wouldn't be surprised if people have forgotten that she was one of the top models of the time and know her for something else."
Sean Zanni/Getty Images for Longchamp
Caitlyn, for one, predicts it could be acting. Asked which member of her family would be most likely to nab an Oscar, she named Kendall: "If you've noticed all the things that she's done on-camera, outside of the show," she told E! News, "she's just been brilliant."
It's unlikely to be her philanthropy. While Kendall is involved with a nonprofit that helps provide clean water to those in need and makes it a point to regularly visit the Children's Hospital Los Angeles, those aren't among the featured activities she shares with her 117 million-plus Instagram followers. "My mom always taught me—and I think there's something in the Bible about this—when you do good works for others, you're not supposed to talk about it." 
It's a very real take from someone who prides herself on remaining authentic even when living in what many would consider a fantasy world. "I have friends who have gotten sucked up in something that is so not real, and that is what I never want to do," she offered to Vogue. "My whole goal in life is to stay as humble and grounded as I can be, doing things that I love." 
And if those aspirations are slightly different than her siblings', well, then, so be it. "I like that I have a different vibe to everyone," she tells The Telegraph. "I like to do different things. And that's OK."