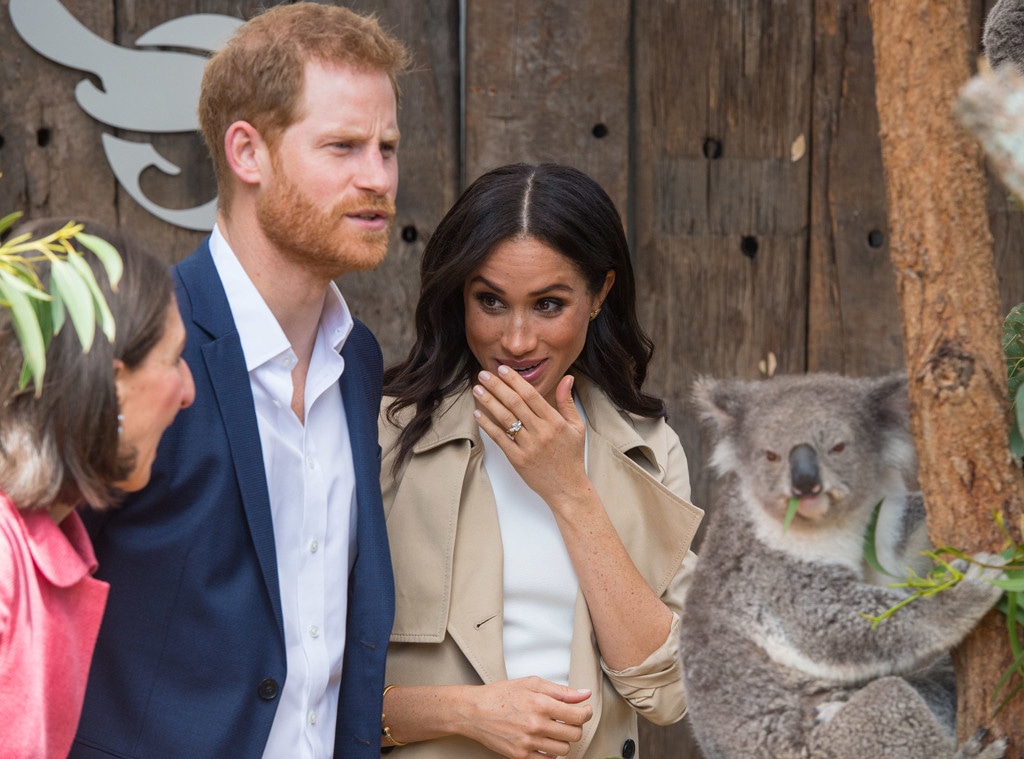 Dominic Lipinski/PA Wire
Back in May, when Meghan Markle stepped inside the flower-lined nave of St. George's Chapel on the grounds of Queen Elizabeth II's Berkshire residence, Windsor Castle, she was a retired actress with L.A. roots and a Toronto address.
An hour later, when she made her way out with new husband Prince Harry at her side, she was a fully-fledged member of the British monarch, with a shiny new title—the Duchess of Sussex—and an actual horse-drawn carriage to boot. But she held no airs about her presto change transformation into a royal and precisely what that meant for her future.
Take for instance, the exchange she had with longtime pal and Dior Beauty brand ambassador Daniel Martin as he applied neutral shadows to her lids and crafted the perfect pale pink lip to ensure she was ready for the bountiful cameras that awaited her in Windsor. 
Admitting he wasn't entirely sure how to act once she became Her Royal Highness. "I asked her that. 'Do I bow to you? I don't want to disrespect you, but I've known for almost 10 years. What's up?'" he recalled to People. "She started laughing and she said, 'I'm always going to be Meg. Meg.'"
Because for all the required curtseying and her inability to wear dark hues on her nails, Meghan still sees herself as the Cali girl who loves a good green juice after a yoga session or a glass of red with friends. (You know, the ones that still call her Meg.) And in the months since she pledged to love and to cherish (but not obey) one Prince Henry Charles Albert David, she's shown she has no intention of changing no matter how many tiaras she wears or fancy-sounding properties she acquires.
Behold, all the times she's proven to be royally down-to-earth.
Watch:
Meghan Markle Causes a Stir by Closing Her Own Car Door
When she got her own door, thanks.
Sure, she has handlers for that (and no less than three men were at the ready to close up her chauffeured ride). But when the 37-year-old pulled up to London's Royal Academy of Arts for her first solo appearance last month, she saw to door duty all on her own. Sure, it was a pretty ordinary act of personhood, but as journalist and royal biographer Christopher Wilson noted on Twitter, "First time I've seen an on-duty princess shut her own car door…"
When she refused to show up empty-handed.
At this point, we'd anticipate that hosts don't expect Meghan to turn up with much more than her presence as present. Still, when the couple arrived at the Woodley family's Mountain View Farm in Dubbo Tuesday, the self-described foodie came armed with a tin of Fortnum & Mason Royal Blend tea and a banana bread she had baked herself in the kitchen of Admiralty House, their Sydney accommodations. She added chocolate chip and ginger to her blend, an ingredient also heavily featured in the ginger berry crumble she once whipped up for the Suits hair and makeup department. "I love baking that lets you play and experiment," she told Cooking Light of her more adventurous approach to cooking, "the less precise stuff is right up my alley!"
That time she served as Harry's personal umbrella holder.
The expectant couple took no less than 10 staffers along with them for their 16-day tour of Australia, New Zealand, Fiji and the Kingdom of Tonga, but it was Meghan who took on PUH duties Tuesday. As Harry gave a speech in Dubbo, Australia's Victoria Park (somewhat ironically about the area's recent drought issues), his wife helped steady the parasol above his head. And though rainy weather can make looking good for the ever-present cameras a bit tougher, the duchess came prepared, trading her signature perfectly messy bun for an easy, breezy pony.
When she made an impromptu drop-in.
The group of locals gathered outside Mountain View Farm were content to receive a wave from Meghan and Harry as they drove past, so they were truly floored when the duo instructed their driver to stop the car to allow them to climb out and say hi. Meghan offered up handshakes and accepted congratulations and bouquets of flowers, asking one young boy who handed her a tiny stuffed bull, "Can we put this in the nursery?" Uh, yeah, we think he'd be fine with that.
Mark Cuthbert/UK Press via Getty Images
That time she and Harry took (gasp!) public transportation.
After a day spent playing netball at September's Coach Core Awards in an Oscar de la Renta top and not-unsubstantial stilettos, Meghan and her man skipped the car-and-driver on the way back, opting to ride the two hours to London on a public train. "Bizarrely sharing my train with Harry & Meghan today," one fellow straphanger tweeted. NBD.
Every time she introduces herself.
We're going to assume the hundreds who braved the 41-degree Nottingham temps last December were acutely aware of just who they'd been waiting for since six that morning. Yet as the newly engaged duchess-to-be made her way on a 25-minute walkabout—her very first royal outing—she approached each fan with the same humble, "Hi, I'm Meghan." You know, in case they were confused. And she even indulged the onlooker who asked, "How does it feel being a ginger with Meghan?" 
Her decision to sweetly break royal protocol.
Since enlisting in The Firm, Meghan has carefully abided by the no selfies edict, but she simply couldn't help herself when she spotted her mini me—complete with a "Girls Can Do Anything" message tee—in the throngs waiting outside of the Sydney Opera House Monday. After one fan told the royal, "We feel she looks a bit like you," Meghan replied, "I was literally about to say the same thing!" before gamely agreeing to a pic.
And when she womaned up through her first months of pregnancy.
By all accounts, Meghan isn't suffering from the same intense morning sickness that plagued sister-in-law Kate Middleton through all three of her pregnancies. But chances are, at roughly three months along, she's experiencing some exhaustion, soreness or that uniquely unpleasant combination of feeling both queasy and hungry. So plowing through some 76 engagements in 16 days while remaining perfectly camera-ready at all times is no small feat. Admitting to reporters Tuesday that she was "running on adrenaline" and feeling "a bit tired," Meghan nonetheless confirmed her commitment to stick to the packed schedule, adding she was doing "pretty well so far." As it turns out, girls really can do anything.