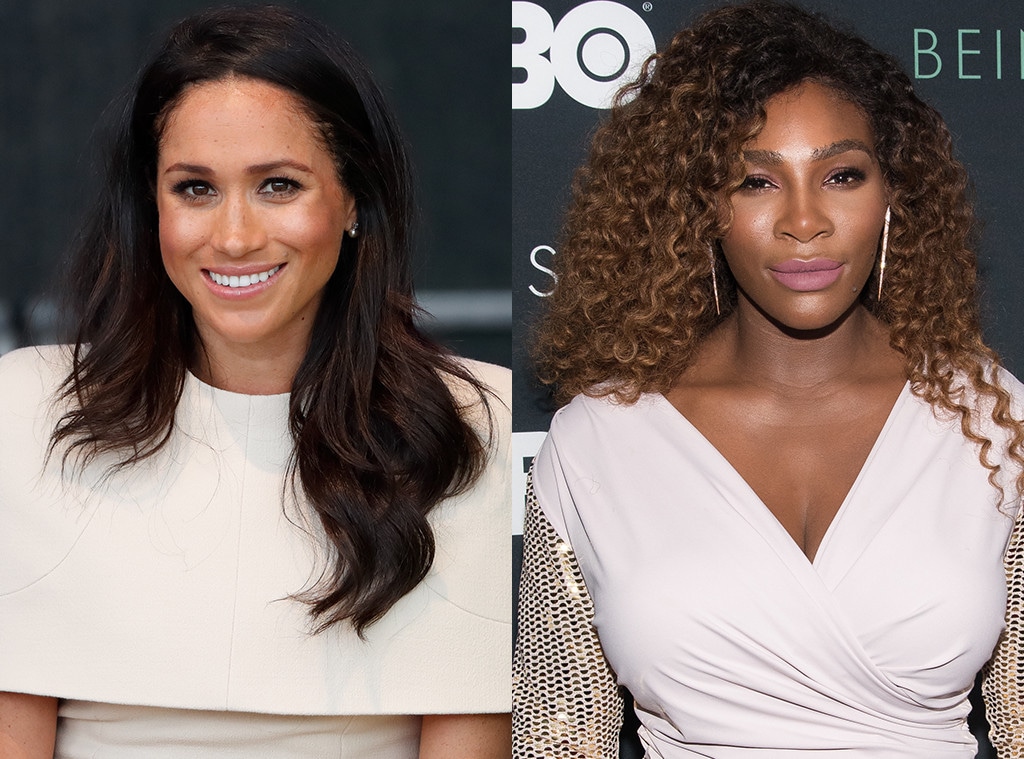 Max Mumby/Indigo/Getty Images; Mike Pont/WireImage
Two strong-willed, impossibly fierce women intent on breaking barriers and literally changing the world while withstanding anything detractors throw their way. Yeah, it makes sense that Meghan Markle and Serena Williams found each other. 
The future Duchess of Sussex and the tennis legend in training grew up miles apart in the greater Los Angeles area. While the athlete and her sister Venus Williams were perfecting their games on the courts of Compton, two black faces in a mainly white sport, Markle was dealing with her own racial ambiguity some 30 miles north in the San Fernando Valley. In their decidedly homogenous neighborhood, Markle would later write in an essay for Elle UK, her African American mother was often mistaken for the nanny or, worse yet, considered a non-entity altogether, like the time a well-meaning teacher instructed the seventh greater to check the Caucasian ethnicity box because her complexion appeared closer to that of her white father's. 
So the similarities were always there, somewhat parallel lives. But it wasn't until Markle and Williams were both elevated into the lofty world of celebrity that their paths finally crossed. 
Three years into her role on the legal drama Suits, Markle earned an invite to the same pre-Super Bowl event the then-17-time Grand Slam singles winner was attending. Placed on the same team at DIRECTV's New York City-based Celebrity Beach Bowl in 2014, the actress, 37, and the athlete, 36 (born just seven-and-a-half weeks apart in 1981) competed alongside fellow celebs Hannah Jeter, Nina Agdal and Shay Mitchell and against the likes of Chrissy Teigen, Guy Fieri and Deion Sanders. And though neither are really the type to take an apathetic win-or-lose stance (for the record, their team notched a seven-point victory), they found time to bond while on the sidelines. 
"We hit it off immediately," Markle would later write on her now-shuttered lifestyle website The Tig, "taking pictures, laughing through the flag football game we were both playing in, and chatting not about tennis or acting, but about all the good old fashioned girly stuff." 
Michael Loccisano/Getty Images for DirecTV
No doubt they still discuss fashion (their professional ensembles are, after all, among the most critiqued in the world), but the pals have long since delved beyond surface-level small talk.  
Take one of their more recent communiques, after Williams was handed a U.S. Open finals defeat by 20-year-old challenger Naomi Osaka thanks, in part, to a one-game penalty she received from the court's umpire. And considering Williams was the ally Markle turned to when she needed been there, done that advice on how to deal with the intense scrutiny that came with dating Prince Harry, we're willing to bet the tennis pro has fielded at least a call or two from the duchess during her continued drama with Dad. 
"We were actually just texting each other this morning," Williams revealed to The Project's Lisa Wilkinson Sunday when asked if they traded tips on handling the pressures of fame. "We have known each other for a long time, but we really, kind of, are relying on each other a lot recently." 
Watch:
Serena Williams Tries to "Find Her Personal Work-Life Balance"
Theirs was one of those friendships where you spot a kindred spirit and form a near-instant bond. Just months after the flag football game, Markle was cheering her new pal on to a third consecutive U.S. Open victory that September, posting a photo she captured from her spot in the stands. She sent her public congratulations again months later when Williams bested her fellow competitors at the 2015 Australian Open. 
By then, Markle had already tapped the pro to pen a series of blog posts for The Tig, their best friends status firmly solidified. "She quickly became a confidante I would text when I was traveling," Markle wrote on her site, "the friend I would rally around for her tennis matches." 
And they were tight enough for the Toronto-based actress to hop a flight across the pond to watch her compete in Wimbledon. As the story goes, Markle sat courtside at that match with Violet von Westenholz, a Ralph Lauren public relations director she had recently connected with—the same fashion industry insider who suggested to childhood pal Harry that he take the stunning actress and human rights activist out on a date. 
Chris Jackson/Chris Jackson/Getty Images
That was hardly the only role Williams played in the budding fairytale. As news of the union broke—not long after Markle was able to make what was one of her final under-the-radar appearances at William's New York Fashion Week presentation for her HSN collection in September 2016—the actress reached out for guidance on how to handle her sudden notoriety.
While she had been in the public eye for years, she had never before possessed the level of fame that brought photographers and curious fans to her door or forced her to think about how she should appear in paparazzi photos. And she was wholly unprepared for the racist remarks that would be flung her way as the worst of the royal watchers took issue with Harry's decision to court an accomplished American actress with a black mother and a white father. 
Williams, sadly, understood her position all too well having faced bigotry for the entirety of her two decade career. During one of the earliest incidents she can remember, she recalled to Common in an interview for The Undefeated, "I was playing, and these kids came up behind me while we were practicing and—I was probably, like, 7—they were calling me Blacky." Once she went pro at age 14, the racism grew more overt. She was just 19 when the crowd gathered for the 2001 BNP Paribas Open Tournament in Indian Wells, Calif. booed her as she battled to victory and hurled racial slurs at her father, who claimed one man even threatened to skin him alive. Crying as she held her trophy, Williams swore never to return, a vow she held strong to until 2015. 
In the years since, she's had to battle comments, both racist and sexist, about her figure, her strength, daring to forcefully exhale as she sent serves careening toward her opponents. To deal, she recounted to Common in the 2016 interview, she stopped reading her press, both good and bad. "I kind of put myself in a bubble," she explained. "I feel like I definitely was scrutinized because I was confident—I was black and I was confident." 
But she never let it dull her shine. "I would say, 'I feel like I can be No. 1,'" she shared, noting the shock her statement would enlist. "Well, why shouldn't I say that? If I don't think I'm going to be the best, why do I play?" 
And that's essentially the advice she gave to her friend. While Harry was directing his team to issue a statement defending his future wife from "the racial undertones of comment pieces; and the outright sexism and racism of social media trolls and web article comments," Williams was instructing her to keep her head high. As she shared in Markle's 2017 Vanity Fair cover story, "I told her, 'You've got to be who you are, Meghan. You can't hide.'"  
It was the type of pump up one can expect from their very best girlfriend. And it was a favor Markle would return. While self-doubt isn't an affliction that often plagues Williams, she admitted last year to being nervous about impending motherhood. Well before she was the type of mom to strive not to miss a day of 12-month-old Alexis Olympia Ohanian Jr.'s life, she was confessing to Vogue, "I don't really think I'm a baby person." 
Such worries aren't exactly uncommon amongst parents-to-be, but Williams' pal was having none of it. "She will be an amazing mom," Markle insisted to the mag. "The very best, because she is so attuned to balancing strength and sensitivity. Plus, given that she is pretty epic at karaoke, I think she'll put her signature Serena spin on singing lullabies for the baby. I can't wait for that!" 
In between singing each other's praises, the pair have both been there to celebrate each other's highs, of which there are more than a few.
Weeks before the French Open, Williams traveled to Windsor Castle (husband Alexis Ohanian and baby Olympia in tow) to watch Markle wed her prince and hold a masterclass on inclusivity in one fell swoop. "To have such a monumental moment in England, nonetheless of all the places, I felt like we were literally watching history," she shared on The Project. "And I feel like in a few years we are going to look back at that moment and it's going to be so historic that—it's going to be something that people never forget." 
Perhaps a bit like Williams who had already left an indelible mark on the game of tennis and, really, sports as a whole even before she notched a 2017 Australian Open win while expecting her daughter then bounced back from a life-threatening postnatal complication to play her way into the finals of both Wimbledon and the U.S. Open. 
Markle, alongside new sister-in-law Kate Middleton, was on hand to watch the former, as she had been several times before. Noting that she and the royal family's newest member had "always had a wonderful friendship," Williams told reporters her appearance was tradition at this point, albeit now she was showing up with a larger team of protection officers. (And had Williams claimed victory, Markle wouldn't have been able to post a congratulatory photo to her Instagram page.) "Every year for a couple years she comes out to Wimbledon and has supported me," the athlete noted. "Now she's supporting me in a different role, but our friendship is still exactly the same." 
James Gourley/BPI/Shutterstock
It's just these days they both hold even more power as they work to move the needle on issues such as racial equality and women's rights. Williams is still busy raising her voice, and when need be, her racket to the still too frequent inequities she faces as a female athlete. "I'm lobbying and trying to break down all these double standards that we have to face on a daily basis," she told NBC News. "And just let people know that we're here to stay, obviously, and we deserve to be treated just like our male counterparts." 
And if the mixed bag of reactions stemming from her U.S. Open controversy is any indiction, there's much work to be done. 
Markle, meanwhile, is carefully handpicking the causes she can devote her suddenly limitless influence to, starting with a charity cookbook featuring recipes from the women of West London's Hubb Community Kitchen who'd been affected by the horrific 2017 Grenfell Tower fire. 
"I used to call you Meghan (and I still do)," Williams wrote in an Instagram post praising the publication, "but dear Duchess of Sussex your first project "Together" [is] a cookbook bringing women of all cultures together. I could not be more excited about it and proud of you. It's beautiful—diversity, inclusivity, coming together in grief or joy—there is just so much love." 
Just so much love would also be an apropos way of describing the bond between the two women. Yes, they're both undeniably successful, poised, intelligent, with closets we could only dream of. But at the center of their relationship is just two women who happen to really like and respect each other and believe that they're here to do good work. Or, as Markle once put it on The Tig, "We are both the same age, have a penchant for hot sauces, and adore fashion, but what connects us more than those things is perhaps our belief in exceeding expectations—our endless ambition."