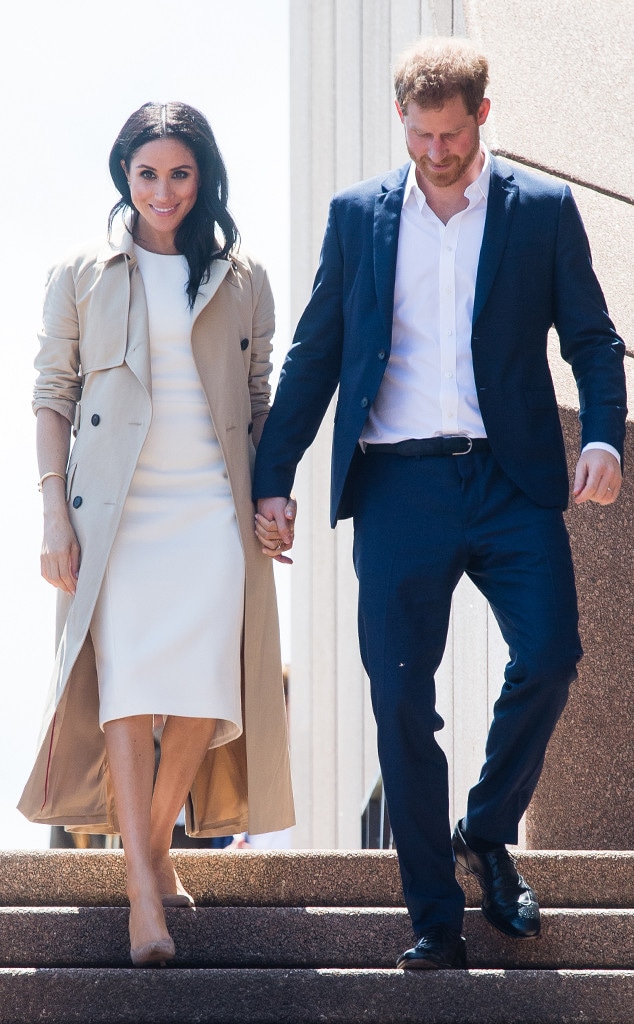 Samir Hussein/Samir Hussein/WireImage
Some rules are just meant to be broken.
On Tuesday, Meghan Markle and Prince Harry took a slight detour on the path of royal regulations after Prince Harry encountered a young girl who bore a striking resemblance to his wife. The couple is traveling in Sydney, Australia for their first royal tour as a married couple and were greeted by throngs of fans outside of the Sydney Opera House. 
While shaking hands and smiling at onlookers, the Duke of Sussex struck up a conversation with a young girl who wore a white shirt that said "Girls Can Do Anything" on it. He praised her outfit choice and then proceeded to call Meghan over. When she met the young girl, she grinned and pointed at the tee and said, "I love your shirt!"
Prince Harry then said, "Can I take a photo of the two of you?"
Royal rule breaker #1.
One of the onlookers, perhaps the girl's mom or just another fan, said to the Duchess, "We feel she looks a bit like you when you were younger."
Meghan replied, "I was literally just about to say the same thing!"
Prince Harry took a fan's phone and snapped a picture of Meghan, her lookalike and two other women. 
Prior to this, Prince Harry, Meghan and the royals have notably refrained from taking photos with people or signing memorabilia for fans. This occasion, however, called for a change of plans.
The two of them also stopped down the line to visit with Prince Harry's 98-year-old friend, Daphne Dunne, who he had met during two of his previous trips to Australia. "I'm so happy to finally meet you," Meghan said.
It's rather common occurrence for Prince Harry to call his wife over to come meet a fan who he thinks would impress her.
In March trip to Birmingham, Prince Harry summoned Meghan after he met a 10-year-old aspiring actress named Sophia Richards. She recalled meeting the Duchess as a "dream come true." She told reporters after, "Meghan told me that I can achieve whatever I want to achieve and Meghan said she would like to see me on TV when I become an actress."
The royals arrived in Australia on Sunday and began the first full day of their trip meeting with Australia's Governor-General Sir Peter Cosgrove as well as visiting a local zoo, where they were introduced to some koalas and other animals. On Monday morning, Kensington Palace announced that they were expecting their first child together. While at Admiralty House, Sir Cosgrove gifted the parents-to-be with a stuffed animal kangaroo and its joey (the baby). They also received a pair of chestnut-colored baby Uggs. Meghan exclaimed, "It's our first baby gift."
As the two of them basked in the happy news about Meghan's pregnancy, she paid homage in a subtle way to Prince Harry's late mother, Princess Diana. Meghan wore a stunning white dress by Australian designer Karen Gee, and accessorized it with diamond butterfly earrings that once belonged to Princess Diana. 
While in Australia, the Duke and Duchess will partake in honoring the 2018 Invictus Games, which are occurring in Sydney Oct. 20-28. Prince Harry will apparently hoist the Invictus Games flag at the top of the famous Sydney Harbour Bridge, which officially commences the Games.
Other than Australia, Prince Harry and Meghan will visit Fiji, Tonga and New Zealand.