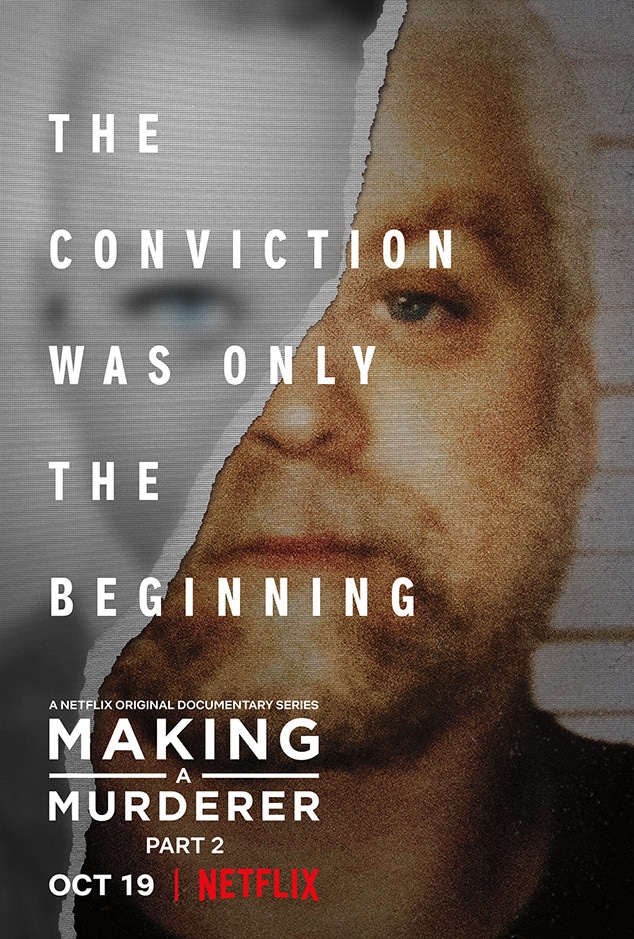 Netflix
"The convictions were only beginning."
Prepare to make a major indent on your couch this weekend as Making a Murderer Part 2 finally premieres on Netflix on Friday, bringing binge-watchers back to Manitowoc County to follow the post-conviction legal battles of Steven Avery and Brendan Dassey, who were both sentenced to life in prison for the Halloween murder of Teresa Halbach in 2005. 
Since Making a Murderer premiered in 2015 and helped to kick off the true crime trend in pop culture, the Internet has become filled with arm-chair detectives and prosecutors, with almost everyone having an opinion on the handling of the case and the two men's innocence. Filled with "How is this happening?!" moments and compelling characters, Making a Murderer captured the nation's attention and eyeballs, shining a sometimes harsh light on just how the justice system works in the U.S.
To say Part 2 is highly anticipated is an understatement. But since it's been almost three years since Part 1 premiered and a lot of news has gone down since it hit Netflix, we're helping catch you up to speed ahead of Making a Murderer's return on Friday, Oct. 19. 
Break out your legal pads...
What It's About: While season one of MaM was filmed over the course of 10 years, part two will document that was transpired since the docu-series became a national sensation and brought an intense focus on the convictions of Steven and Brendan. 
"Steven and Brendan, their families and their legal and investigative teams have once again graciously granted us access, giving us a window into the complex web of American criminal justice," executive producers, writers and directors Laura Ricciardi and Moira Demos said in a statement. "Building on Part 1, which documented the experience of the accused, in Part 2, we have chronicled the experience of the convicted and imprisoned, two men each serving life sentences for crimes they maintain they did not commit. We are thrilled to be able to share this new phase of the journey with viewers."
Given the public's rabid interest in Steven and Brendan and the ongoing reporting of their cases in the media, Part 2 isn't shedding as much new information as Part 1 did, understandably. Still, it gives viewers an inside look at the legal process and just how freakin' hard it is to overturn an alleged wrongful conviction, with a lot of time spent with Steven and Brendan's respective legal teams as they fight to prove their innocence, with each taking very different approaches. And viewers will once again see the "emotional toll" this takes on everyone involved, including Steven and Brendan's family and friends. 
The Familiar Faces
Steven Avery: MaM introduced the world to the wild life of Steven, a man who was wrongfully convicted of sexual assault and attempted murder and served 18 years in prison before being exonerated by DNA evidence in 2003. He went on to sue the county for $36 million. But in 2005, he was arrested and charged with the murder of Halbach, a 25-year-old photographer who was reportedly last seen on his property, an auto salvage,  as she was taking photos of of a car for sale for Auto Trade Magazine. After a two-year legal battle, Avery was convicted and sentenced to life in prison in 2007. He's now 56. 
Brendan Dassey: In Part 1, Avery's nephew was one of the unexpected focuses of the docu-series, mostly because of the controversy surrounding his confession, which some argued was coerced by the police as he did not have a parent or lawyer present, and questions regarding his lawyer's (Len Kachinsky) efficiency (in legal terms: his fifth and sixth amendment rights were violated). Dassey, who has an IQ in the low 70s, was just 16 when he was first questioned by police, and he was 17 when he was convicted as an accessory to Halbach's murder and rape though he recanted his confession; he was sentenced to life in prison with the earliest possibility of parole in 2048. He will turn 29 on the day Part 2 is released.
Allan and Dolores Avery: Steven's parents and Brendan's grandparents are still a large part of the series, with Allan trying to keep the struggling family business afloat in the wake of Steven's conviction and the attention on the case. But their failing health is a big concern for Steven, which viewers will see him grapple with behind bars in the new episodes.
Barb Tadych: Brendan's mother and Steven's sister also returns to represent the family and fight to get her son out of prison. Her husband Scott, Brendan's stepfather, also returns. 
Laura Nirider and Steve Drizin: Introduced in the final episode of the first series, Laura and Steve are back as Brendan's post-conviction legal team and have a much larger presence in season two, with their main goal being to prove his confession was coerced. She is the Director of Center on Wrongful Convictions of Youth, which Steve is the co-founder of. Soft-but-sure-spoken, earnest and determined, Nirider is the standout on Brendan's defense team. 
Dean Strang and Jerry Buting: While they no longer represent Steven, the lawyer duo became the Internet's boyfriends in a major way when Part One aired, thanks to their fierce dedication and passion to try and prove his innocence. The unexpected sex symbols went on to do a speaking tour about the case and the series. They will make an appearance in the new episodes and their dedicated fanbase might be upset to learn part of Steven's new legal team strategy is to call out their handling of his defense.  
Ken Kratz: The prosecutor in both Steven and Brandan's cases, he did not cooperate with the series when it was being filmed. In 2010, he resigned as D.A. when he was accused of sexting a domestic abuse victim whose case he was handling at the time. He also sought treatment  for "prescription drug dependence and sex addiction." And yes, he has an ax to grind with the series, going on to accuse the filmmakers of leaving out crucial evidence, specifically the "sweat DNA" left on the hood latch of Halbach's car.  
"We included all of the State's strongest evidence," Ricciardi and Demos said in a Twitter Q&A after his allegations. "What's left out is less significant, circumstantial evidence, disputed by the defense and/or excluded by the judge."
While he doesn't participate in season two, footage of his various TV appearances is shown. 
Sandra Greenman: Steven's girlfriend, whom he began dating after his conviction, took part in Part 1, but the couple split and called off their engagement after he docu-series aired. They've maintained a friendship after their break-up, with Sandra still believing Steven is innocent. He sometimes uses her (and her Facebook page) to speak out from prison. 
New Faces
Kathleen Zellner: Prepare to meet and be immediately intimidated by Steven's new defense attorney, who has an impressive history of getting wrongfully convicted people out of jail, helping to exonerate 17 men, more than any other private attorney in the U.S.. She's no bulls--t and isn't really interested in whether or not you like her, even if some find her interest in his case post-MAM's success suspicious. She's a legal pitbull and is all bark and all bite. 
"She certainly does things differently than most lawyers out there,certainly all the lawyers you've seen in the series to date," Demos told Buzzfeed of Zellner, "so it's really exciting."
Peter Dassey: Though he didn't participate in Part 1, Brendan's father will be in the new batch of episodes. (He's married to Lori Avery, Steven's first wife.)
facebook.com/StevenAveryProject
Lynn Hartman: Remember that time Steven got engaged to a woman he started dating while in prison? Prepare to get the full story in Part 2, including the backstory on her infamous Dr. Phil appearance. Steven called in during her sitdown, telling Dr. Phil, "I haven't been in love my whole life. It's not the same as the others. Everything is all different with her."
But just days after they filmed the episode, the couple's engagement abruptly ended. In a Facebook post by his former girlfriend, Steven called Lynn "a golddigger," and claimed she was only with him to make money from appearances.
What's Happened Since Making a Murderer Dropped
When Part 1 ended, the Wisconsin Supreme Court had refused to review both Steven and Brendan's cases, with Brendan's post-conviction legal team filing a petition for a writ of habeas corpus in 2014. 
For those who've kept up with their cases in the news since the show premiered, they know A LOT has gone down. [Spoiler alert for those who choose not to know the updates on the cases ahead of Part 2's premiere.] 
In early 2016, Zellner decided to take on Steven's case and made her first appearance as his lawyer on Dateline. (Around the same time, viewers started petitions asking President Obama to pardon Avery. "Since Steven Avery and Brendan Dassey are both state prisoners, the President cannot pardon them. A pardon in this case would need to be issued at the state level by the appropriate authorities," the  White House said in a statement.)
In a tweet, she said she was "thrilled about chance of new forensic testing," and in August 2016, a 45-page motion was filed asking for "post-conviction testing of physical evidence" since "considerable progress has been made in forensic DNA methods, procedures and tests" since his conviction in 2007. 
But in October 2017, their request for a retrial was denied. Zellner said they would not give up trying to vacate Steven's conviction, as their scientific testing was still ongoing. 
AP Photo/Dan Powers, Pool
Brendan's post-conviction process, however, has seen significant more progress. Or at least it did until recently. 
In August 2016, the Internet went into a frenzy when it was announced that his conviction was overturned by a federal judge, who ordered that Brendan be "released from custody unless, within 90 days of the date of this decision, the State initiates proceedings to retry him." The State of Wisconsin decided to appeal the ruling, saying in a statement that it was "coerced by investigators, and that no reasonable court could have concluded otherwise, is wrong on the facts and wrong on the law." 
However, by December 2017, after it was decided Brendan would remain in prison during his appeal process, his conviction was upheld in a 4-3 vote, with the majority finding that his confession was properly attained by the police, after a panel heard his appeal. 
Another major blow came in June 2018, when the Supreme Court decided it would not hear Brendan's case. At the time, Nirider told E! News her team will "continue to fight to free Dassey." 
Obviously, Steven and Brendan's post-MaM journeys went off in majorly different directions, which the filmmakers embraced for the new episodes. 
"We feel like they had inverse arcs this season," Ricciardi told Buzzfeed of following both men's legal teams. "Steven's case has so much to do with forensics, and challenging physical evidence. Whereas Brendan's has to do with rewriting the narrative about what happened in the room with the officers."
All 10 episodes of Making a Murderer Part 2 will premiere on Netflix on Oct. 19.