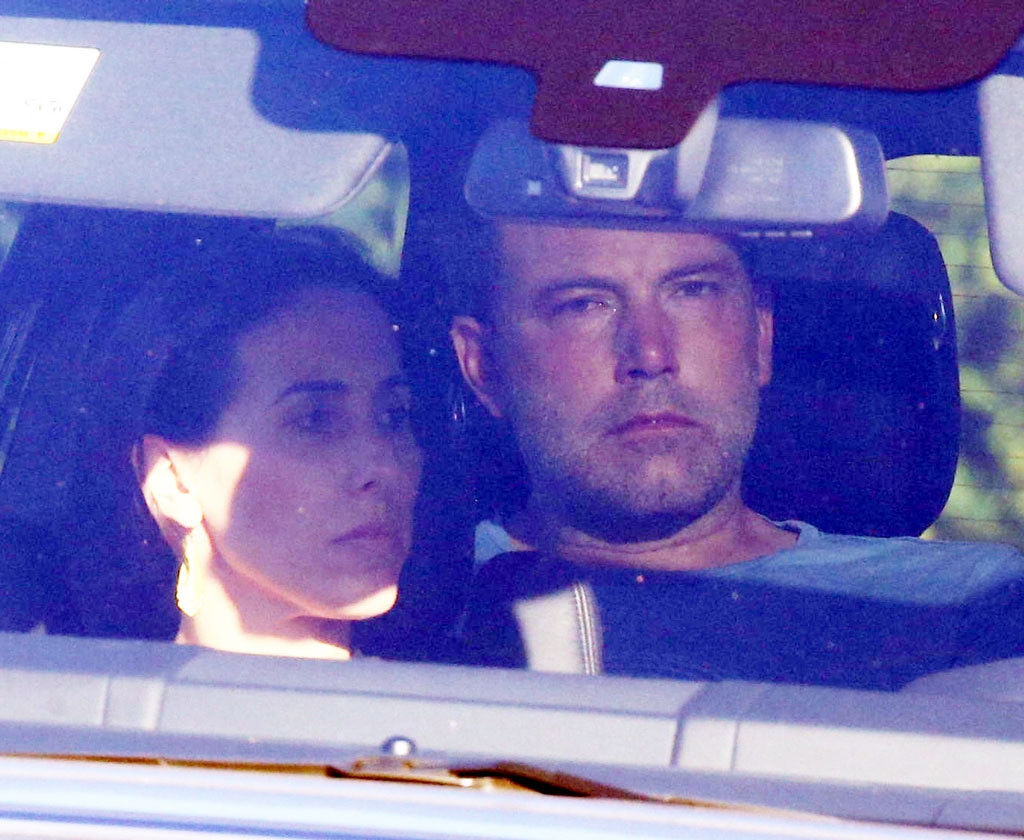 DR-JU/LX17online.com
It has been a week since Ben Affleck entered rehab for a third time following his latest relapse.
The star, who has battled alcohol addiction for many years, was admitted to a rehab facility on Wednesday, Aug. 22 after his ex-wife, Jennifer Garner, staged an intervention. With the assistance of a bodyguard and a professional from the treatment center, Garner approached the Oscar winner, who was "not resistant and knew he needed help," at his home in the Pacific Palisades.  
"He was grateful that Jen was there for him again and did not fight it," a source previously told E! News.
His latest stint in rehab follows his split from Saturday Night Live producer Lindsay Shookus. The two dated for over a year, but things recently came to an end after Shookus realized she would be unable to move to California as the couple previously planned. At the time a source told E! News, "They talked about Lindsay moving to L.A. but it wasn't going to happen."
"Ben and Lindsey had been trying to figure it out to make it work," however, as a source previously noted, "with their families on both coasts it was tough to have a consistent relationship." The insider added, "They really cared for each other."
The source said, "Ben was doing well for the last few months and very committed to his sobriety," but that was before his breakup. They noted, "He periodically drank from time to time but struggled as of late"
Afterwards, things progressively worsened for the director since he had more downtime following the end of production on one of his recent projects. It was during this time that he started to see Playboy model Shauna Sexton and began "heavily drinking alone at home."
Jen, meanwhile, "had family in town and a lot going on but she was well aware of what was going on. She saw the photo of the alcohol being delivered to his house and knew he was home all day and that was the breaking point," the insider previously revealed.
Knowing the father of her three children, Violet, Serafina and Samuel, was having a "really tough time," Garner felt an obligation to help him before things could get worse. That's when she decided to personally drive him to rehab.
The source said, "It's extremely sad and disappointing that this has happened again, but she will continue to be there for him and not turn her back. She feels like she can't do that to her kids and that she wants him to be in their lives."
And Ben wants the same thing for their family. "He was grateful that Jen was there for him again and did not fight it," the insider shared.
Since entering the facility a week ago, the actor has started a different treatment plan than his two previous stays and is doing OK. According to a source, "He seems serious about living in for at least 30 days."
For now, the focus is on Ben and his sobriety, even if that means waiting a bit longer to finalize his divorce from Garner, which was threatened by dismissal due to lack of action. "The divorce is wrapped up but has not been signed off on. They are waiting for Ben to get out to do that," the same E! News source revealed. "They both want to move on and end the financial negotiations and the custody discussions."
As for their kids, Jen has told them the truth. The insider said, "Jen told the kids that Ben is sick and needs help from a doctor."