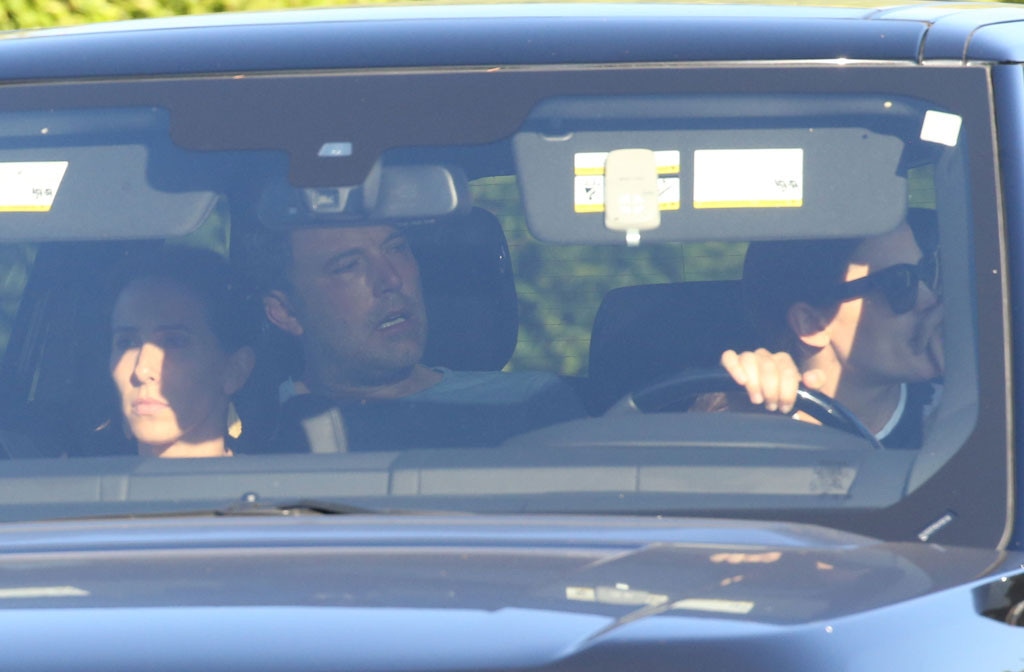 DR-JU/LX17online.com
Ben Affleck is checking back into rehab, E! News has learned.
A source tells E! News a "visibly shaken" Jennifer Garner was spotted driving her soon-to-be ex-husband  to rehab, just weeks after his breakup from Saturday Night Live producer Lindsay Shookus. The mom arrived at the actor's home in the Pacific Palisades with her bodyguard in tow on Wednesday at 6 p.m., where the actress staged an intervention for the father of their three children, Violet, Serafina and Samuel. 
The insider says the mother-of-three told the paparazzi it "wasn't a good time and to please leave the house," after which she, Ben and a bodyguard got in their car and drove off.
Another source tells E! News the Batman star had been drinking since Monday and knew he needed help. "He told Jen and was not resistant. He asked her to take him and she wanted to be there for him," the insider reports.
Affleck has long struggled with alcohol addiction, but appeared to have stuck to his vow to stop drinking since announcing he had completed rehab in March 2017. And while he had successfully finished his stint in rehab, the actor continued to seek outpatient treatment. Only recently did the Good Will Hunting star's sobriety come into question, following his breakup from Shookus and subsequent dates with Playboy model Shauna Sexton.
In a statement shared on Facebook in March of last year, the producer said, "I have completed treatment for alcohol addiction; something I've dealt with in the past and will continue to confront. I want to live life to the fullest and be the best father I can be. I want my kids to know there is no shame in getting help when you need it, and to be a source of strength for anyone out there who needs help but is afraid to take the first step."
"I'm lucky to have the love of my family and friends, including my co-parent, Jen, who has supported me and cared for our kids as I've done the work I set out to do. This was the first of many steps being taken towards a positive recovery," he concluded.
And like she did in 2017, Garner is sticking by her co-parent in his time of need. "She wants to see him healthy and at his best. She knows that's what's best for the kids and the family," a source previously told E! News. 
TMZ was the first to break the news.