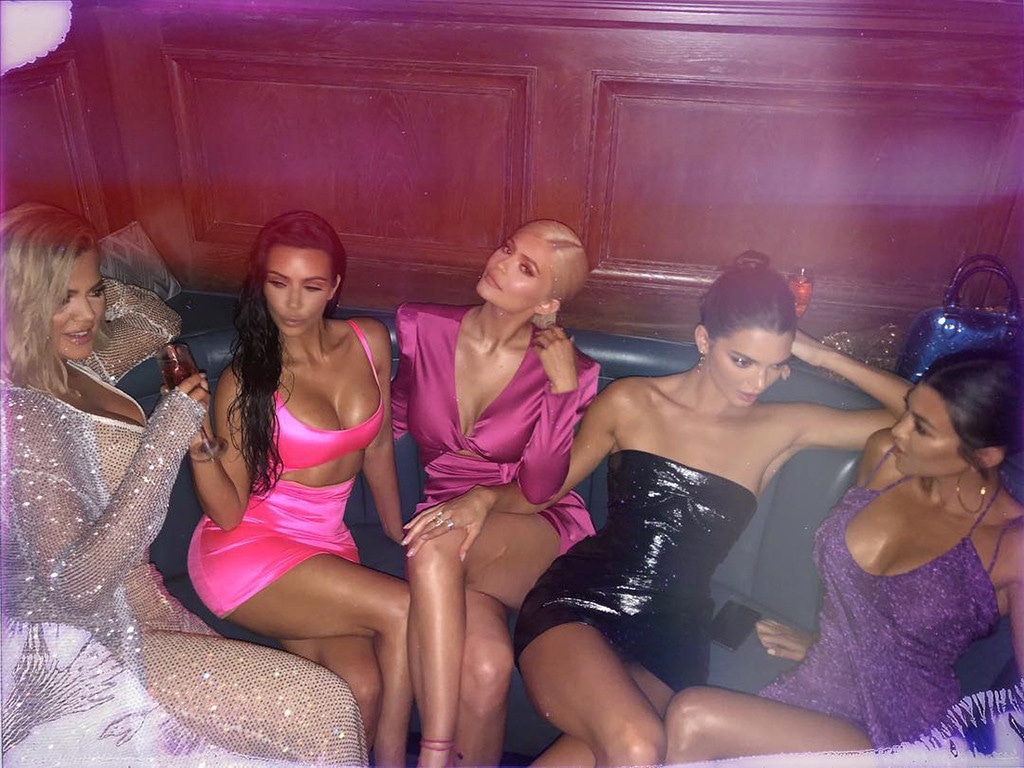 Instagram
Safe to say Khloe Kardashian knows good TV. 
Eleven years into her gig as the comic relief on her family's flagship show, Keeping Up With the Kardashians, she helms her own series, Revenge Body With Khloe Kardashian—an ideal merger of her two loves, reality television and fitness. And her next project seems killer. 
This Labor Day, Investigation Discovery will air the first of six episodes of Twisted Sisters, a series executive produced by self-proclaimed "true crime addict." In press materials, Khloe shared that she had a hand in selected which of the real life stories—all featuring siblings who commit crimes together or, at times, turn on each other. "These stories of sisterhood gone awry will surprise even the most devout 'ID addict.' When choosing the stories, we couldn't believe how many untold tales there were to tell," she insisted. "I am excited to share with viewers a new twist on the term 'sibling rivalry.'"
One could argue, though, she and her sisters have been doing that for the better part of a decade, though. 
Their particular brand of sibling rivalry involves words that cut deep and fights that live on months after they occurred—but at the core is an unmatched level of loyalty. Take, for example, that Kourtney Kardashian can be so mad at Kim Kardashian that she's tossing out the cruelest of insults (in the Aug. 5 premiere she labeled her a "very distraught, evil human being") or just outright ignoring her in favor of editing a selfie for Instagram consumption. And yet a closer look at the phone she's tapping away on reveals that it bears one of Kim's marketed Kimoji phone case because, as she tweeted, "We're ride or die."
When a sister is truly in crisis, no one closes rank quite like the Kardashians, a point they were able to prove before the premiere episode had even been erased from DVRs. The dust from their huge blowout was still settling as the sisters shot argumentative missives across the Twitterverse when Kourtney's boyfriend Younes Bendjima was photographed with his arms around model Jordan Ozuna during a trip to Mexico. The fact that he was actually now her ex boyfriend—a relationship status heretofore unknown to fans—was of little importance. The cozy snaps were "upsetting and embarrassing" to Kourtney and her sisters weren't here for it.
So when he tried to defend his honor screengrabbing a DailyMail.com article and writing, "They really want me to be the bad guy. F--k your Hollywood bulls--t (can't have fun with your friends no more)," Khloe wasn't having it. "Alexa, play 'heard it all before' by Sunshine Anderson," The Shade Room reported she wrote. When Bendjima continued, adding, "Once again you guys failed. I'm not attached to this 'life' so you can't touch me. I know who I am, where I'm from and where I'm going and that bothers you. Only one opinion matters. The one of my Lord. Have a wonderful day," Kim dove in. "Nice pics from your 'boys trip.'"
And just like that—before Kendall Jenner and Kylie Jenner could pile on as well—Bendjima had been served his marching papers. He's now persona non grata in the family's Calabasas, Calif. enclave. Don't mess with sisters. 
As for Kourtney, she has a band of willing drinking buddies ready to throw on their designer best and pose for a few eat-your-heart-out-style Instas at a moment's notice. It's a move they pulled after her romance with Scott Disick finally flamed out in 2015 and he turned up in Monte Carlo with another woman. "Everyone in the family has been really supportive and has been making sure she is entertained and busy," an insider previously revealed to E! News. "Kim and Khloe have been making Kourtney laugh and have been by her side."
The girls, of course, stayed close to Disick, dad to their beloved niece and nephews Mason, 8, Penelope, 6, and Reign, 3, but Bendjima shouldn't be expecting a family Christmas card. (Assuming of course, that they're able to put together a photo shoot without devolving into another war of words.) "The family is really happy Kourtney cut the cord with Younes—especially Kim," said the insider. "They are ready for Kourtney to be with someone better suited for her." 
That type of relationship support bends both ways. While we're guessing the family could have come up with a few zingers to toss at Tristan Thompson (who can forget Kim's initial "It's just so f--ked up" jab?), when Khloe decided to go the forgiveness route, her sisters fell in line. 
The girls were surprised "that Khloe forgave him as quickly as she did," following his alleged infidelity, a source tells E! News, but "they are civil to Tristan because they are supporting Khloe. They have no choice in the matter." They know that to spend time with Khloe and her 4-month-old daughter True (one of the family's new "triplets" alongside Kylie's 6-month-old Stormi and Kim's 7-month-old Chicago), Thompson is part of the package deal. 
So that means Kendall and her basketball boyfriend Ben Simmons were all too happy to join the new parents for a getaway at family friend Joe Francis' Mexican vacation home. And Kim has learned to choose her words regarding the whole Tristan situation quite carefully, most recently telling Ryan Seacrest on his radio show, "It was a new territory for us when you have a new baby coming into the world. We always want her to be happy. It kind of gets clouded when there's a baby. Her motherly instincts kicked in and she has to do what makes her happy."
A concentrated effort of rooting for each other's happiness, no matter what that might look like, seems destined to be a through-line for season 15. Or at least the Kim-Khloe-Kourtney battle that's currently playing out onscreen (and a little bit still on Twitter). 
That was the goal they eventually landed on during the group therapy session that aired during last Sunday's episode. First, though, they argued a bit over what exactly they were arguing about, with both groups complaining to camera the other side wasn't really listening to them. 
Team Kim and Khloe wanted to convey to Kourtney that she needs to show up for work (i.e. sitting around with her sisters as cameras rolled), ideally on time and with a willingness to talk to them, but to Kourtney their constant needling about past vacations and remarks about her tardiness felt like hurtful commentary on the way she lives her life. At the time, her long-distance relationship with Europe- and New York-based Bendjima meant that if she didn't, say, jet off to France for a week she would hardly get to see him at all.
"I just feel like everyone just should try to be happy for each other," she pleaded "and, like, understand that there's things that everyone's going through."
Dimitrios Kambouris/Getty Images for Yeezy Season 3
For Khloe agreeing to simply act nice and be on their best behavior was akin to slapping a bandaid on the situation and "walking on eggshells." So basically this feud—at least the version that took place some nine months ago and is airing now—isn't fading anytime fast.
"It's ongoing," Kourtney recently admitted to E! News. "I've been really working on myself a lot and I think through my growth, I'm better at expressing myself. I think in the past I've always been great at like not being emotional. I think that I'm better now at expressing my feelings." As a result, they're all focused on actually talking problems out rather than go with the previous standard of, as Khloe put it, sweeping things under the rug. "It's a lot of communication instead of letting things go back into the way that they were," explained Kourtney. "It's definitely a process and you'll see it throughout the season."
The one issue they all agreed on: That maybe it was time to stop flinging around insults such as you're "the least exciting to look at," "you're acting like a f--king lunatic" and "we have a disgusting family." 
Kourtney admitted that she was the one who "invented" what they call mean fighting, "You know, saying the meanest things possible." 
But having started seeing her own therapist and getting more in touch with her feelings, "I'm just not wanting to fight like that anymore," she said on Sunday's episode. "I don't want to be mean. And I don't want to spend my time around people that are mean and putting me down." 
Even if those people are her own flesh and blood. "We can be savages," admitted Khloe, "because we're sisters." 
But as is true with sisters so close they don't bat a fake eyelash at the idea of performing each other's bikini waxes, they can also forgive, forget and move on to the next. Kim and Kourtney, on opposite ends of the Kardashian scale, tend to bicker a lot, one insider admits, but "they always resolve things. It's normal and everyone laughs at them." Then, as is often the case, there's a new argument to dissect. "It's hard to be a party of a family with many strong personalities involved," the insider tells E! News, "as is there is always someone who is not getting along. The family goes in waves of who is fighting with who." 
And, yes, sometimes the tiffs get a little dirty. "They sling mud and can hit below the belt like only families can," admits another source. "It can get very ugly, but then it's over before you know it." 
And just a note to the Youneses and other would-be Kardashian boyfriends, you'd be smart not to get involved. Because they can tease their sisters all they want, but they'll come hard for anyone else who tries.