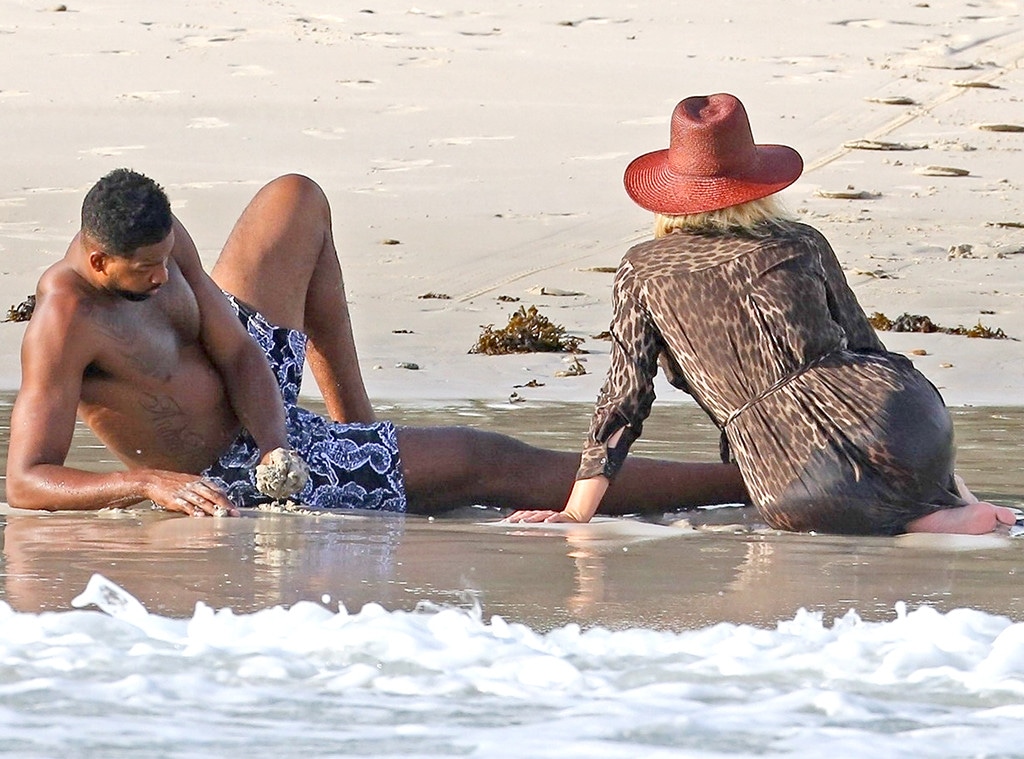 BACKGRID
Khloe Kardashian and Tristan Thompson are happy and carefree on their trip south of the border.
After days of partying and celebrating, the couple and their friends "arrived on a private jet early Sunday morning and they've had a fun few days of pool and beach time at Joe Francis' house in Punta Mita." They were joined by Kendall Jenner and her boyfriend, Ben Simmons, who were spotted "laying out by the pool listening to music and swimming."
This isn't the first time the two couples have hung out together, with the source telling E! News that the sisters, "seem to enjoy that they can mix their boyfriends and friends together so well." They get along so well, in fact, that Tristan, Kendall and Ben enjoyed some time "speeding around the bay and had fun going over waves and splashing each other."
And when Tristan wasn't third-wheeling it with the model and basketball player, the young lovers "were laying next to each other by the pool talking and making each other laugh." 
That gave Khloe and Tristan the chance to sneak in some alone time and "talk on the beach where they both sat in the sand and let the water come up and get them wet." According to an eyewitness, "They are very affectionate and have been kissing and hugging all the time."
Afterwards, they were spotted "laughing and having fun" as they rinsed off in an outdoor shower.
And, contrary to reports that things are"complicated" between the two, the insider said, "Khloe and Tristan also seem to be doing very well... There doesn't seem to be tension or any kind of hard feelings. Khloe seems very into him and he reciprocates."
The basketball player, who cheated on Khloe throughout her pregnancy, was said to have a "a big smile on his face and was giggling." The insider even said, "He was complimenting her the entire time and telling her how great she looks."
Their seaside getaway comes days after Kylie Jenner's 21st birthday bash, where Khloe was seen sipping from a green Solo cup. According to pictures from the party, people attending the fête could choose between a green, pink or yellow cup depending on their relationship status, with green signifying that "it's complicated."
Fans of the 34-year-old were quick to comment on the drama, especially considering the struggles Khloe has endured due to Tristan's infidelity.
In June, the new mother fired back at a Twitter user who criticized her for staying with the basketball player, saying, "You have no knowledge of what goes on in our household or the enormous rebuilding this takes to even coexist. I'm proud of my strength."
The pair has since moved back to L.A. and are "trying to make it work" for the sake of their daughter, True Thompson. "Khloe really wants True to have stability at home so it's important to her that they make an honest effort," a source previously told E! News.
And it appears Tristan is doing his best to show Koko how much he cares about her. Thompson recently gifted the working mom a display of balloons and a cake to congratulate her for launching a line of fitness apparel. The designer couldn't help but gush on her Instagram Stories about the "Good American balloons and my cute cake. Thank you, thank you, thank you."
Let's hope the couples enjoys their fun-filled getaway.