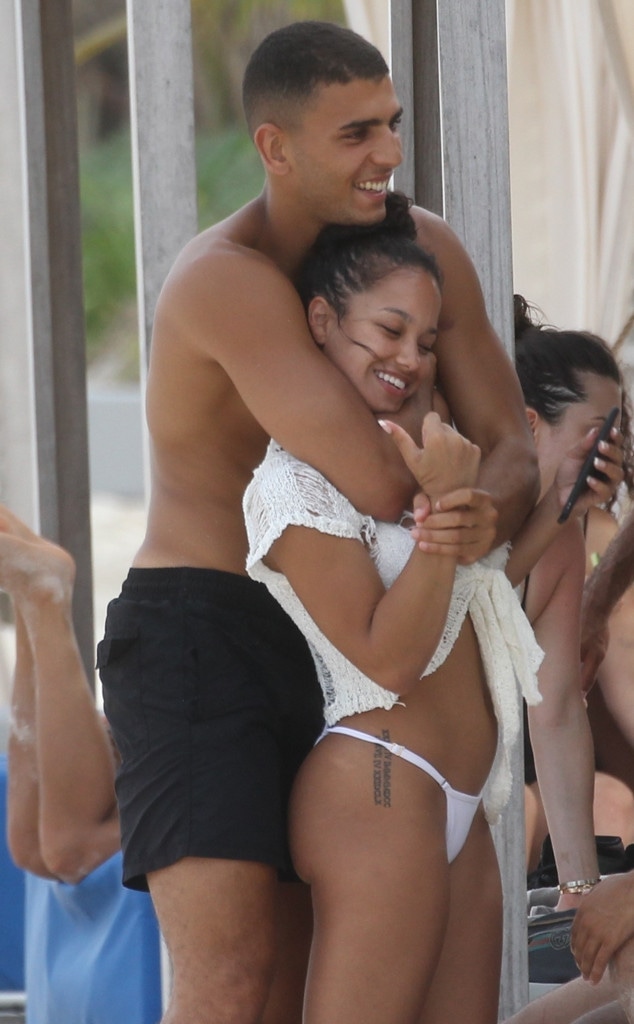 BACKGRID
As news of Kourtney Kardashian's split from Younes Bendjima broke, the 25-year-old model was photographed getting cozy with Jordan Ozuna in Mexico.
The pictures showed Kourtney's ex wrapping his arms around Jordan and playfully wrestling. The duo could also be seen lying on a beach bed together.
While the two vacationed with a group of friends, an eyewitness also told E! News Younes and Jordan were seen "kissing all night" and "were together alone."
Still, Jordan denied being romantically linked to him.
"Younes and I are not involved romantically AT ALL," she told E! News. "We were both invited to Mexico for a mutual friends birthday party with 13 other people. It was nothing more than friends having fun at the beach. No, we aren't romantically involved in any way, shape or form."
Younes also addressed the photographs after they ran on Daily Mail.
"They really want me to be the bad guy," he wrote on Instagram along with a series of laughing emojis. "F--k your Hollywood bullsh-t (can't have fun with your friends no more)."
"dailymail where are my 12 other friendssss?" he added, followed by a "Nice catch tho."
However, Younes suggested he isn't letting all of this media attention get under his skin. 
"Once again you guys failed," he wrote in a later post. "I'm not attached to this 'life' so you can't touch me. I know who I am where I'm from and where I'm going and that bothers you."
He then concluded, "Only one opinion matter[s]. The one of my Lord. Have a wonderful day."
Kourtney's sisters, Kim Kardashian and Khloe Kardashian, were quick to weigh in on the drama.
"Alexa play 'heard it all before' by Sunshine Anderson," Khloe wrote underneath a screenshot of Younes' Instagram post shared by The Shade Room.
Kim also wrote "Nice pics from your 'boys trip'" underneath another screenshot.
While Kourtney hasn't commented on the split, she did share some videos of her spending quality time with her daughter Penelope Disick.
Kourtney and Younes broke up after nearly two years of dating. According to an insider, the two started experiencing "ups and downs" after returning from their romantic getaway to Italy. 
"Kourtney and Younes have been arguing since coming back from their big Italy trip and have truly not been getting along," the  insider told E! News. 
The source said the two "decided to take time apart"  but that this break ultimately "led to a split."
"Kourtney is upset but she is trying to focus her energy on other things and stay busy," the source continued. "Kourtney doesn't plan on calling attention to it publicly and wants everything to blow over. It's upsetting to her. They have been having ups and downs for the past month. There was a huge chance they were going to get back together and they were working on things but now that these photos surfaced, things are definitely over."