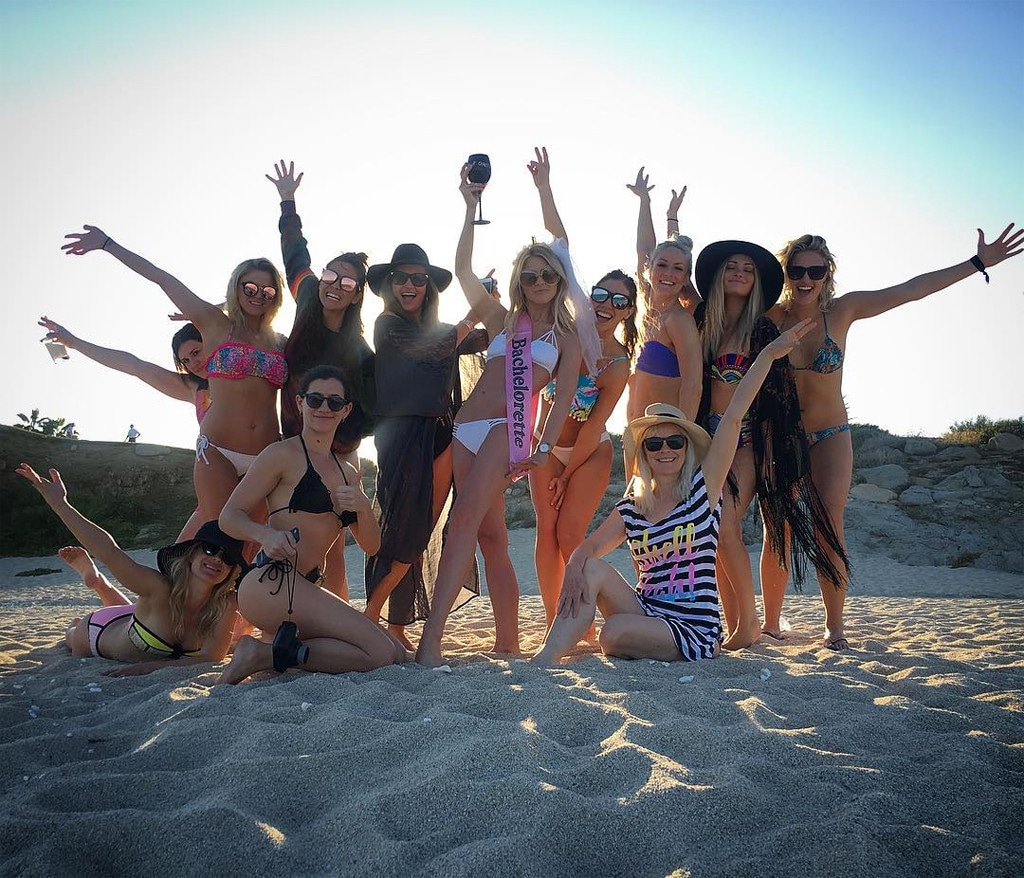 Instagram
Bridal bootcamps. The phrase "Shedding for the Wedding." Workout tanks emblazoned with cheeky sayings such as "Gotta Squat Before I Tie the Knot." There's a reason this is all part of our lexicon. 
From the moment most brides (and more than a few grooms) upgrade their relationship status, they begin envisioning their perfect day—and it generally involves appearing as the most perfect version of themselves. In this way, celebrities are much like us mere mortals, because, frankly, who doesn't want to look their best when they know that all eyes and a slew of cameras will be trained on them? 
But being in an industry that demands near-constant physical perfection means most Hollywood brides have a sizable head start. "It's funny—people ask me if I'm going to be super into working out for my wedding, but I feel like that's just kind of how I am in general," bride-to-be Julianne Hough told In Style last winter. "So I'm not really changing anything in my routine, but I'll definitely be kicking some butt beforehand." 
Michael Simon/Startraksphoto.com
Killing it comes standard for the onetime Dancing With the Stars pro, who laid out a day in her life for Self last March, just four months prior to her July 2017 vows with NHL forward Brooks Laich. After logging the requisite eight hours of shut-eye—"People are so concerned with working out, but if you don't sleep well, you're not resting and recovering," the Fitbit ambassador explained of tracking her sleep on the brand's Alta HR—she fuels up with homemade juice and steamed eggs with tomato and avocado before choosing from a myriad workouts.
"I get bored easily, so I like to switch it up. I do Body by Simone and Anna Kaiser, I cycle, I do CorePower yoga, I go on hikes since I live in L.A. with my dogs," explained the 5-foot-3 star. While days vary, she tries to stick to a solid ratio of cardio, strength training, flexibility and recovery.
With a healthy dollop of natural movement. Throughout the day, she'll get a buzz from her wearable, reminding her to get up and take a lap. (Providing extra motivation: an ongoing competition with her onetime triathlete dad Bruce, brother Derek Hough and sisters Marabeth, Katherine and Sharee.) And should she not have time for a traditional morning workout, she finds a way to squeeze in a quickie session using a resistance band and body weight moves such as side planks, leg extensions and bicycle crunches.
All that sweating requires adequate fuel. Though her daily menu is filled with textbook diet fare (think: grilled-chicken salads, oatmeal), she never misses an opportunity to carb up. "I also try to do some carbs, at least, at every meal," the 29-year-old told Self. "I've learned that if I don't, then I'm still craving them and that's when I go overboard. It can be small, but you need that to function."
Her current go-to, when she preps dinners with Laich, 34, is a serving of sweet potatoes. Noting that the strict athlete sticks mainly to chicken and veggies, she told In Style, "I've learned to get pretty creative with that—but it does bore me out of my mind, so I try to mix it up a bit by adding different flavors and vegetables."
Fellow ballroom regular Erin Andrews and her hockey spouse (the sportscaster and Dancing With the Stars host and Jarret Stoll, 35, wed last June) developed their own calorie-saving plan that ensures even their date night splurges don't get out of control. They generally order two appetizers and two entrées and share it all. "I don't have to finish my meal and can sample everything that's there—then I'm good to go," the 40-year-old explained to Women's Health. 
To account for any indulgences, she keeps the rest of her day clean. Before her morning sweat session ("I'm addicted to working out; it just makes me feel better," she told Health of doing Pilates on a megaformer and interval training at Orangetheory, adding, "my man can always tell when I've done a workout, because I'm like, 'Good mooorning!'") she has yogurt with granola, then "a scrambled egg situation with turkey bacon" after. With lunch she forces herself to go green. "I don't want to cheat myself of having what I like, but I know I need to be smart about it too," the 5-foot-10 Fox NFL reporter told Women's Health. "If I need to throw in a green juice or a kale salad or fruit, I'll do it. Does it bring me the most happiness in life? No. But I feel better, and then later on in the night I can have a potato situation with my fish or something." 
Should she fancy a snack at any point during the day, she'll reach for green tea rather than soda; trail mix instead of candy and a hearty cup of bone broth with turmeric and ginger. 
With her vegetable-focused eating plan well in place before Stoll presented her with a diamond during an outing to Disneyland, she didn't feel the need to make any tweaks as she headed down the wedding planning stretch. "I wouldn't be doing anything different than I'm doing now," she noted. "Besides working out, being smart about what I eat and having things in moderation, I don't know what else I could do." 
Same goes for Emmy Rossum, already committed to a diet free of cow's milk and gluten (due to a severe allergy) ahead of her May 2017  nuptials to Mr. Robot creator Sam Esmail. To energize for her favorite barre, trampoline and boxing glasses the 5-foot-8 Shameless star, 31, blends a morning smoothie of almond milk, almond butter, spinach and vanilla protein powder, recommended by L.A. nutritionist Kelly LeVeque, and sticks to whole foods such as roasted chicken, roasted vegetables and omelets. 
Ditto Kate Upton, who's exercise routine with L.A.-based pro Ben Bruno was firmly established by the time MLB pitcher Justin Verlander proposed in spring of 2016. "I've trained a lot of athletes and Kate trains as hard as anybody," Bruno told E! News that June, just one month after the model, 25, debuted her new hardware. "She's very dedicated, works hard and the other part, too, that kind of goes hand-in-hand with what we do in the gym is that she's got her eating on track." 
That means limiting sugar and processed foods, loading up on fruits and vegetables and consuming protein at every meal (in the rotation: turkey meatballs and salad with chicken). "She eats very well most of the time," says Bruno. And when she splurges (treats are allowed in moderation, he insists), "She just picks back up and keeps going." For the 5-foot-10 stunner, he notes, this wasn't some crash diet to prep for her magical Italian vows last fall, "It's a lifestyle." 
As are her five-day-a-week workouts that range anywhere from one to two hours and feature intense strength training moves such as walking lunges up a hill (while pushing a sled), kettlebell rows, and deadlifts. "Stuff like Pilates, yoga, and Spin is all cool," Bruno told Vogue of his grueling routines. "But think of them as side dishes and strength training as your entrée." That line of thought has certainly worked for Upton. "We do cardio, just not in the traditional sense," the pro told E! News. "We do strength-based circuit training. We are doing weights and we are focusing on getting stronger. Kate's gotten really strong." 
Peta Murgatroyd made equally large leaps ahead of her July 2017 wedding to fellow Dancing With the Stars pro Maksim Chmerkovskiy. Just six months removed from welcoming their son Shai at the time, the naturally fit star, 31, was determined to regain her muscle tone. Lunges, sit-ups (sometimes holding baby Shai!) and other strength and conditioning moves helped her achieve a "nice, lean look," coach Tim Hartwig told E! News. 
To maximize fat loss (the 5-foot-7 athlete revealed she gained nearly 40 pounds during pregnancy), she filled her plate with chicken and fish, healthy carbs such as brown rice, quinoa and sweet potatoes, plus cashews, avocado and strawberries for snacks. And she made it a point to enjoy three meals and two mini dishes each day. "You need to stimulate the metabolism," explained California-based Hartwig. "We're doing the opposite of what most people do and seeing that eating more is beneficial." 
Like Murgatroyd, Jessica Simpson went straight from postpartum to pre-wedding after having second child Ace back in 2013. And the 5-foot-3 singer said the promise of a grand reveal at her 2014 union to former football pro Eric Johnson helped her stay on track with Weight Watchers, her aim of walking four miles a day and her four-day-a-week, 45-minute resistance training sessions with Harley Pasternak.
"It's a good goal for me," the 37-year-old told USA Today. "It's good for me to feel the best I've ever felt when I walk down the aisle."
That was precisely Adrienne Bailon's intent after she got engaged to singer-songwriter Israel Houghton in August 2016. With just three months to prep for their Paris nuptials, The Real cohost shed 22 pounds from her petite, 4-foot-11 frame by nixing dairy and alcohol and fueling up with a plant-based protein shake first thing in the morning and for dinner. (A standard breakfast: eggs or avocado toast followed by a poke salad for lunch.)
She and Houghton "we're really commited," Massy Arias, the L.A.-based trainer who led the 34-year-old through an hour of break-free circuit training three to four times a week, told E! News. "No shortcuts, no trends, or waist trainers. Nothing crazy. It was done with good exercise and good eating and just taking away things that contributed to them gaining a certain amount of weight."
Of course, not all brides are super stringent. Months before her 2015 wedding to fellow actor Joe Manganiello, Sofia Vergara joked to E! News that she was sticking to her straightforward everything in moderation plan. "In our business, we always have to maintain. We can't just not work out for seven months and eat chocolate all day long," explained the 5-foot-7 Modern Family star, 45. So if she were the indulge in sweets and, say, "eat a whole bar of chocolate," she said, "I try not to order pizza that night." 
And while fellow bride Miranda Kerr, 35, committed to a daily morning smoothie of kale, celery, cucumber, spinach, avocado, coconut water and blueberries in the lead-up to her May 2017 vows with Snapchat CEO Evan Spiegel, she insisted it didn't stop her from enjoying less-green eats such as barbecue ribs. Her motto, the 5-foot-9 supermodel explained to Vogue: "80 percent healthy, 20 percent indulgent."
Because while nutritious eats and a solid sweat will always be in style, putting too much pressure on yourself to sculpt perfectly flab-free arms is passé.
"People always say that you shouldn't do a hairstyle or makeup that's so not you for your wedding, because then it just doesn't feel like you—and I feel like working out too much is along the same lines," Hough explained to In Style of her bridal outlook. "You want to look like yourself, because your husband-to-be fell in love with you the way you are. It's your perfect wedding day with the person you're going to marry, so you should just enjoy it rather than be stressed about how you look."
We'll toast a green juice to that!