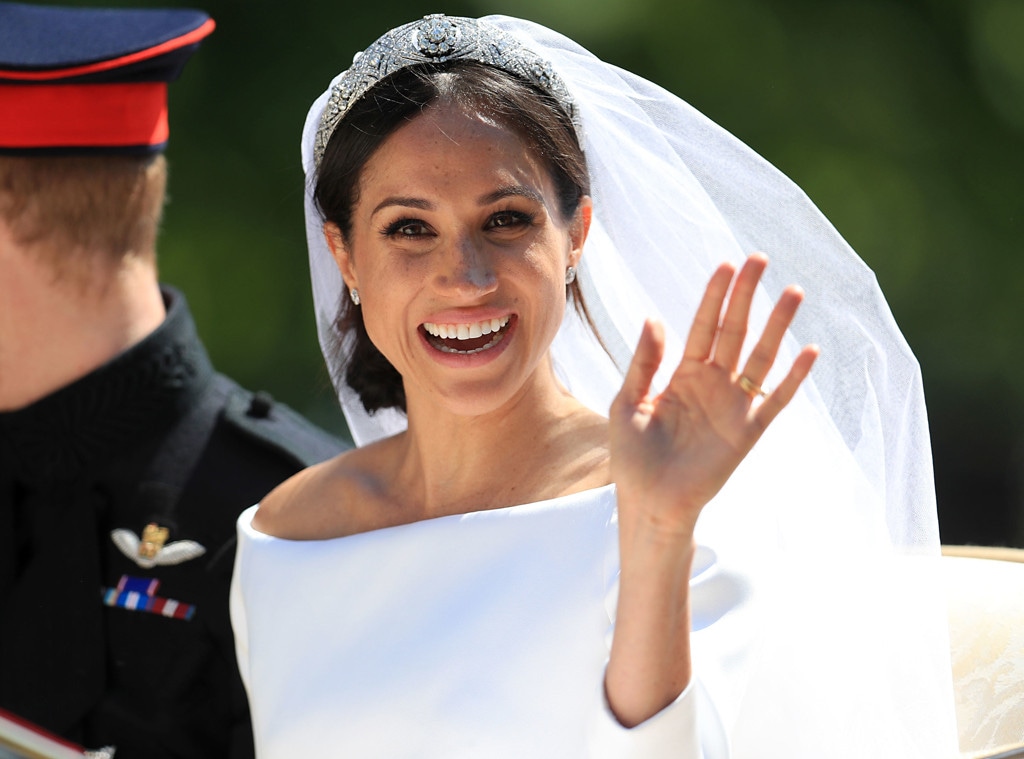 Mike Egerton/PA Wire
After tying the knot with Prince Harry at St. George's Chapel, Meghan Markle gave a speech at the couple's evening reception. 
While it's common for the father of the bride to give a toast, Meghan's father, Thomas Markle, was not at the wedding. Earlier this week, Thomas told TMZ he underwent surgery after suffering a heart attack. Meghan issued a statement via Kensington Palace in which she said she "always cared for" her father and hoped "he can be given the space he needs to focus on his health." She also announced that Prince Charles would walk her down the aisle instead.
However, Meghan has reportedly planned on giving a speech for months. Back in January, The Sunday Times reported that Meghan planned to break tradition by giving her own "affectionate" tribute to her new husband and expressing her gratitude to her family, friends and Queen Elizabeth. In fact, the British newspaper reported that Thomas had been "less likely" to speak at the reception at all.
"The feeling is if Meghan's father doesn't speak for her, she wants to have the chance to thank her husband and everyone who has supported them," a source shared with the U.K. newspaper. "Harry thinks it's a great idea."
Thomas was still there in spirit and watched his daughter walk down the aisle on television.
"My baby looks beautiful and she looks very happy," he told TMZ. "I wish I were there and I wish them all my love and all happiness."
He also said watching the ceremony from afar was an "emotional and joyful" experience.
The groom gave a speech earlier in the day at the couple's lunchtime reception. Guests applauded when he referred to Meghan as his wife. His words also generated a few tears.
"Some people were even crying," said Suhani Jalota, founder of the Myna Mahila Foundation (one of the charities the couple asked guests to donate to in lieu of gifts). "I think it was just a very, really nice atmosphere to be in where everybody felt really loved."
She said his speech was about "how Harry was as a child and growing up." In addition, she said it included details about the newlyweds "and how beautiful they are together."
"So, I think it was just about their personalities and how they gel really well together," she added.
She also said Harry and Meghan were "lovely" and "just a beautiful couple together" at the reception.
Best man Prince William was the compere (a.k.a. the MC). His words may have included a few lighthearted jokes. After Harry asked William to be his best man in April, the Duke of Cambridge said he was "thrilled" to be asked and that "revenge is sweet." Royal admirers will recall that Harry was William's best man in 2011.
Charles also gave a speech.
However, there was no maid of honor speech. While she had plenty of adorable bridesmaids, the newly appointed Duchess of Sussex decided not to have a maid of honor.
"She has a very close-knit circle of friends and she didn't want to choose one over another" a palace spokesperson previously told E! News. "All have been actively involved in helping her prepare for the day and will be there in the days beforehand. She's very happy to have their support."
While Charles hosted the private evening reception for 200 guests at Frogmore House, Queen Elizabeth hosted the lunchtime reception for all 600 guests at St. George's Hall. 
During the lunchtime reception, guests enjoyed a selection of canapés, including Scottish Langoustines wrapped in smoked salmon with cirtus creme fraiche, grilled English asparagus wrapped in Cumbrian ham, garden pea panna cotta with quail eggs and lemon verbena, heritage tomato and basil tartare with balsamic pearls, poached free-range chicken bound in a lightly spiced yogurt with roasted apricot, croquette of confit Windsor lamb with roasted vegetables and shallot jam, and warm asparagus spears with mozzarella and sun-blush tomatoes.
Guests were also served a range of bowl foods, including fricassee of free-range chicken with morel mushrooms and young leeks; pea and mint risotto with pea shoots, truffle oil and Parmesan chips; and ten-hour slow-roasted Windsor pork belly with apple compote and crackling.
Of course, there were plenty of sweet treats, too. Guests enjoyed champagne and pistachio macaroons, orange crème brûlée tartlets and miniature rhubarb crumble tartlets. The bride and groom also cut their lemon elderflower wedding cake.
In addition, guests sipped on Pol Roger Brut Reserve non vintage Champagne, as well as a selection of wines and soft drinks. There was even an apple and elderflower mocktail that included the same elderflower syrup used in the couple's wedding cake. There was also Sandringham Cox's apple juice.