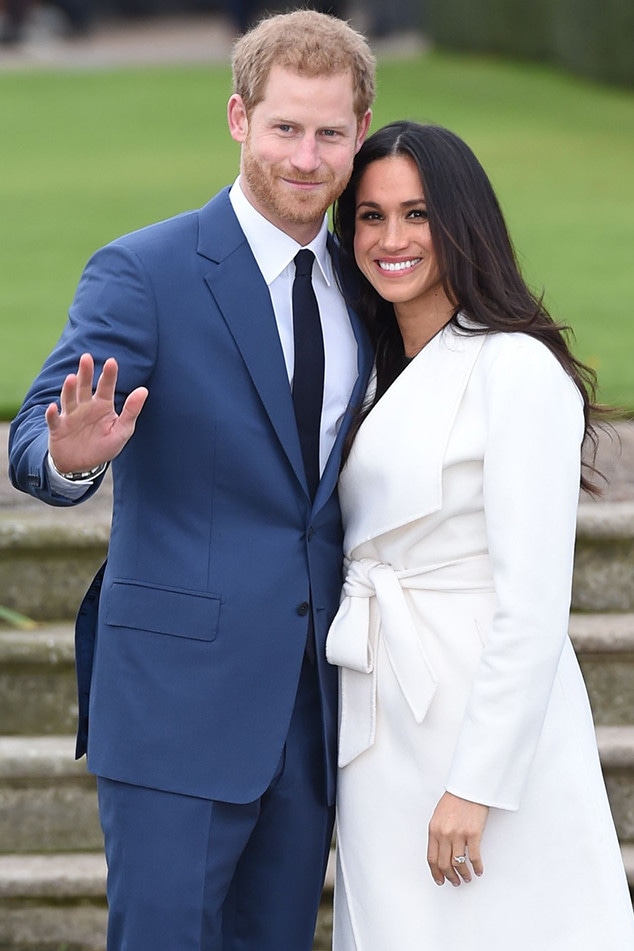 Eddie Mulholland/Daily Telegraph/PA Wire
Forget a registry. Prince Harry and Meghan Markle have asked well-wishers to make a charitable donation in lieu of wedding gifts.
Kensington Palace announced the news on April 9.
"Prince Harry and Ms. Meghan Markle are incredibly grateful for the goodwill shown to them since the announcement of their engagement and are keen that as many people as possible benefit from this generosity of spirit," Kensington Palace stated via a press release. "The couple have therefore asked that anyone who might wish to mark the occasion considers making a donation to charity, rather than sending a wedding gift."
The couple has "personally selected" seven organizations they'd like people to support. According to the Palace, these organizations reflect their "shared values." 
"Prince Harry and Ms. Markle do not have any formal relationships with the charities chosen," the statement continued. "The couple have chosen charities, which represent a range of issues that they are passionate about, including sport for social change, women's empowerment, conservation, the environment, homelessness, HIV and the Armed Forces. Many of these are small charities and the couple are pleased to be able to amplify and shine a light on their work."
The organizations include CHIVA (Children's HIV Association), Crisis, the Myna Mahila Foundation, Scotty's Little Soldiers, StreetGames, Surfers Against Sewage and The Wilderness Foundation UK.
As mentioned, all of these organizations reflect causes Harry and Meghan support. For instance, Myna Mahila Foundation is a charity that empowers women in Mumbai by creating a network of female entrepreneurs and showing them how to make menstrual hygiene products. Not only has Meghan talked about her passion for championing women and girls before, but she also visited the charity in 2017 and wrote a piece about the organization for Time Magazine.
Similarly, Harry has been a longtime supporter of environmental and conservation efforts. He also has a military background, so it should come as no surprise that he would want to support Scotty's Little Soldiers, an organization dedicated to supporting children who have lost a parent serving in the British Armed Forces. The two are even incorporating more than 250 members of the Armed Forces in their wedding.
The couple has also visited some organizations. The two stopped by StreetGames—an organization that uses sport to benefit disadvantaged communities—during their trip to Wales.
In addition, Crisis is a national charity that supports people who are homeless, and CHIVA helps children and their families living with HIV. Not only has Harry been a longtime supporter of both of these causes but his late mother Princess Diana supported them, as well.
While helping people in need is certainly the biggest benefit of the request, it should also relieve some pressure in terms of what to get the couple.
Quantico star Priyanka Chopra, who is a friend of Meghan, joked about the stress of finding the perfect wedding gift in an interview with E! News.
"It's a little bit of a problem," she quipped to E! News. "From what I've always known of Meghan she's not someone who's very materialistic. She really isn't…If you give her a book, she'll be happy—as long as it's thoughtful."