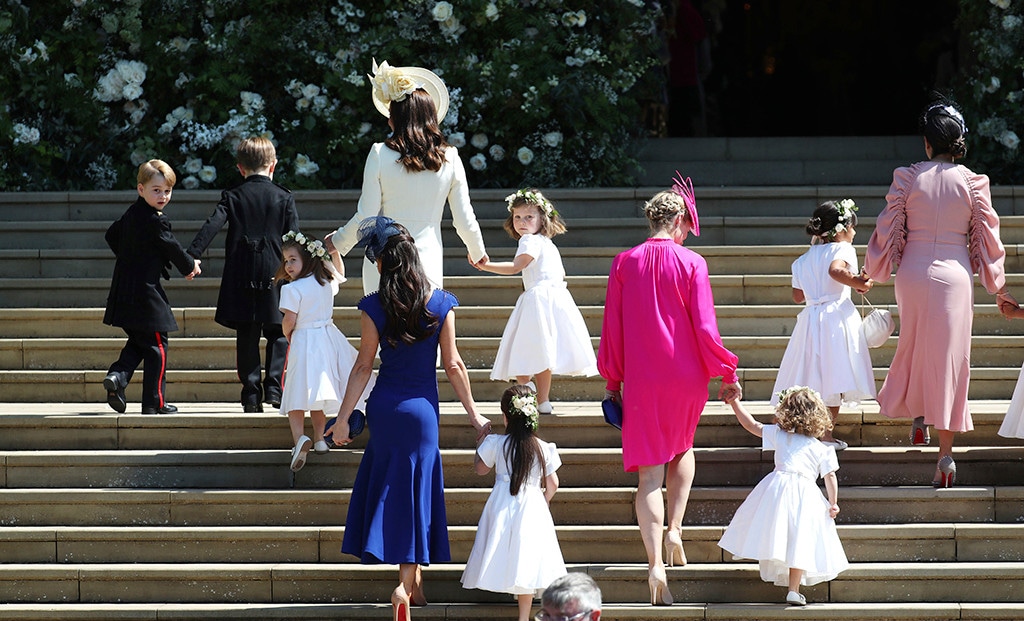 Jane Barlow/pool photo via AP
Prince Harry and Meghan Markle's wedding day is finally here. Of course, the couple couldn't tie the knot without their special squad.
The groom arrived at St. George's Chapel with his best man Prince William. The two brothers, dressed in uniform, travelled to the ceremony space on foot.
The bride ultimately chose not to have a maid of honor and arrived by car.
"She has a very close-knit circle of friends and she didn't want to choose one over another," Kensington Palace previously told E! News via a statement. "All have been actively involved in helping her prepare for the day and will be there in the days beforehand. She's very happy to have their support."
The rest of the bridesmaids and page boys are children. Here's a breakdown of who's who in the wedding party.
Bridesmaids
Princess Charlotte: The 3-year-old royal is William and Kate Middleton's daughter, as well as Harry's niece. This is her second time serving as a bridesmaid. Charlotte also fulfilled the role in her aunt Pippa Middleton's wedding last May. The little princess stole the show by giving the crowd a wave and sticking her tongue out.
Florence van Cutsem: Florence is Harry's 3-year-old goddaughter. Royal admirers may recall her cousin Grace van Cutsem was in William and Kate's wedding back in 2011 and became famous across the internet when she revealed a pouty expression during the couple's balcony kiss. Her parents are Alice van Cutsem and Major Nicholas van Cutsem.
Remi Litt and Rylan Litt: Remi and Rylan are Meghan's goddaughters. They are 6 years old and 7 years old, respectively. In fact, Meghan once referred to these young ladies as her "fairy goddaughters." She is friends with the little ones' parents Benita Litt and Darren Litt. In fact, she spent Christmas with the family in 2016—back when she was just a few months into dating Harry.
Ivy Mulroney: Ivy is the 4-year-old daughter of Meghan's friend Jessica Mulroney and her husband Benedict Mulroney. Meghan and Harry got to know the parents' children quite well when Jessica and Benedict invited them over for dinner while the two were still dating. Ivy was especially a "big fan" of Harry.
"When Harry first started going to Toronto to visit Meghan, it was Ben and Jessica who had them over at their house for dinners because it wasn't easy for them to go out in public without the risk of getting spotted," an insider told E! News last fall. "Harry's become close with their children Brian, John and Ivy. Ivy especially is a big fan. She, of course, has no idea that he's a prince though—he's just auntie Meghan's special friend Harry, who sometimes comes over with fun presents!" 
Zalie Warren: Zalie is Harry's goddaughter. At just 2-years-old, she is the youngest member of the bridal party. Her parents are Zoe Warren and Jake Warren. The young tot's father was one of Princess Diana's godchildren.
Jane Barlow/pool photo via AP
Page Boys
Prince George: The 4-year-old royal is William and Kate's son, as well as Harry's nephew. Like his sister Charlotte, George has served in a bridal party before. He fulfilled the role of page boy at his aunt Pippa's wedding.
ANDREW MATTHEWS/AFP/Getty Images
Jasper Dyer: Jasper is Harry's 6-year-old godson. His parents are Mark Dyer and Amanda Dyer. Harry has been close with Mark since he was a young lad—and it's not only because of their shared hair color. Mark was an equerry for the royal family. In fact, Harry and Mark have been there for each other's major milestones. Harry attended his wedding to Amanda, and Mark watched Harry pass-out as commissioned officer Second Lieutenant Harry Wales of the Blues and Royals.
Brian Mulroney and John Mulroney: Brian and John are Jessica and Benedict's two other children. As mentioned, Harry and Meghan grew close to the children when Jessica and Benedict invited the couple over to their home. Their grandfather, Brian Mulroney, is a former Prime Minister of Canada. They rode with Meghan in a Rolls-Royce Phantom IV and assisted her with her veil.
Jane Barlow - WPA Pool/Getty Images
According to the Palace, Clare Waight Keller designed the bridesmaids' dresses in the Givenchy Haute Couture Atelier in Paris. She's the same woman who designed Meghan's gown. The dresses were designed to have the "same timeless purity" as Meghan's dress.
Ivory silk Radzimir sculpted each little lady's dress. The bridesmaids' gowns were high-waisted and featured short, puff sleeves. Per the Palace, all of the bridesmaids' dresses were hand finished and included a double silk ribbon bow. The dresses included fun details, too—like pockets and pleated skirts—to create a "relaxed and luxurious silhouette," the Palace stated.
As for their little shoes, Meghan gave each bridesmaid a pair of white leather Aquazurra shoes featuring a monogram of their initials and the wedding date. 
Their bouquets also replicated Meghan's wedding arrangement.
As for the page boys, the little lads wore a "miniature version" of the Blues and Royals frockcoat that Harry and William wore. According to the Palace, the frockcoats were made of blue doeskin and are single-breasted. They also included a "stand-up collar" and featured a "figured braiding of [the] Regimental pattern." Their initials were also featured in gold on their shoulder straps.
In addition, the page boys wore leg garments, which were made of "blue/black wool barathea," as well as "three-quarter scarlet stripes fastened with a leather strap."
The uniforms were created by Dege & Skinner in Savile Row.