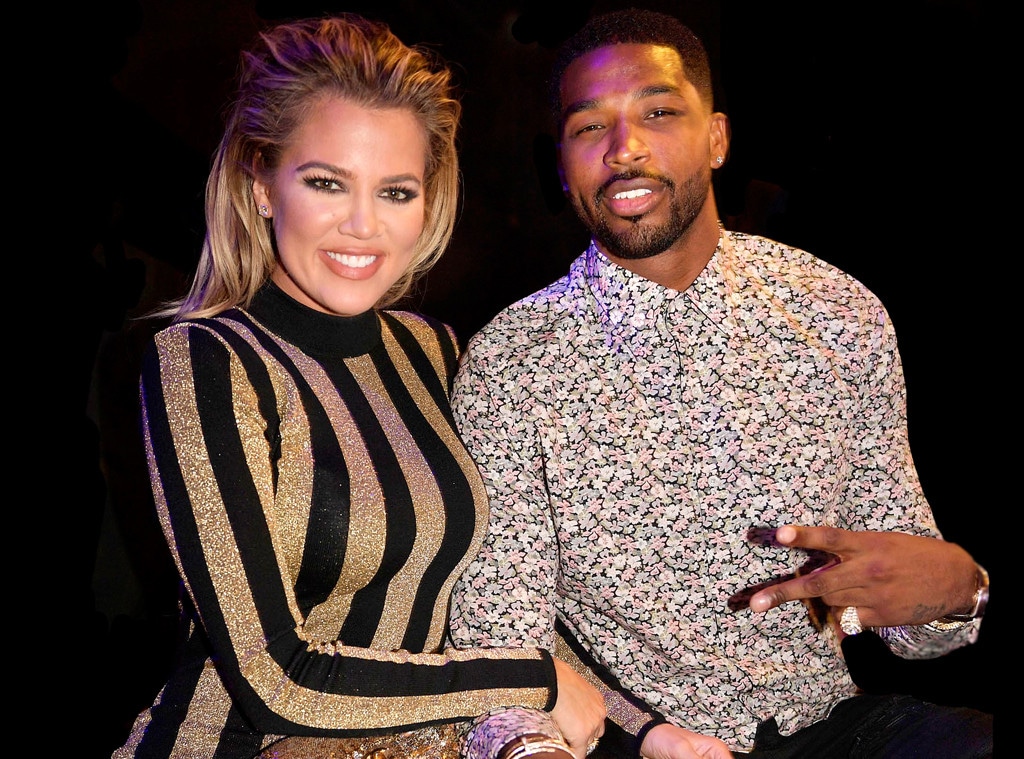 Seth Browarnik/startraksphoto.com
Khloe Kardashian was feeling reflective.
Nine days after giving birth to daughter True Apr. 12, she took to her blog to tout the benefits of a little self-indulgence. "Life is short, and at times, we put so many others before us, but one of our priorities should be our own happiness," she mused.
Perhaps considering her newborn daughter, the baby she's called "the greatest dream realized," Khloe continued, "Once you have that, it trickles down to everyone around us. I sincerely wish happiness and peace to my sisters and brother."
She was seeking a little herself as well. For weeks, the 33-year-old reality star has been wrestling over whether or not to forgive boyfriend Tristan Thompson, mired in a cheating scandal that broke just days before their daughter's birth. Embarrassed, traumatized and truly heartbroken over his actions, she was at a loss. "Khloe really wants to try and make it work," one source told E! News days after the allegations broke, "but doesn't know how she will be able to do that."
The Cleveland Cavaliers power forward was certain he'd be benched. "Tristan doesn't think Khloe will ever forgive him," another insider revealed at the time. But after agonizing over the situation for nearly a month, Khloe landed on a simple truth. "She can't imagine being a single mom and giving up her dream life she had planned with Tristan," surmised a third source. Mind made up—and a few conditions for the reconciliation laid out—she invited the 27-year-old NBA champ back into the $1.9 million lakefront Ohio spread he purchased in 2015. "People make mistakes," notes the third source, "and she has found it in her heart to forgive him."
Her initial reaction was less magnanimous. Determined to return to L.A. as soon as medically possible, she scrapped plans to raise True with Thompson in Cleveland. After all, she could barely handle talking to the man that once inspired her to declare, "I'm in the best relationship I've ever been in."
Momager Kris Jenner, who said on The Ellen DeGeneres Show that she and her daughters "all hopped on a plane and flew to Cleveland because that's what we know to do," acted as a go-between for the estranged pair in those early days. "Kris has been a buffer between Khloe and Tristan and Tristan's family," the first source explained. "It was very stressful once the baby was born, and Khloe was very overwhelmed with everything plus the status of her relationship. Kris really helped with the entire process."
A remorseful Thompson, meanwhile, decamped to a nearby set of apartments, only dropping by his four-bedroom home for visits. At first, says a source, their exchanges were infrequent and terse. "She's very angry with him and rightfully so," the source said of Khloe. "At the same time, she does want her daughter to spend time with her dad. So she isn't denying him that chance. But she is cold with Tristan and keeping contact to a minimum."
And she warned him that even those limited interactions could slip away. As recently as late April, Khloe was telling friends she planned to head back to California once newborn True was "cleared to travel," the first source tells E! News. With a complete nursery set up in her 10,000-square-foot spread in L.A.'s Calabasas neighborhood and a plethora of experienced babysitters at the ready, it would be an easy transition: "It's just a matter of when she is going to make the move."
Sasha Samsonova/khloewithak.com
Her loved ones gently pushed her to start packing. Kris (Lovey, to her nine grandkids) started counting the days until Khloe's return, says the source, and promised to be the extra set of hands Khloe needed: "Everyone close to Khloe thinks she needs to split from Tristan and has told her that she can do this on her own with her family."
While Khloe knew she could go it alone, she wasn't confident she wanted to. For nine months she'd spoken about her dream to create a family with Thompson, a guy she said treated her like a queen. She'd envisioned this perfect future where her daughter would have a knack for music and her dad's charming personality. Never once did she see herself parenting solo. "She has one foot out the door," said the source, "but is also holding on to the fact that her and Tristan can make it work."
Thompson went into overdrive to prove her right. Having predicted he'd be "an impeccable father", Khloe watched approvingly as he bonded with baby True.
As he somewhat eloquently described on a May 9 episode of the Road Trippin podcast, his weeks-old daughter is "eating, sleeping and, uh, s--ttin', that's all they do." But she was also having a somewhat magical effect on Dad. Explaining the difference between comforting his daughter versus tending to 17-month-old Prince (his son with ex-girlfriend Jordan Craig), the former University of Texas star said, "It's like, 'True, it's gonna be OK. You know, we're right here. Daddy's here to feed you. It's me! Look, yeah!' It's way different, but it's fun, though. It changes you."
Byrdman / SURQ / BACKGRID
Watching the transformation melted Khloe, says the source: "She has fallen in love with him all over again, but knows she needs to really take a step back and make the right decision."
The careful contemplation was almost as agonizing as the choice itself. Spending her days weighing her options and giving Thompson the cold shoulder left Khloe feeling as if she was "living in her own personal hell," the source tells E! News. Stressed from the constant state of limbo, she realized it was time to just go with her gut. "Khloe decided that the back and forth and indecisiveness on what they were going to do was taking a toll on her," explains the source. "She wants to brush things under the rug and move forward."
Jerritt Clark/Getty Images for Klutch Sports Group
The decision wasn't exactly met with rousing approval from her tight-knit clan. "They are all being supportive," says the source, "but don't agree." In their eyes the whole situation is, as sister Kim Kardashian put it succinctly to Ellen DeGeneres, "so f--ked up." 
While Khloe's been able to confide in Kourtney Kardashian—no stranger to bad boy behavior after nearly a decade on the Scott Disick rollercoaster—none of her family members are pleased with the outcome. "The whole family is very angry at Tristan and aren't on speaking terms with him—Kim was just the only one to go public with her opinion," says the source. "No one is planning on welcoming Tristan back into the family with open arms right now."
Jerritt Clark/Getty Images for Remy Martin
Worried he'll repeat his behavior, they're instead keeping him at arm's length. "They don't think that Tristan will change his ways," says another insider. Their biggest fear is that Khloe, who dealt with a cycle of cheating during her first marriage to Lamar Odom, "will be hurt again and again."
Though Khloe is listening to her family's concerns, she isn't interested in hot takes from outside observers. The Good American co-founder even went so far as to intentionally disable the comments on all Instagram posts featuring Thompson so her nearly 76 million followers can't weigh in. "Khloe doesn't care what anyone think about what she's doing," a confidante tells E! News. "It's her life and this was her decision and only her decision. That's all that matters."
Well that, and Thompson's pledge to do better. "He made a promise to Khloe and it was enough for her to take him back," says the confidante. With conditions. The source says she set a series of guidelines and boundaries for their fresh start "to make sure she is not embarrassed again." But she's convinced the 6-foot-8 Toronto native will rise to the occasion. "He has vowed to change," says the confidante, "and she feels that he has learned his lesson."
Besides, she knows it will be infinitely tougher for him to stray now: "All eyes will be on him and he doesn't want to ever let Khloe down again."
There were certainly plenty of interested observers when the duo enjoyed lunch at Cleveland's TownHall restaurant May 4 and the following evening when Khloe cheered his team to victory over the Toronto Raptors in a playoff game.
Now Khloe, who's already started working out again at Cleveland's Rise Nation is rooting for herself. Having officially given Thompson the second chance that he begged for, she "is trying to put the pieces back together for the sake of True," the first source tells E! News. "Although she is crushed by the scandal, Khloe desperately wants things to work and wants to have a complete family."