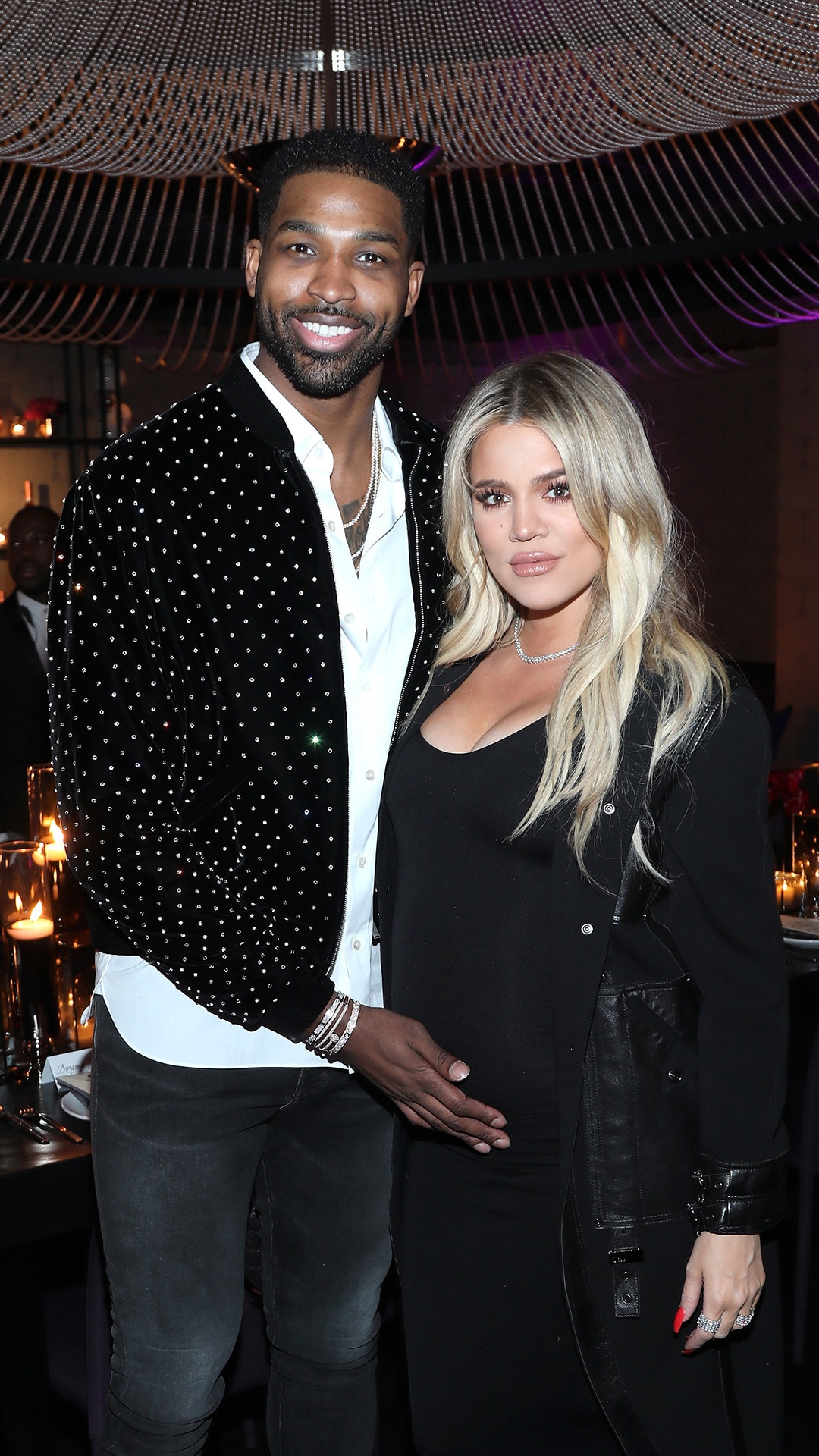 Courtesy Getty Images for Rémy Martin/Jerritt Clark
Khloe Kardashian is trying to put the pieces of her relationship with Tristan Thompson "back together."
Shortly before the Keeping Up With the Kardashians star gave birth to the couple's first child, True Thompson, last month, a cheating scandal involving Tristan surfaced. Khloe has not publicly commented on the allegations, but she's been showing her support for Tristan in recent days.
On Saturday night, Khloe was photographed at Tristan's Cleveland Cavaliers game, one day after the couple was spotted out at a restaurant together. Now a source is telling E! News where Khloe and Tristan stand amid all of the relationship speculation.
"Khloe has given Tristan another chance at their relationship, and is trying to put the pieces back together for the sake of True," the insider shares with us. "Although she is crushed by the scandal, Khloe desperately wants things to work and wants to have a complete family."
"Things are more complicated now that there is a child involved, but it was causing more stress on Khloe by being in limbo with Tristan," the source continues. "Khloe decided that the back and forth and indecisiveness on what they were going to do was taking a toll on her. She wants to brush things under the rug and move forward."
The insider also reveals that while Tristan has come back to live at their house, Khloe "has definitely set guidelines and boundaries for their new chapter."
"She wants to make sure she is not embarrassed and heartbroken again, but everyone is warning her," the insider tells us. "Khloe has a huge heart and once she falls, it's hard for her to give up on someone she cares deeply about. She has been in a rough spot this past month."
As for Tristan, our insider reveals that he has been "trying very hard to repair the relationship since True was born." The source adds, "He knows his actions are embarrassing and hurtful but he wants to turn over a new leaf. He has promised many things to Khloe, and is trying to make her happy again. "
And while Khloe's family is "being supportive" of her decision, they "don't agree," according to the source.
"Everyone's trying to stay focused on the new baby, and are happy to see the happiness that True has brought into Khloe's life," the insider shares.
Another source tells us that Khloe "is in love with the baby and moving ahead" with Tristan.
"He has fully moved back in and they are a family," the insider tells us. "He made a promise to Khloe and it was enough for her to take him back. She can't imagine being a single mom and giving up her dream life she had planned with Tristan. People make mistakes and she has found it in her heart to forgive him. He has vowed to change and she feels that he has learned his lesson. All eyes will be on him and he doesn't want to ever let Khloe down again. Khloe doesn't care what anyone thinks about what's she's doing. It's her life and this was her decision and only her decision. That's all that matters."
On Sunday, Khloe and Tristan had friends over for a get together, according to a third source, who adds that Khloe has been taking baby True on walks around their neighborhood in Cleveland.
"She seems so happy to be out and about getting fresh air and a little bit of exercise," the insider shares. "She even kicked her heels up a little bit while she was walking and seemed very happy."