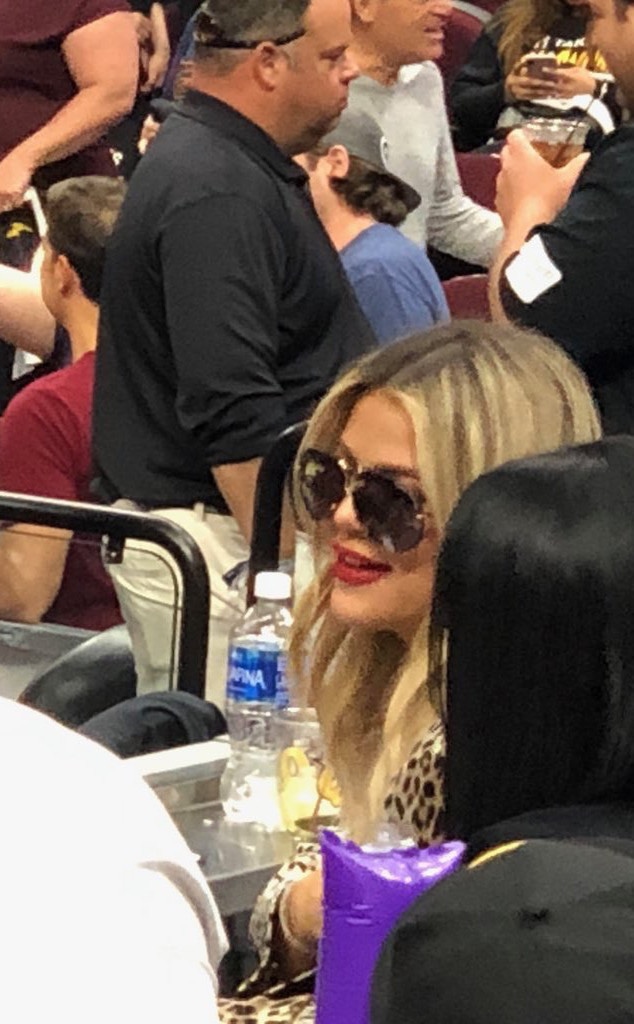 She ain't letting a little thing like a cheating scandal come between her and her man!
Khloe Kardashian's been keeping a low profile ever since her boyfriend Tristan Thompson was caught in a cheating scandal just days before the reality star gave birth to the couple's child on April 12. But on Saturday night, the new mom resurfaced and made her support for Tristan clear when she attended the hoopster's Cleveland Cavaliers basketball game against the Toronto Raptors. 
While at the game, Khloe was photographed sitting in the stands wearing a hard-to-miss leopard-print ensemble. 
An eyewitness tells E! News, "Khloe was at the game with a group of people. She was cheering, [doing] a lot of clapping, but she never stood to cheer."
"She was watching a lot though, rarely on her phone only to send a text here and there and that was only during time outs," remarked the eyewitness.  "She was talking and laughing a lot with the people she was with and she was even interacting a lot with the fans around her."
The lookyloo added, "She had her hair done and red lipstick on. She wore black aviators inside the whole game, only taking them off once to powder her face."
Another eyewitness tells E! News, "She was escorted by security, she came in a little bit into the first quarter but stayed until the very end. She sat in the private areas behind the hoop." 
This is the second time in a few days that the new mom was photographed. Prior to her basketball game appearance, Khloe was spotted out and about on Friday with the player at TownHall restaurant in Cleveland.
For the outing, Khloe donned a black top with matching sunglasses. As for Tristan, he sported a black T-shirt and gold chains around his neck.
An eyewitness says the pair was cordial with one another as they sat next to each other. 
While many expected the Revenge Body star to leave her boyfriend after photos emerged of him and other ladies, it appears as if the two are sticking together—for now.
"She hasn't given up on him yet, but also hasn't really been focusing on their relationship. When they see each other, it is all about the baby and parenting together," a source recently shared with E! News. "Khloe has fallen in love with him all over again, watching him be a dad to True, but [she also] knows she needs to really take a step back and make the right decision."