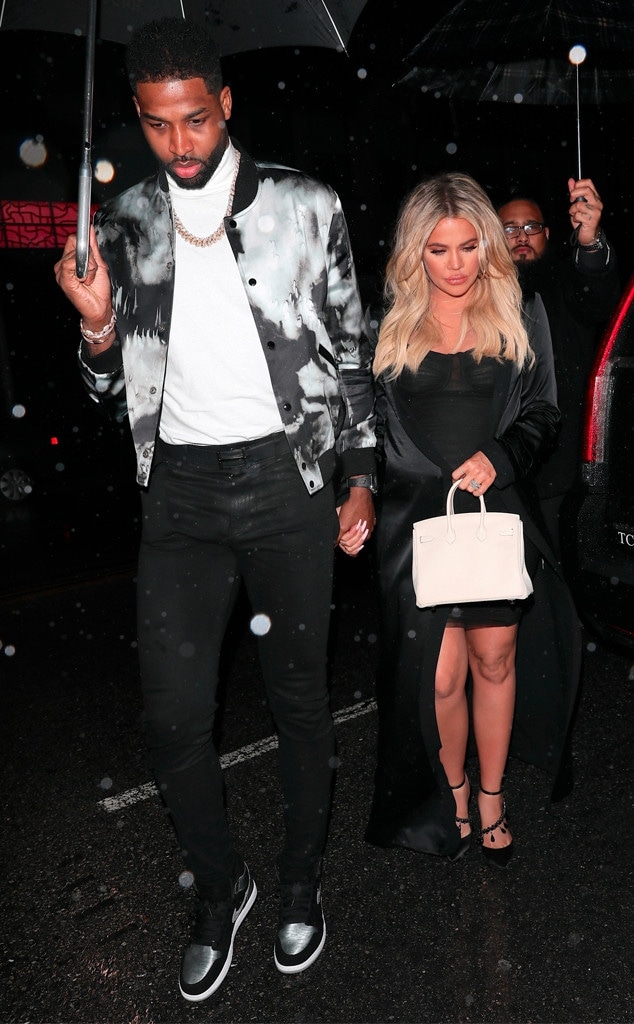 NGRE / BACKGRID
Tristan Thompson, Khloe Kardashian's boyfriend and baby daddy to be, is facing heavy scrutiny and backlash after emerging as the main subject of reports late Tuesday amid claims he has been kissing and otherwise intimately engaging with women who are not his reality star girlfriend. Some of the the 27-year-old Cleveland Cavaliers player's alleged indiscretions surfaced in several videos purportedly of the basketballer and various women.
The events unfolded shockingly quickly: to start, The Daily Mail published photos and video that purported to show the NBA pro kissing a woman in a New York City rooftop bar, PH-D Lounge, on Saturday before a game in the Big Apple the following Monday. However, with his hood up in the pictures, it is difficult to confirm it is him or see what exactly happened between the two. The person who filmed the video told The Daily Mail that "he was on the table right next to us with a group of friends and some girl who he was obviously making out with all night."
Then, The Shade Room published photos and video of Tristan entering his hotel with a woman. According to the outlet, they entered the hotel together and emerged together with Thompson in a different outfit. The Shade Room reported they later returned together again early the next morning on Sunday and then the woman was seen leaving the hotel later that night with a large tote and without Thompson. 
Additionally, TMZ surfaced security footage of who appeared to be Thompson allegedly kissing one woman, putting his head in between another woman's breasts and being touched by the women while purportedly inside a hookah lounge outside of Washington, D.C., in October 2017.  
Neither Thompson nor Kardashian have commented publicly about the reports, and Khloe is reportedly still in Cleveland with her delivering doctor, just days away from giving birth. Khloe was last seen on Snapchat earlier Tuesday, before the reports were made public, showing off her lipstick and playing with a filter. Her famous sisters have also been updating their social media accounts, but have kept mum about the ongoing reports. Kylie Jenner has been posting about new lip colors on her Instagram feed while Kendall Jenner shared photos of her skydive with Scott Disick. Kim Kardashian and Kourtney Kardashian have been updating fans with beachside snaps from their joint trip to Turks and Caicos. 
Courtesy Getty Images for Rémy Martin/Jerritt Clark
Behind the scenes, Kardashian's famous family is "heartbroken for Khloe," a source told People. "They didn't realize how deceptive Tristan could really be."
Online, a familiar name issued her public support for Khloe: Amber Rose, a friend of Rob Kardashian's ex, Blac Chyna. 
"I know we've had our differences in the past but my heart is broken for you sis smh no one deserves to feel that pain especially during such a sensitive time," she wrote in a since-deleted Instagram Story post. "God bless you and your baby."
Meanwhile, Kylie Jenner's BFF Jordyn Woods tweeted a solitary "damn," seemingly in reference to the reports about Thompson.
The basketball player's ex-girlfriend Jordan Craig, who gave birth to their son in December 2017, issued a statement on social media late Tuesday, writing, "If you respect yourself and you respect others, you would never make light of the misfortune of anyone, nor would you feel indemnified when it comes at the expense of others. Wishing peace for everyone."