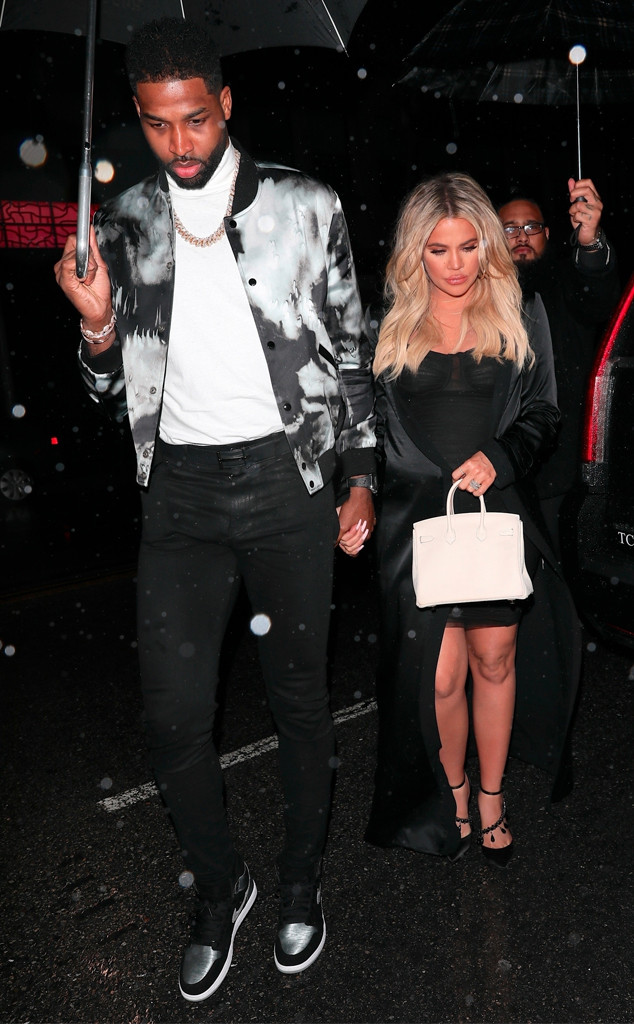 NGRE / BACKGRID
Tristan Thompson, Khloe Kardashian's boyfriend and baby daddy to be, is facing heavy scrutiny and backlash after emerging as the main subject of reports late Tuesday amid claims he has been kissing and otherwise intimately engaging with women who are not his reality star girlfriend. Some of the the 27-year-old Cleveland Cavaliers player's alleged indiscretions surfaced in several videos purportedly of the basketballer and various women.
The events unfolded shockingly quickly: to start, The Daily Mail published photos and video that purported to show the NBA pro kissing a woman in a New York City rooftop bar, PH-D Lounge, on Saturday before a game in the Big Apple the following Monday. However, with his hood up in the pictures, it is difficult to confirm it is him or see what exactly happened between the two. The person who filmed the video told The Daily Mail that "he was on the table right next to us with a group of friends and some girl who he was obviously making out with all night."
Then, The Shade Room published photos and video of Tristan entering his hotel with a woman. According to the outlet, they entered the hotel together and emerged together with Thompson in a different outfit. The Shade Room reported they later returned together again early the next morning on Sunday and then the woman was seen leaving the hotel later that night with a large tote and without Thompson.