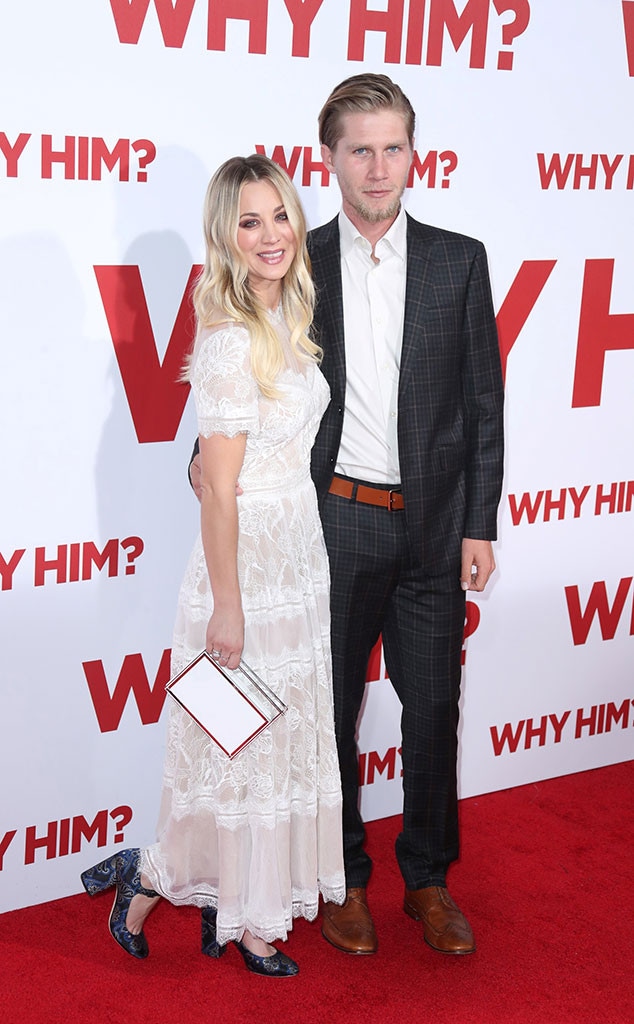 Image Press / AKM-GSI
Not too long ago, a microsecond in evolutionary terms, Kaley Cuoco's universe was in a hot, dense state.
Her dream of happily ever after with tennis player Ryan Sweeting had been crushed after just 21 months of marriage, and the Big Bang Theory star had to not just decide what she was going to do with the wedding date tattooed on her back in honor of her nuptials—but she also had to just start over, ready or not.
"Last year was very bizarre," Cuoco said on The Ellen DeGeneres Show in February 2016, five months after filing for divorce. "We all go through really weird ups and downs. And sometimes I'm a little bit more seen," but "everyone goes through that stuff, you know. I already feel that 2016 is going to be a much better year than 2015! You know, it's been rough, but things are going good and I'm much, much better now. I'm in a much better place than I was."
"The tattoo was a mistake," she acknowledged. "Had to cover it."
Instead of removal, which is said to be even more painful than getting the ink itself, Cuoco opted for the ever-symbolic moth across her upper back.
"The significance is, it was big enough to cover the numbers," the actress quipped. "Big wings! Silence, quiet, on a wall. You know how they do that, they're stationary." (Or, as Ellen pointed out, moths head toward the light, so Kaley was into that explanation, too.)
Cuoco and Sweeting's divorce was finalized that May. Luckily for the ex-Mrs. Sweeting, who negotiated a $1 million an episode salary for her role as the non-bookish but socially savvy Penny on The Big Bang Theory while she was married, a prenuptial agreement had been in place. However, Cuoco still ended up paying a bit of spousal support that year and Sweeting's legal expenses up to $55,000.
But while the second breakup—with a large sum of her money—could have traumatized her all over again, 2016 had already proved "much better," just as Cuoco predicted.
The details of exactly what prompted the split from Sweeting still remain hazy after their whirlwind courtship and seemingly sudden decline. Trying to maintain a semblance of privacy after splashily chronicling their love affair on Instagram, Cuoco opted to not publicly air their (or his) dirty laundry. Having to mix business with displeasure, she did pause to put a stake in the immortal rumor that there were still sparks between her and TV husband Johnny Galecki, whom she quietly dated now going on about eight years ago.
"So sorry to disappoint, but no home wreckers or secret flings going on here," she captioned a black and white photo of herself and Galecki sharing a fist bump in 2015. "Me and @sanctionedjohnnygalecki are just the best of buds- Leonard and Penny will just have to suffice!!!"
But it was apparent that whatever happened, prompting her to delete all those lovey-dovey pics in one fell swoop, was painful. It also didn't happen overnight, with Cuoco revealing to the New York Post last year that only "a little bit after we got married, I started feeling like something was off."
E! News had confirmed that the divorce was her idea, that their lifestyles had diverged.
"Everything ended the way it was supposed to," she said after the split was finalized. Yet, like a tattoo that's all of a sudden begging to be removed, it understandably left a scar.
"It changes the way I look at marriage, and that makes me sad," Cuoco said in the March 2016 issue of Cosmopolitan. "It does not change the way that I look at love. I cannot wait to be in love again. I don't feel like I am ready yet…which is so different for me. I dive into everything."
Well, maybe some things don't need to change. Between her early 2016 round of interviews and the official end of her marriage that May, Cuoco dove into a relationship with Karl Cook, a professional equestrian and son of the founder of software behemoth Intuit, who ticked off all the boxes on her personal checklist that had been left wanting the first time around.
"I honestly thought I wouldn't get married again," Cuoco told Cosmo more recently, catching up with the magazine two years after she thought that option might be off the table. "My ex ruined that word for me. I married someone the first time who completely changed. The person I ended up with was not the person I originally met. And that wasn't my fault—that was his.
"I knew how much I had to give and how much I wanted to receive. I knew I just had to be patient…I had to go through a lot of things, but it brought me to Karl."
Cuoco spent the immediate aftermath of her breakup doing the usual—working long hours, surrounding herself with friends, doing yoga, riding horses and doting on her dogs. She even added to the fold, adopting Chester to make it four fur babies.
But then, on Valentine's Day in 2016, she literally bumped into Cook at a horse show.
Not wanting that to be her first and last impression of him, Cook rolled up to the actress' barn later that day on a motor bike, brandishing champagne. "And my friends and I are like, 'Oh, my God, it's Karl Cook'—'cause in the riding world, this guy's a big deal," Cuoco recalled to the New York Post.
He asked her to dinner, and that was that. "So weird. Literally, boom," she said.
Now, Cuoco is very athletic and grew up playing tennis—but she is all about horses. She is also a competitive rider whose stated dream for life after The Big Bang Theory was to ride horses forever, and ultimately compete at the Grand Prix, or highest, level of show jumping. That's what Cook, who approaches show jumping like a science, does for a living. She and Cook, who started out with separate barns about 400 miles away from each other, just acquired another new foal to bring up together. Now she wants the future to be about riding and traveling the world with Cook...showing horses.
Naturally, they spent last weekend at the Kentucky Derby.
"We met each other because of horses. Horses are a big part of our lives individually, and together it's amplified because it's something we share, and we can do it together," Cook told Sidelines magazine in a rare (i.e. only, to date) joint interview with Cuoco last year.
"I finally found my horse guy. It was very meant to be," Cuoco gushed on The Talk in September 2016. "He's an amazing rider, amazing equestrian and a great human. We shared a passion for horses and dogs…It's been lovely."
Cook's affinity for animals effortlessly complements Cuoco's own dedication to bettering the lives of creatures everywhere, starting with her trove of rescue pups at home. And her rabbits.
"So this is a normal morning for us. A little bit concerning but really cute at the same time.@normancook," Cook captioned a video of Cuoco enjoying her coffee and a video of her rabbits frolicking in their little rabbit-sized barn.
Meanwhile, if you think that Cuoco has somehow missed the part where she found herself right back in a serious relationship just months after her marriage ended, sharing the happiness on social media without question and otherwise rushing into things—don't worry, she's aware.
"You know what, I'm not ashamed of anything that happened," she said on CBS This Morning in May 2016, reflecting on how it worked out, or didn't work out, with Sweeting. "I fall in love really hard, I do. I go deep. That person is it for me. And I love hard, and when it's over, it's over, and some people make mistakes."
Happily ensconced with Cook last September, she told the New York Post, "I'm trying to slow this one down. And I'm not a slow person. I'm just not! I can't help but want everything right then...This relationship has lasted longer than my entire courtship and marriage to my ex."
As it turned out, Cook isn't a slow person, either.
He proposed in November and wedding plans have been discussed.
"I can't wait. I don't want it to be much longer. That's the truth. I really can't wait," Cuoco told E! News' Sibley Scoles in March. She continued, "We are so happy and in love. He is excited as I am, which is sweet. I finally found my soulmate, so we're ready to do it."
As for the big day itself, "Kaley wants this wedding to be small and intimate," or at least more intimate than her first wedding, a source told us earlier this year. "She's nervous but very excited." The insider added, "She's really focusing on the love she has for Karl and just enjoying herself right now."
An eyewitness who saw the couple at the benefit Hilarity for Charity in Hollywood in March said they looked happily attached to each other, sharing kisses and smiling. Kaley looked, simply, "in love."
"They have a lot in common and just get each other," another source told E! News following their engagement announcement. "After her marriage and other past relationships, this one definitely stands out as being different. She loves his sense of humor and feels like he brings out the best in her. She trusts him completely and after she was burned in the past, she appreciates how genuine he is. They're in it for the long run."
Taking their literal dog and pony show on the road will have to wait. Cuoco's got at least one more season of The Big Bang Theory to do after season 11 wraps up tonight, and she further ascended to "full-on girl boss" status last fall by launching her own company, Norman Productions (yes, named after her O.G. canine love), in conjunction with Warner Bros. TV.
"I want this to be a big company," Cuoco told Cosmopolitan. "I want to be sitting down a few years from now and have so many projects going. That's what I'm excited about."
And at the end of those long works days, home is once again where the heart is.