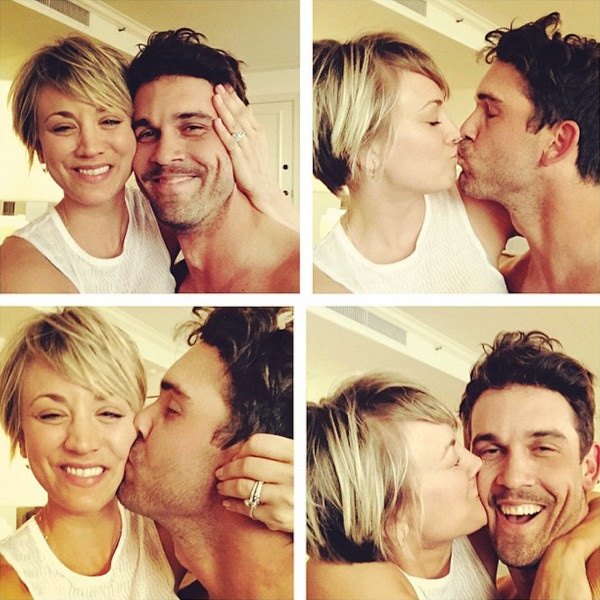 Instagram
Kaley Cuoco said that she "just knew immediately" that Ryan Sweeting was the guy, hence their engagement after only three months of dating.
And he was the guy. Until today, when they announced that they were splitting up, less than two years after their giddy New Year's Eve nuptials.
It's not, however, the whirlwind nature of their courtship ("We texted a little bit, dinner was great, and then he moved in the next day," Cuoco recalled to David Letterman in February 2014) that gave this Hollywood union away as one that had the odds stacked against it. Though the lack of getting-to-know-you time, while awfully romantic, didn't win them any points in the solid-foundation department.
No, the big possible problem with their relationship was hiding in plain sight.
Kaley's Instagram page.
An Instagram page that, by the way, has now been scrubbed clean of photographs of Ryan Sweeting. The page was devoid of marital sentiment by the time the news of their split broke just hours ago, with Cuoco's rep calling it a mutual decision and telling People, "They ask for privacy at this time. No further statement will be issued regarding this matter."
And Cuoco obviously really does want privacy, because that window into her world, where she flew her relationship flag so proudly not too long ago, has been slammed shut. All those pics of Ryan and their dogs, all those declarations of love, all that gushing—deleted. 
But the Big Bang Theory star, who ironically just got married on the hit series' season premiere (only to have one of the worst sitcom wedding nights ever), is hardly alone. That's what social media is there for, to tempt us into humble-bragging—or usually just bragging—about having the cutest dogs, taking the most awesome trips, eating the most photogenic dinner and having the best boyfriend/girlfriend/husband/wife in the world.
Therefore Cuoco exuberantly blasted her feelings for the world to see! As so many others have done, for sure, but it was ... a lot. 
A recent study by Brunel University London found "people are more likely to post relationship-relevant information on Facebook on days when they feel insecure," and while that's more of something to remember when you can't take yet another declaration of blah-blah-blah in your feed... It's possible that ordinary behavioral patterns apply to celebrities too.
Anyway, all that Instagramming during happier times made for a lot to get rid of when the partnership went awry—and what Cuoco had posted and wrote in the moment had to have been important to her, or else removing those pics ASAP wouldn't have been as big a priority.
Of course, too much sharing on Instagram isn't what did the couple in. Heaven forbid Chrissy Teigen ever stops sharing pics of John Legend's naked behind with us.
But combined with the fact that Kaley and Ryan got married barely six months after their first date, and that the first rumor of their marriage being "on the rocks" surfaced in April, a rumor that they took to Instagram to quash (more than once)...
Their decision to go their separate ways was sad and it doesn't do much for the concept of love at first sight... it didn't come as a surprise.
We do wish Kaley all the best through the healing process—and may her Instagram feed from now on be filled with memories of good times that never need deleting.