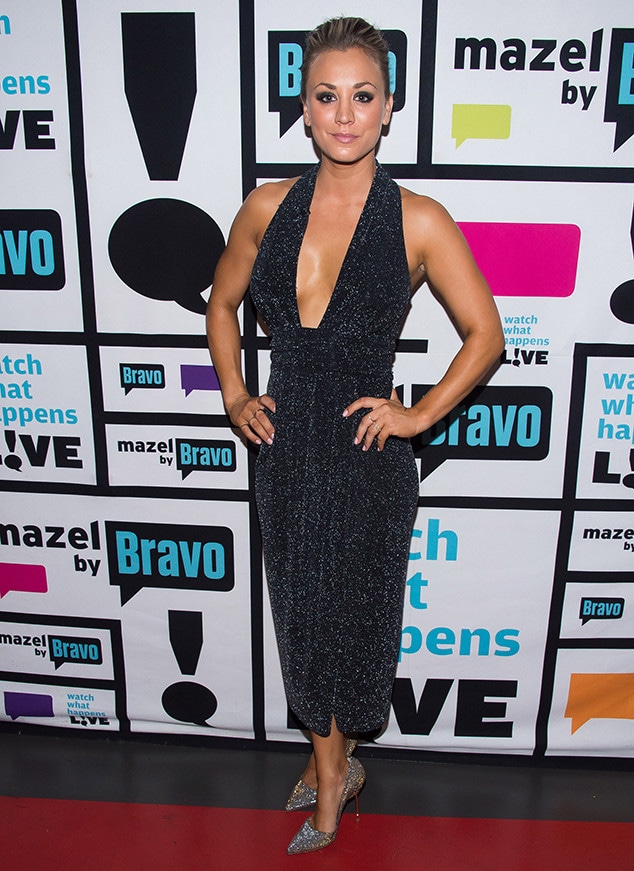 Charles Sykes/Bravo
Kaley Cuoco picked just the right time to get that tattoo covered up.
The star of The Big Bang Theory, who today is celebrating the young-adult milestone of turning 30, shared a pic last week of herself undergoing the painful-looking process of having a sizable butterfly inked on her upper back, but it seemed clear that she considered every second of discomfort far preferable to being stuck with her wedding date in Roman numerals back there for posterity.
In fact, we have a feeling that this kind of pain was nothing.
Cuoco filed for divorce from husband Ryan Sweeting in September after two and a half years of marriage, their too-good-to-be-true union proving to be just that in the end.
That wasn't very long ago, and no one would've blamed the actress if she had wanted to crawl into a hole (albeit a very fancy Hollywood hole) and chill for a little while. As this year draws to a close, however, can we just say that Cuoco didn't seem to miss a beat? Call it Kaley Cuoco's Guide to Putting It All Back Together.
Of course she hunkered down for a bit at home with her beloved dogs—and wouldn't we all?! But it wasn't long before she was back enjoying her favorite pastimes, getting all dolled up and expanding her family.
Here's a look at how Kaley made sure her bittersweet year ended on a high note:
The Purge: When her divorce filing went public, Cuoco (or someone close to her) simultaneously stripped the once-ubiquitous pics of Sweeting from her Instagram page, a necessary step in the healing process that often goes neglected. And then that just confuses everyone, including both exes.
Work It, Girl: During turbulent personal times, it never hurts to have a stable working environment to return to. And if your job is lead actress on the most successful sitcom on TV at the moment and you make a reported $1 million an episode... that certainly doesn't hurt. The Big Bang Theory's ninth season premiered in September and, while maybe she was harboring crawl-in-hole tendencies, Cuoco was probably grateful at some point that she had to be busy, whether she actually wanted more alone time to mope or not. She also made the scene at the Austin Film Festival a few weeks ago for the world premiere of her movie, the indie dramedy Burning Bodhi—which, per Variety, is due in theaters in March, so there's something huge to look forward to in the new year!
A Little Sad Music: Cuoco cranked up Adele's new heart-breaker, "Hello," just like the rest of us.
Namaste: Regular yoga classes and working up a good sweat help keep the clarity in and the nonsense out.
A Close-Knit Crew: Cuoco happily has had family and dear friends at her side throughout, from sister and sometimes-twin Briana to longtime pal, castmate and ex-secret-boyfriend Johnny Galecki, whom she remains married to on the show of course. But no regressing into her comfort zone—last month Kaley laughed off speculation that she and Johnny were having a "secret fling" or that he was otherwise involved in the breakup of her marriage.
Giddy-Up!: What is it about people who ride horses? They just seem happier than the rest of us.
Puppy Love: Already dog-mommy to her dog-babies Norman, Shirley and Ruby, Cuoco added to the family fold by adopting Chester.
Matt Winkelmeyer/Getty Images for InStyle
The Best Revenge: A dish best served cold, yes, but no worries if the plate is smokin' hot instead. This October Shape cover was shot before it was public knowledge that Cuoco and Sweeting were having problems, but this sexy image wasn't a bad one to have all over the Internet and newsstands when the divorce papers were filed.
Positive Thinking & Gratitude: Social media isn't entirely evil. After scrubbing her page clean of her ex, Cuoco devoted her Instagram once again to family, friends, happenings on The Big Bang Theory set and her adored pets. You know, her life. And she took stock of all the love in her life about a month after her split made news, thanking her nearest and dearest and her fans for their support. "I'm incredibly grateful for all your love as I start this next chapter in my life," she wrote. In more recent weeks, she's continued on with the occasional wisdom meme, always a welcome addition to the feed.
The Tattoo: And back to that ink. The symbolic image that emerged was a butterfly, wings spread and ready to fly.
After spending the last couple Christmases as Kaley Cuoco-Sweeting, we imagine that this holiday season may bring a few twinges of yuck before the year is through—and it will be interesting to see what Cuoco does on New Year's Eve, considering 12-31 is the wedding anniversary she just had inked over on her back. (Wonder what Ryan's doing with his "Kaley" tat...)
But somehow we have a feeling her support system—human, canine and equine—will be out in full force throughout, and she's going to tackle 2016 as though the past couple of years were just a blip on the radar.
Happy 30th birthday, Kaley—may this truly be your best year yet.