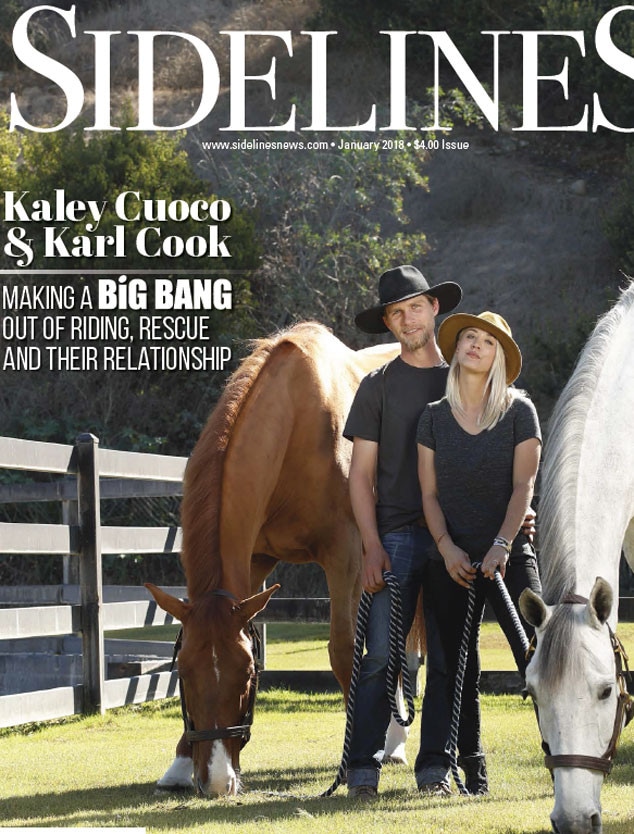 Kristin Lee Photography
Kaley Cuoco and Karl Cook are opening up about their relationship.
The Big Bang Theory actress and her equestrian fiancé are on the cover of Jan. 2018's Sidelines. Inside the pages of the equestrian magazine, the duo opens up about their shared love of horses and dishes on their relationship.
The couple recently got engaged on Kaley's 32nd birthday and shared the news on Instagram with a sweet and emotional video. "We have been each other's true other half since day one and we can't wait to spend forever together," the couple tells Sidelines. "Dogs, horses and all!"
Their passion for horses is actually what brought the actress and the professional rider together. "We met at Thermal in 2016, and the day we met I actually ended up asking her out to dinner," Karl reveals. "We went to dinner that night and we've been together ever since."
He went on to tell the magazine, "We met each other because of horses. Horses are a big part of our lives individually, and together it's amplified because it's something we share, and we can do it together."
And now that they're engaged, they're starting a new chapter in their lives. So what does their future look like?
"I'm unsure what my future holds after Big Bang," Kaley said of the show, which right now is in season 11 and has already been renewed for season 12. "I think about it all the time, and all I can say is it will include a lot of horses, dogs and free time with Karl. I will never be done working, since it's what I do, but I look forward to a change of pace!"