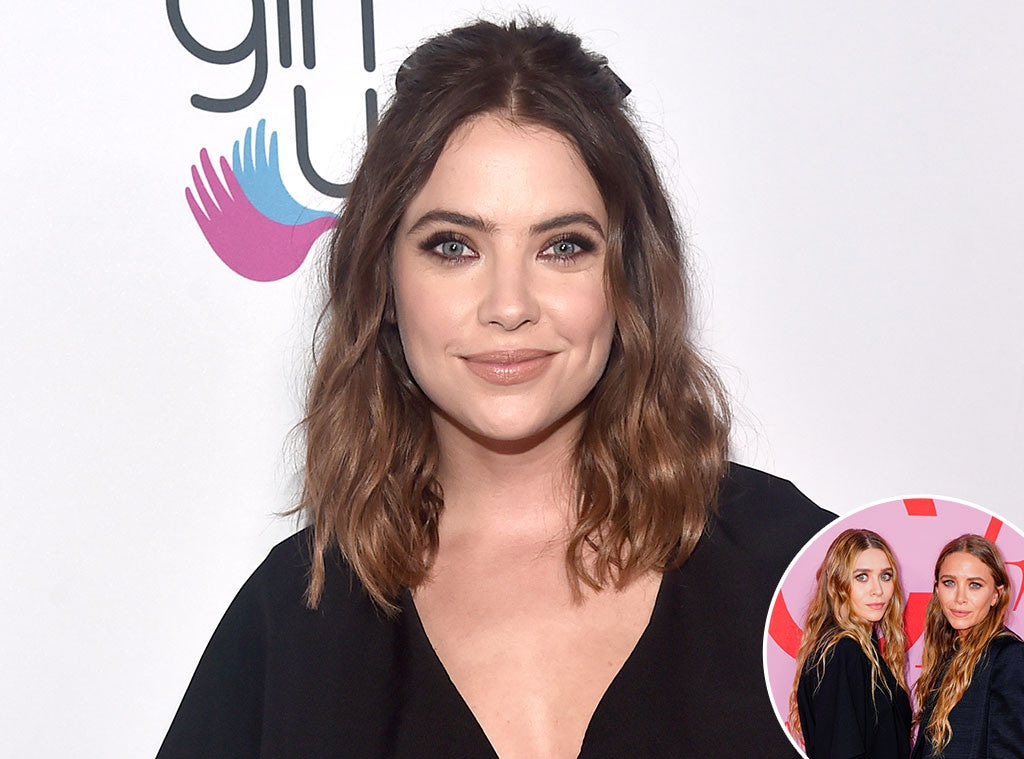 Getty Images, FilmMagic
You're invited…to witness the best birthday shout-out of all time!
On Wednesday, Ashley Benson got the biggest surprise for her 30th birthday from none other than Mary-Kate and Ashley Olsen! The famous twins recorded a sweet message for Ashley, who is a huge fan of the Elizabeth & James designers. Trilled by the video, she shared it to her Instagram, captioning the amazing post, "Dreams do come true."
"Happy birthday, Ashley," the Olsen twins said in perfect harmony, donning their signature black aviator shades. Ashley continued, "I hope this year is one of the best ones yet. We're sending you lots of love." But the birthday surprises don't stop there for the Pretty Little Liars alum. Mary-Kate revealed that they want to hang out! She chimed in, "Super magical and can't wait to meet you soon."
From the looks of it, 30 is definitely going to be an amazing year for Ashley. She kicked off her b-day festivities in London with a group of her friends. 
In pictures from her fun night out, the Spring Breakers star can be seen rocking a bejeweled headband that reads "Birthday Girl." The festive piece made the perfect accessory for her outfit, which was comprised of collared button-down shirt dress, an oversized black blazer, white heeled booties and tons of gold jewelry. She's also showing off her fresh new bob, which she dubbed "The Bobsen." 
If Ashley's real birthday party is anything like girlfriend Cara Delevingne's 26th birthday bash in 2018, then it's going to be epic. The model rang in her birthday with her celeb pals, including Ashley, Kate Beckinsale, Suki Waterhouse, Zoë Kravitz, Sienna Miller and Margot Robbie. But the real guest of honor was a mermaid. Taking to Instagram after the celebrations, Cara posted a picture with her magical guest, writing, "It was my birthday a week ago and I am still giggling with MERmazing memories."
Since then, Ashley and Cara's relationship has become stronger than ever. After making their year-long romance Instagram official to commemorate Pride Month in June, the couple is still head over heels for one another.
"It's a different type of relationship with a lot of understanding, support and loving communication," a source told E! News. "They are very sweet and loving together. They are always doing simple nice things for each other and it all comes very easy and naturally. They are committed to one another and very much in love."
The insider added, "Ashley has never been in a relationship like this and is happier than she has ever been."
Watch:
Cara Delevingne Shared PDA Post to Celebrate "Year Anniversary" With Ashley Benson
While accepting the Hero Award at the TrevorLIVE Gala that same month, Cara couldn't help but gush over her girlfriend. "I also have another very special woman in this room to thank and you know who you are," she said. "She's one of the people who help me love myself when I needed it most and I really needed it. She showed me what real love is and how to accept it, which is a lot harder than I thought."
Speaking to E! News on the red carpet, Cara opened up about her decision to make her and Ashley's relationship public. "I don't know because it is Pride, it's been 50 years since Stonewall happened and I don't know," she shared with E! News exclusively. "It's been just about our one year anniversary so, why not?"