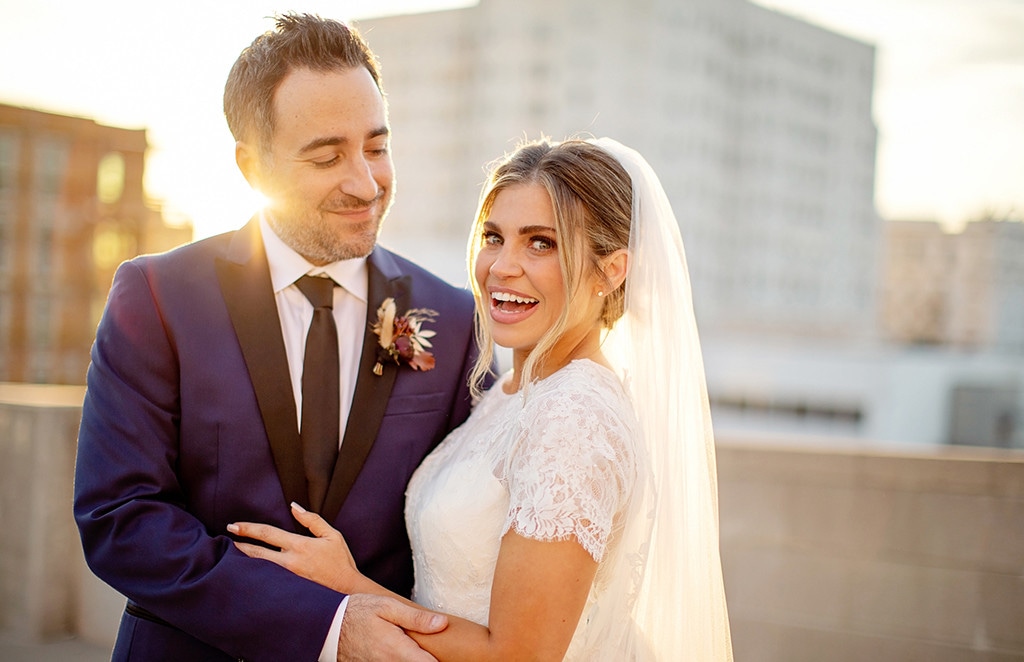 Jillian McQuerrey
In many ways, this past year has been the best of Danielle Fishel's life. 
But also the most terrifying, nerve-wracking and heart-wrenching time, that has left her feeling alternately laden with guilt and anxious for what might come next. That last bit comes pretty standard with motherhood, but for the Girl Meets World actress, there's been an extra layer of hardship. 
Exactly one year ago today, Fishel wed Drop the Mic executive producer Jensen Karp at L.A.'s dreamy Carondelet House. Two months later, they revealed they were with child and began eagerly anticipating their son's planned July arrival that would wrap up their first year of marriage in an exciting, adorable bow. 
Except tiny Adler Lawrence Karp had other plans, his early appearance at 35 weeks, forcing his frightened parents into a NICU stay that lasted three long, agonizing weeks as doctors and nurses worked to get his chylothorax—a leak in the lymphatic system that can lead to fluid in the lungs—under control. Though Fishel and her comedian groom, 39, spent the first bit wondering when they'd be able to take their little guy home, "The thing I learned very quickly about the NICU is no one's in a rush," she shared during an October appearance on E!'s Daily Pop. "The baby is dictating and that's the way it should be." 
So basically the last decisions that were under the 38-year-old's control came with putting together the Nov. 4 wedding she described as "the best day of my life."
Eager to have the affair be a reflection of their coupling, they came to their wedding planner, Lisa Gaskarth of Union3 Events, with a fish-themed logo (a play on their last names), pins and custom napkins, sharing fun facts about their two-year union. (For example, they originally met as students at Calabasas High School but weren't close. Now they were to begin their forever in a house just blocks away.)
"Those were the details that people commented on the most because they were unique to our wedding," she shared with Green Wedding Shoes. Well, that, and the fact that they had John Mayer as their unofficial wedding singer, their pal and groomsman belting out a cover of Beyoncé's "XO" for their first dance. 
By far, their favorite part of the day, though, was the ceremony, officiated by her brother Chris underneath a dramatic arrangement of roses and pampas grass. "My brother did such a good job," she shared with the website. "We wrote our own vows and I think they were the right amount of engaging and sentimental." 
Particularly Karp's, the producer using his writing skills to enchant his bride. "His vows made perfect turns from hilarious to absolutely touching (everyone shed a tear when he mentioned wishing his father Larry, who passed away 10 years ago, could be there with us), and romantic," Fishel said. "Our ceremony was the highlight of our wedding hands down."
Eager to get going with their happily ever after, the newlyweds kicked off the new year by announcing they would be adding another Karp to their Los Angeles area home that summer. They put together a nursery, shopped for baby clothes, read all the books, snapped stunning maternity photos and generally set about the business of making room in their lives for another person. 
Fishel had planned to tie up any and all professional loose ends well before July, scheduling her final obligations—directing episodes of Disney Channel sitcom Raven's Home—for mid-June when she felt her water break June 20—roughly four-and-a-half weeks ahead of schedule. 
Instagram / Danielle Fishel
Her original birth plan, she shared in a particularly candid essay for Good Morning America, "included having a natural childbirth, free from any drugs, because I read it was better for the baby and ultimately better for mom, as well." But that went out the window the moment they arrived at Providence Tarzana Medical Center. "Our amazing OB discovered fluid in his lungs that was not there during our last appointment only 10 days earlier—and thus we entered a nightmare we'll never forget," she shared in a July 1 Instagram post revealing his early arrival. 
"Because I went into labor more than four weeks early and my doctor discovered fluid in Adler's chest cavity, I was immediately put on sodium magnesium to stop my contractions and give his lungs time to fully develop," she wrote in her GMA piece. "Seventy-two hours later, due to a significant decrease in amniotic fluid, I was induced with Pitocin. My drug-free birth was out the window." 
As she worked to deliver her baby, she continued, "The guilty thoughts came flooding into my head: 'Why did my water break so early? Was it because I was on my feet working 12-plus hour days at almost 36 weeks? Was it all the spicy food I had been craving? Did I do something that will hurt my baby?'" And even more crowded in when he was given a feeding tube after labor, dashing her plans of breastfeeding from the start. 
As her husband stepped into the NICU to be with their newborn son, he felt like "a mess," he recalled to People, spying his tiny body hooked up to various devices. "As hard as it was," though, he continued, "I pretended I wasn't crying and put a thumbs-up in the air and was like, 'Yeah!' "putting on a happy face as much as I could."
Because while their son was being worked on, so was Fishel, recovering from a labor that wasn't exactly textbook. "We were trying to be as positive as possible, and letting each other know that we're okay," she told People. "We were obviously both still thinking of the other one, and saying, 'Oh God, I hope he's okay,' and 'She's worried about me.'" 
Matt Winkelmeyer/Getty Images for TBS
Those initial days were every bit as trying as one might imagine, but they only served to further unite the spouses. "Jensen and I have also become closer than we ever thought possible and the love between us has grown exponentially as we have leaned on each other during both our highest highs and our lowest lows," she shared in her Instagram post. "We feel helpless and powerless and useless and we wanted so badly to follow our 'birth plan,' unsurprisingly none of which involved leaving our beautiful baby boy at the hospital for the first weeks of his life."
To stay strong, the pair relied on a healthy dose of perspective, reminding themselves that Adler would eventually be settled into his fox-themed nursery. "For every first-time parent, it's an adjustment to know it wasn't ideal," Karp told People, "but he's healthy and he's going to make it. We have the best doctors around us, etc. Those are the things you kind of ease into."
Still, those initial 21 days weren't the easiest. While some parents are snapping newborn photos and cooing over the adorableness of their stack of onesies and tiny mittens, the couple was receiving the news that the fluid in Adler's lungs simply wasn't decreasing. 
"We really thought we were on our way out, and this was at like day 12 of being in the hospital with him," Fishel shared. "To hear, 'We have bad news: The fluid has tripled, and now we no longer think we're the best place for him. This feels much more like an emergency and we need to rush him to Children's Hospital,' was extremely scary."
Without the luxury of time to panic, she hopped in the ambulance with him to Children's Hospital Los Angeles, more or less holding her breath for weeks as his lungs worked to heal. 
But even after her little man was proclaimed a NICU graduate—"We can say with certainty there is no better place for children with medical needs," she shared. "Now we hope to never be back,"—the Boy Meets World alum struggled with the fact that she was unable to nurse, the fatty nature of breast milk causing the surge of fluid that sent them to Children's Hospital in the first place. 
"Of all the experiences we've had with Adler's health, for some reason, not being able to feed him from my body has been one of the most emotional for me," she wrote in her essay. "The doctors assured me Adler would most likely grow out of this someday and I should keep pumping and eventually, hopefully, he'd be able to reap the benefits of breast milk."
But even after she was given the green light to try again at six weeks postpartum ("Adler latched easily, which felt like a miracle for a baby who had never been breastfed,") a follow-up X-ray showed that the fluid had returned "and we immediately halted all breast milk."
Now back on his medium chain triglyceride formula, little Adler is on the mend—for the most part. "We are still in and out of the hospital," Fishel told E! News last month. "We're still getting new test results all the time. It's still so hit and miss. He's doing well, he's home and he's happy, but there are still some health issues."
Having done her best to silence the "mom guilt" she feels over having to feed him formula, she's back to dealing with the standard, garden variety anxieties.
Returning to work, for instance, in late September to direct Disney Channel's Sydney to the Max left her feeling a wreck, despite having lined up an army of childcare. "In addition to Jensen, I had a dear friend babysitting, a part-time nanny we adore, and both my mom and my mother-in-law all chipping in on different days to help with Adler," she shared with GMA.
And still, "My first day back was hard. I came home after being away for 12 hours and Adler was asleep for the night. He hadn't seen my face since 7 a.m. that morning and now he wouldn't see it again until he woke me up for a middle-of-the-night feeding. As I cried over his sweet sleeping face, the guilt came back with a vengeance. 'Does he remember me? Does he think I abandoned him? Am I hurting my son by desiring a career outside the home? Am I selfish?'"
Because...#momlife—that ineffable feeling of never believing you're quite good enough whilst knowing there literally isn't anything you wouldn't do for your child.  
Naturally, the four-month-old remains happy and well-adjusted, sailing past each of his developmental milestones and giving Mom and Dad a rush of pride with each successful tummy time. "He lifts his head up!" she crowed to E! News, adding he also "rolled over from front-to-back at five weeks, which was very soon." 
Though she'd really he rather not race into the more taxing roll from back-to-front, because she'd have to bid farewell to the nighttime swaddles that help him snooze soundly but can easily come unraveled with a particularly active baby. "I'm not encouraging the speediness of this!" she joked. "But he's the best, and he's smiley and he's happy and he's giggling." 
For now, her fans we'll have to take her word for it as she's standing firm on her stance to not show his face off to her nearly one million Instagram followers. It's hard, she admitted on Daily Pop, because obviously he's the cutest baby she's ever seen—"I'm like, I want to brag. I want to show everyone so badly!"—but she knows it's the right choice for her right now.
"For me, it's all about comments," she explained of letting his visage be captured by GMA's cameras but not her Instagram feed. "Someday when he has his own social media page and that's what he decides to do, I don't want him googling his name and seeing a picture I posted of him and some keyboard gangster going on there and making a comment about him. That's forever tied to him."
And in these early weeks, months and years of parenthood, it's her job to protect him from whatever harm she can—a role she takes incredibly seriously. 
"For as long as I can remember, I've dreamed of being a mom. I looked forward to sleepless nights, poopy diapers and being so enamored with my baby that I lost hours of my life just staring at him while he slept," she wrote in her GMA piece. "However, nothing in the world could have prepared me for the reality that being a mom would also mean never feeling like I'm good enough. None of us escape mom-guilt. It's there whether you're a stay-at-home mom or work outside the house, but one there is one thing I know for certain each and every mother has in common: We are trying our absolute best 100% of the time."